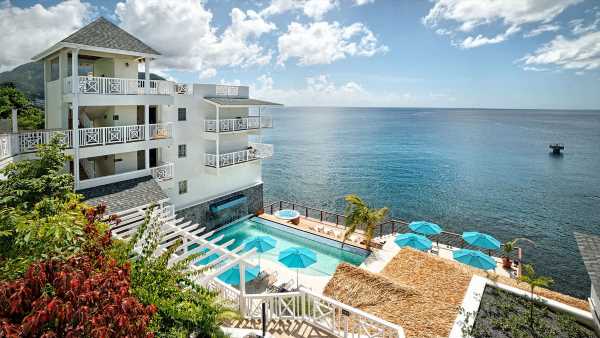 Fort Young Hotel & Dive Resort, in Dominica's capital city of Roseau, has undergone an $18 million renovation that will be unveiled next month.
The updates to the waterfront, all-inclusive resort include 60 new rooms, named the Fort Collection, and 40 renovated oceanfront rooms. Among the new rooms are Fort Mountain View rooms and Fort Ocean View rooms, all located on the newly constructed and renovated historical section of the property, which incorporates portions of the 18th century fort the hotel takes its name from. The Fort Mountain View rooms offer views of Dominica's capital and the surrounding mountains, while the Fort Ocean View rooms feature private balconies. Both room categories are furnished with one king bed or two double beds and may be interconnected.
The resort said the design of the new room interiors is inspired by the 17th century Creole architecture of Roseau, with geometric woodwork that adorns building facades and interiors. The color palette includes dark tones and nature-inspired elements balanced with the rustic elements of the old fort.
• Related: Dominica invites travel agents to become island specialists
New amenities include the Compass Fitness Center and the Marquis Bar and Lounge, which is located in what was the troops' barracks within the original fort walls and includes the musket holes used to fire on invaders. Other new amenities include the Museum Cafe, accessed by a narrow stone-wall passage that leads into the cafe. The new Old Oven Art Gallery will feature a rotating display of local artists' works and curated art exhibitions, and host special and private events. The Rum and Wine Cellar is built in between prison cells, and will offer tastings of local and specialty rums and wines.
A fort was first established on the site in 1699 during the French occupation of the island; construction of what would become Fort Young began in the mid-18th century, after British forces had captured the island. The site also once served as a police station before becoming a hotel in 1964.
Rates at the property start at $205 a night.
Source: Read Full Article