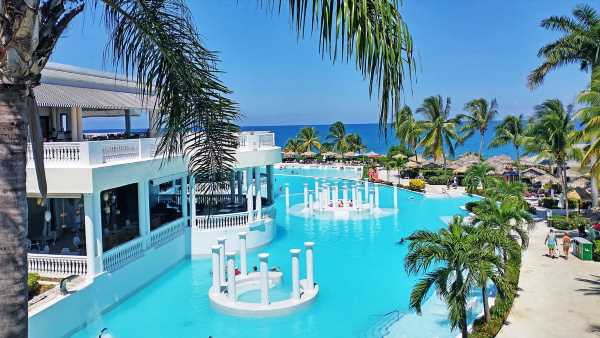 You don't have to look very far if you're in the mood for a dip at the Grand Palladium Jamaica Resort & Spa. The family-friendly, all-inclusive property on the island's northwest shore has five pools for guests to enjoy. 
Sitting at the Blue Lagoon Swim-Up Bar looking toward the sea, I took note of the splendor of the main pool, which the resort says is among the largest in Jamaica at 86,000 square feet.
Not enough options? Well, earlier this year the resort added some more.
It recently underwent a $27.5 million renovation that included all of its guestrooms and the debut of two room categories, each of which added private pools to the mix. Guests staying in one of the 40 Superior Junior Suite Private Pool Ocean View units or eight Superior Suite Private Pool Oceanfront View units will have their own swim-up pool along with a private terrace and a wooden pergola.
Once guests have toweled off, they'll have many other options to keep them busy. The resort is home to seven restaurants and three buffets; 10 bars; various entertainment and activities options; and the Zentropia Palladium Spa & Wellness center.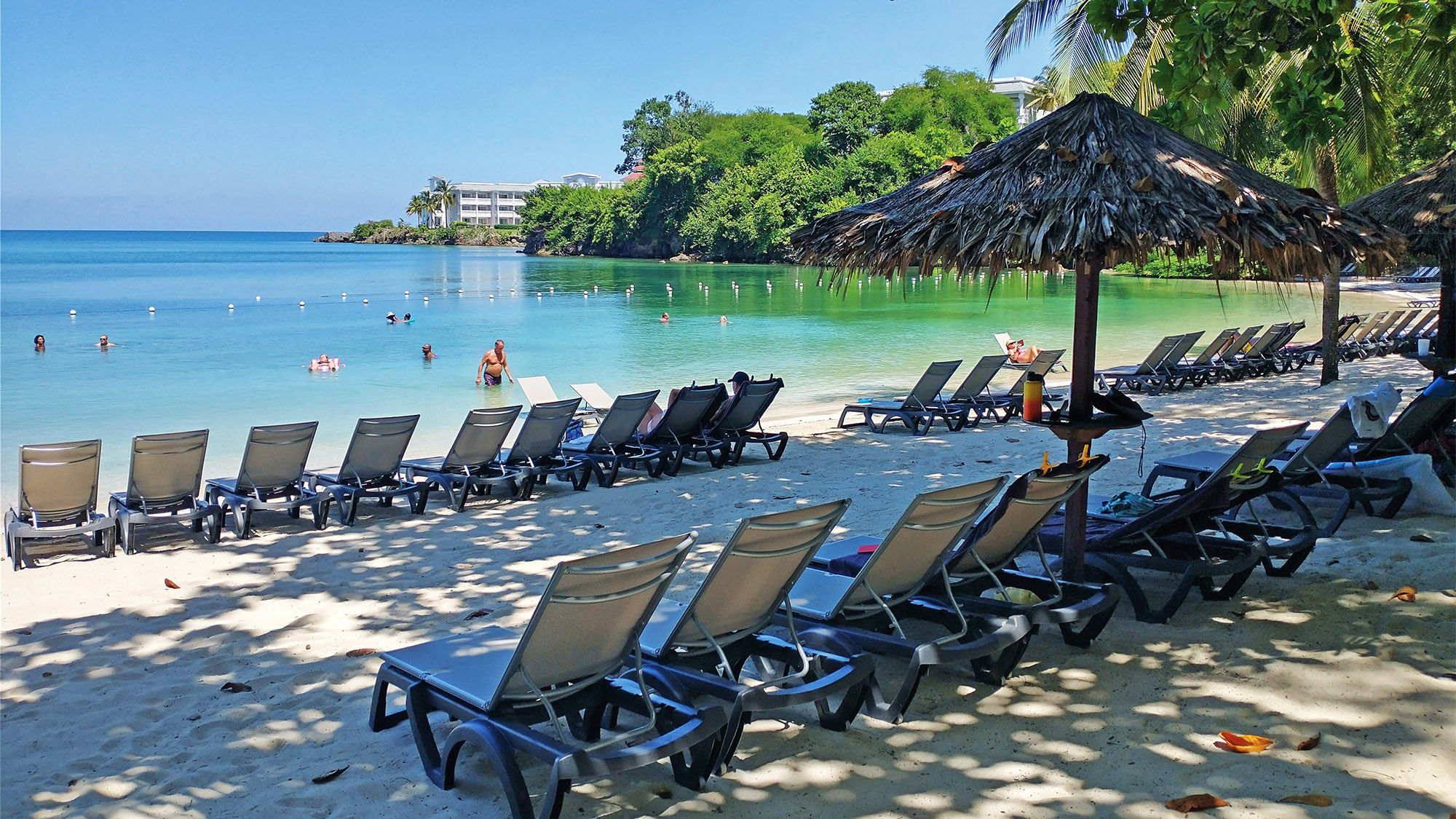 Beneath a palm tree, fighting off brain freeze from a frozen cocktail, I picked up the aroma of jerk chicken being grilled at the nearby Sunset Cove Jerk Hut, my preferred daytime dining option. Other standouts include Bhogali and its Indian butter chicken and Xaymaica, which served local Jamaican dishes; my pick there was the curry goat. The search for Jamaican staples also extended to the breakfast buffet at Mo'bay, which served ackee and saltfish, an omelet-like dish made with codfish and Jamaica's national fruit, ackee.
The Infinity Terrace & Bar, which underwent renovations this summer, served as the evening party spot, offering live entertainment, dancing and on one night a silent disco, where participants donned wireless headphones and danced to music only they could hear, leaving unsuspecting spectators (like me) bewildered at how dancing without music is possible.
The two largest beaches are Las Brisas and Sunset Cove, the former a bigger draw while the latter offering a secluded, verdant experience. A beach party at Las Brisas, which the resort holds every Saturday night, delighted guests with fire performers and a DJ. 
On that evening, I retired earlier than usual, the decibels fading with every step back to my suite. The resort has 1,054 rooms across a sizable property, which means either an extended walk or a golf cart ride back at the end of the day. 
The resort has an adjacent sister property, the Grand Palladium Lady Hamilton Resort & Spa, that is more geared toward adults. But facilities at both resorts are available for all guests.
Source: Read Full Article