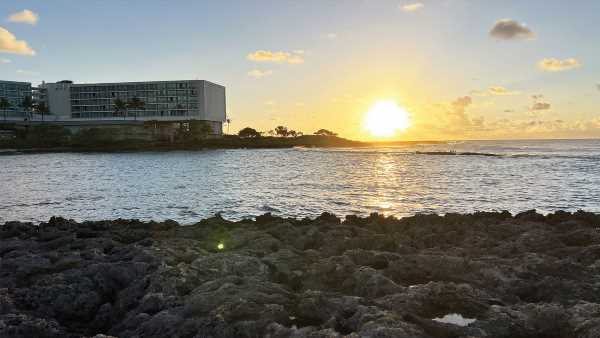 There's something soulful about being on Oahu's North Shore. I've heard other people tell me how that particular place is special in some indescribable way, and when we rounded Kamehameha Highway and looked down on Waimea Bay, I felt it, too.
Needless to say, people who love the North Shore, and people who are experiencing it for the first time, need a place to stay. And that place is possibly — probably — Turtle Bay Resort.
The only upscale, full-service hotel in the area, it's situated on a peninsula on the northern tip of Oahu and therefore is an excellent base for exploring the area. But it's also got energy in its own right.
From the drive through the golf course to the porte-cochere, the resort's big, boxy design doesn't lend itself to rapturous descriptions on arrival of "a sense of place" or "at one with its surroundings." Recall, it opened in 1972, and the blocky architecture appeared to me to be a throwback to that era: It was built in the hopes of becoming a casino-hotel (didn't happen). 
But there's beauty at Turtle Bay. For example, when you realize its particular layout — three identical wings of rooms jut out from the center, windmill-style — means that every room has an ocean view. It's hard to avoid Hawaii's invigorating sunrises or astounding sunsets here.
A renovation, completed during the pandemic, shows its public spaces off to the best advantage: Guests enter through a massive, wood-framed doorway into a light, bright lobby, its size broken up by floor-to-ceiling panels of undulating, translucent white fabric, with earthy, wood-toned furniture and plenty of places to sit.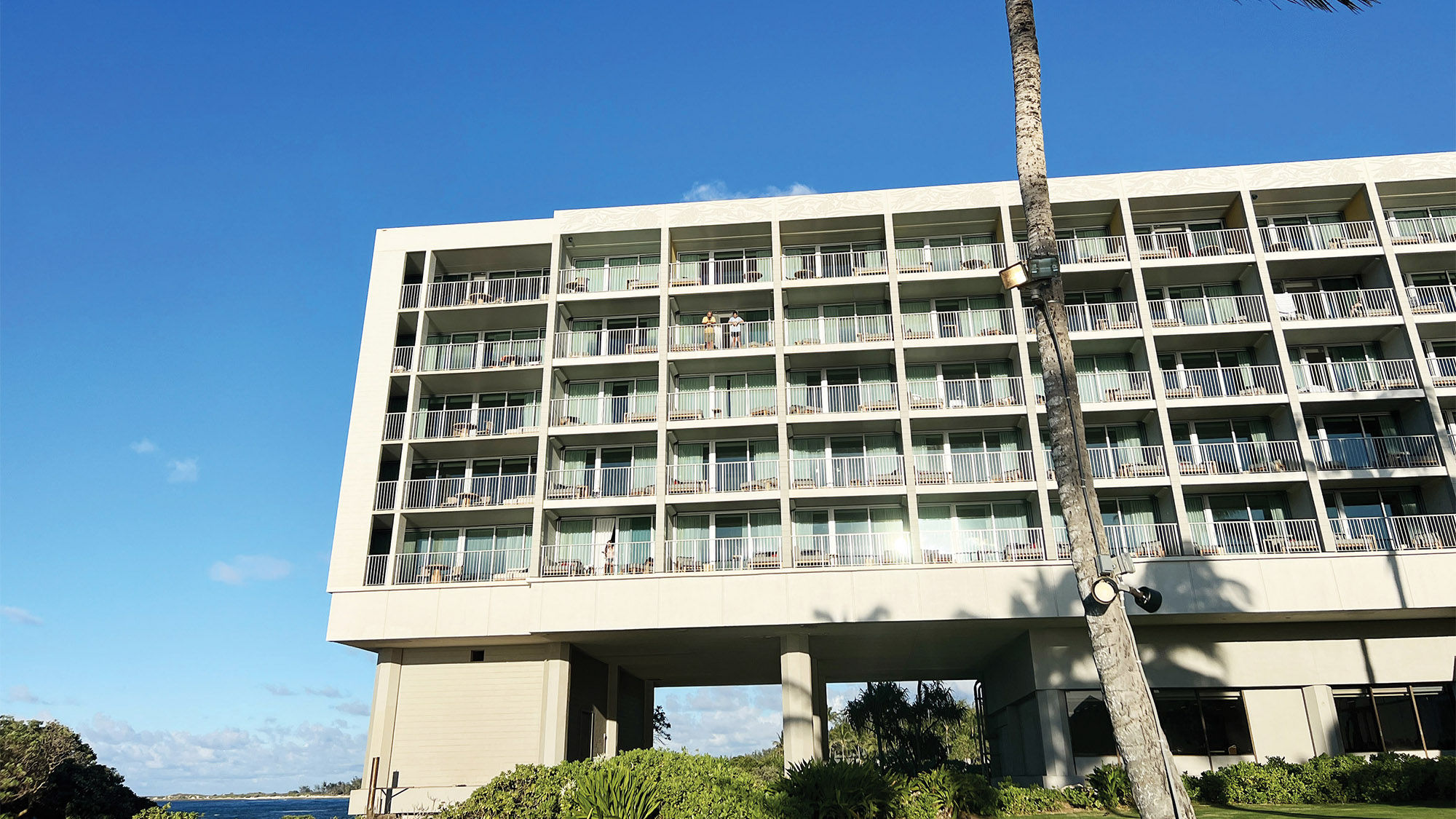 Behind the check-in desks, giant windows provide views down to the Kuilima Cove beach and the Beach House by Roy Yamaguchi restaurant. Directly to the left of the entry, I was drawn to the look of the Off the Lip bar, where a circular banquette and a bar back up onto an infinity-edge water feature. Beyond that is the new adults-only infinity-edge pool and then the redesigned kid-friendly swimming pool. Still beyond that is the Kuilima surf break (more on that later).
Turtle Bay said the redo team was led by architect and Hilo native Rob Iopa, who has long been active in conservation and planning on the North Shore, and that it was his idea to open up the lobby to the views and light.
Of course, the hotel only takes up a small fraction of the complex's 1,300 acres. There are two 18-hole golf courses; stables; a Jamie O'Brien surf school; tons of hiking, jogging and horseback-riding trails; tennis and pickleball courts; a 468-acre farm; and 650 acres of undeveloped, conservation space. Guests can step out and be swimming at Kuilima Cove in minutes, but King's Walk and Kawela Bay beaches are at least a 15-minute walk; that's how big the place is. On the accommodations front, 42 beachfront bungalows, grouped around the waterline, were created as part of the renovation; these have 15-foot, vaulted ceilings and living spaces that open up to private lanais. For those seeking full-service vacation homes, there are the Ocean Villas. And there's a privately operated condo community.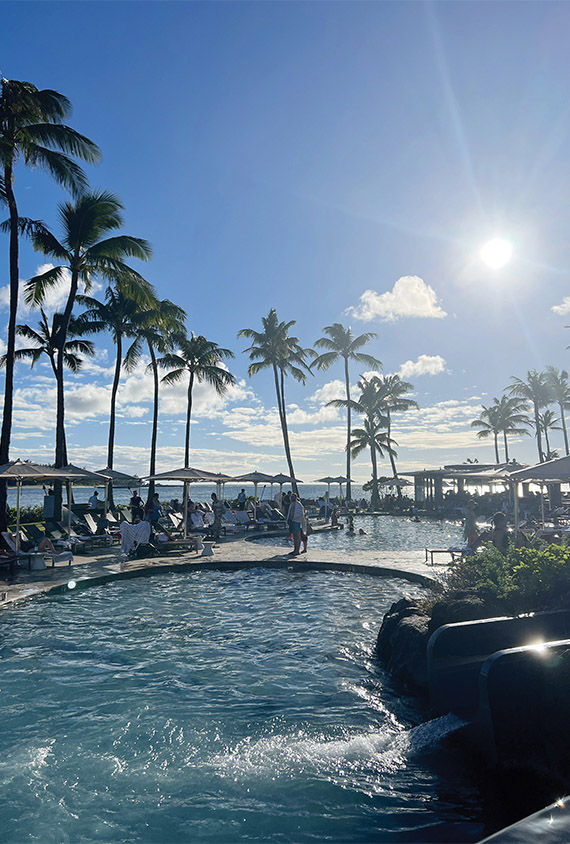 Finding favorite spots
There were a few things that I particularly appreciated about Turtle Bay Resort.
First and foremost is the self-service laundry on property. I stuffed our week's worth of worn clothing into a bag and hied myself to the third floor, where I found the promised land/laundry room. Soon our clothing was spinning merrily in the washing machine. 
My second-favorite amenity: a sundries shop that also sells snacks, prepackaged meals and alcohol. I presume this primarily caters to guests staying in the Ocean Villas, which have full-service kitchens. Nonetheless, we raided the shop for cheese, crackers, salami and an apple, plus some wine and beer for the grown-ups, and picnicked on our lanai. 
The third element was the keiki, or kids, swimming pool, which has two short-and-sweet waterslides built into the landscaping. My younger daughter took to it like a duck (or a sea turtle?) to water. According to my phone's photo time stamps, she went up and down the slides for about three hours.
Personally, I might have spent the afternoon examining sea turtles on the shore, going to the Nalu Spa, walking to one of those distant beaches or trying the three-hole Pitch 'n' Putt course with a Signature Mai Tai from Lei Lei's. But sometimes, you just have to sit on a deck chair and watch your kid slide down a waterslide 33,502 times.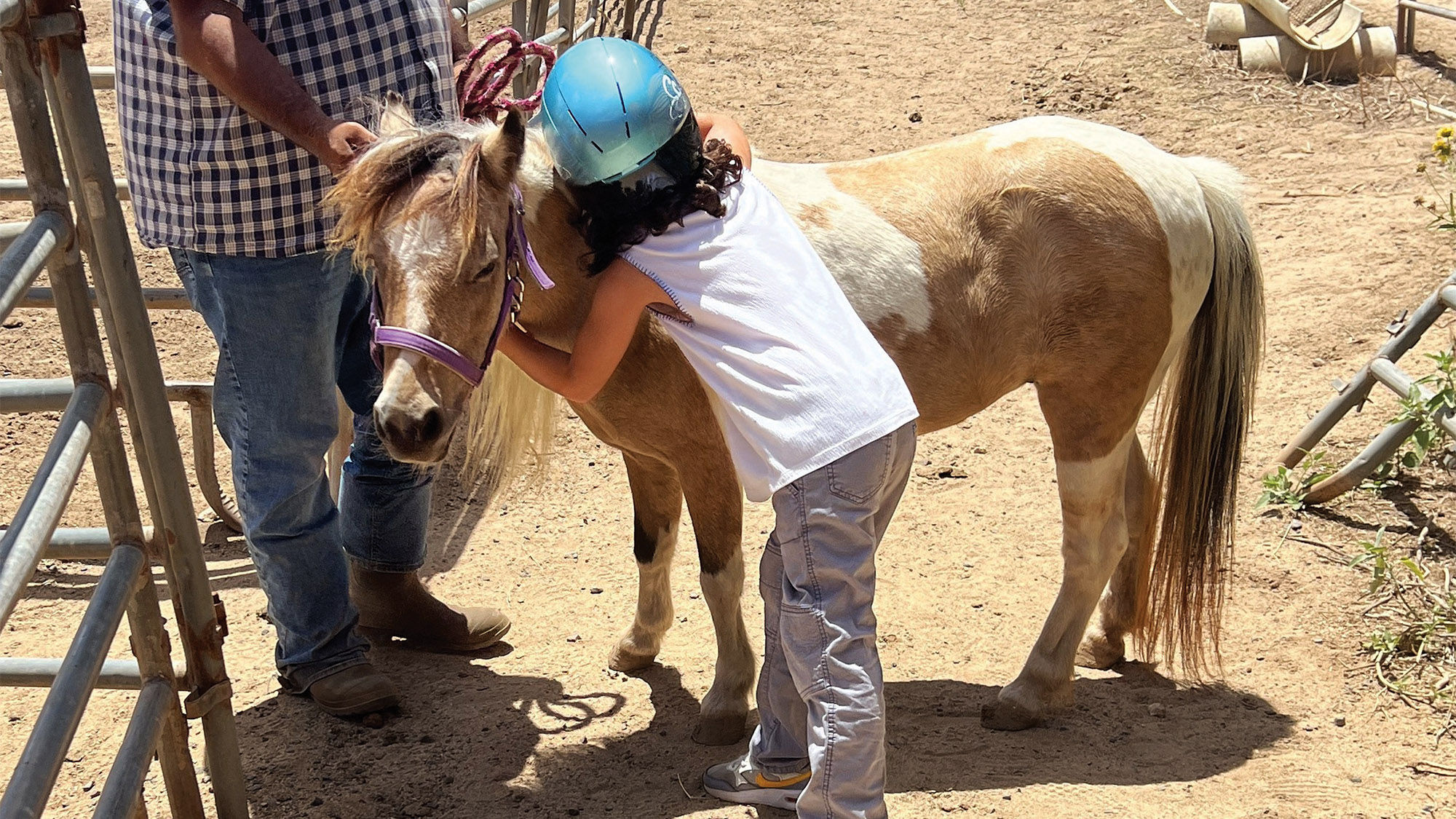 The Oahu resort has its own stable, offering pony rides and other horse activities.
Honestly, life isn't too bad at Turtle Bay.
When the sun got low, I pried her away from the pool. We had dinner reservations to honor.
Alaia is Turtle Bay's farm-forward restaurant, and at least one meal here is a must if you're staying multiple nights. To get the full flavor of the place, I highly recommend visiting Kuilima, Turtle Bay's nascent farm, where lettuce and all kinds of greens, vegetables and fruits plus Hawaiian staples like taro are grown and used in Alaia's dishes. Forty-five-minute farm tours can be set up through the Turtle Bay concierge, or you can stop to browse at the farm stand, where local farmers also sell their produce.
Once I understood where and how some of the food was being produced, I didn't hesitate to order the Kuilima Salanova, which incorporates Kuilima's hydroponic greens, Asian pear, farm vegetables and puffed forbidden rice with a sesame-ginger vinaigrette. And to wash it all down, the signature Don't Touch the Turtles cocktail, served in a giant, copper turtle bowl. To see it is to believe it — and to drink it.
I mentioned a few practical reasons to like Turtle Bay: the location, the refurb, the laundry room. But sometimes that impractical, serendipitous, Hawaii-magic moment creeps up and stuns you into loving the place.
This happened at least twice. The first came during the sunset hour on our first evening of exploration. After our kids romped and ran on the expansive lawn at the tip of Turtle Bay's peninsula, we walked over to Sunset, the pool bar and grill on the western side of the hotel, just as the sun was dipping below the horizon, and we grabbed a few lawn chairs facing the ocean. The sky was orange where the sun had set, and a few puffy clouds were hanging low; the water turned a deep, mysterious navy. A few rolling waves were forming at the break, and three surfers were still in the water. As one surfer picked up a wave and rode it to shore, the scene seemed perfect: the sound of the waves, applause and a "wooo!" for the surfer, the chatter of vacationers, a little background music, the clink of glasses, the surfers in the water, the knowledge of family nearby.
And on our last morning, with my coffee from lobby shop Ho'olana in hand, I stepped onto the lanai to find a perfect rainbow shooting out from Kawela Bay into the sky, right in front of me. 
Source: Read Full Article