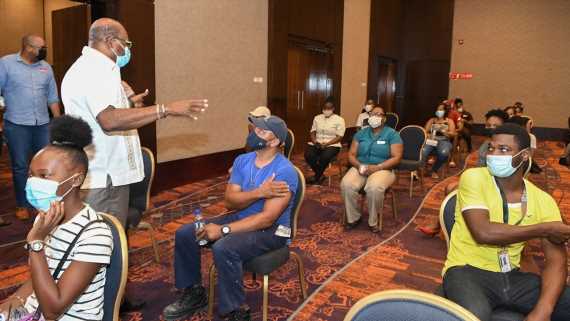 Jamaica has established a task force to facilitate the voluntary Covid-19 vaccination of all tourism employees on the island, including workers in hotels and villas, attractions, airports, cruise ports, ground transportation and craft markets. 
The task force has organized a series of vaccination blitzes at strategic sites around the country to ensure that all 170,000 tourism workers have access to vaccines to meet Jamaica's target of a fully immunized tourism workforce, according to Edmund Bartlett, tourism minister.
"The immunization of tourism workers is vital to safeguarding our tourism sector. This island-wide program will aid in our recovery efforts for the sector and by extension the country," Bartlett said.
Vaccination drives have taken place at the Jamaica Pegasus Hotel in Kingston, Sandals Negril and the Moon Palace in Ocho Rios. Other proposed sites include Emancipation Park in Kingston, Harmony Beach Park in Montego Bay, the Falmouth cruise pier, Treasure Beach in St. Elizabeth and the Port Antonio cruise pier.
The task force is working with government entities and stakeholders in the private sector.
Source: Read Full Article