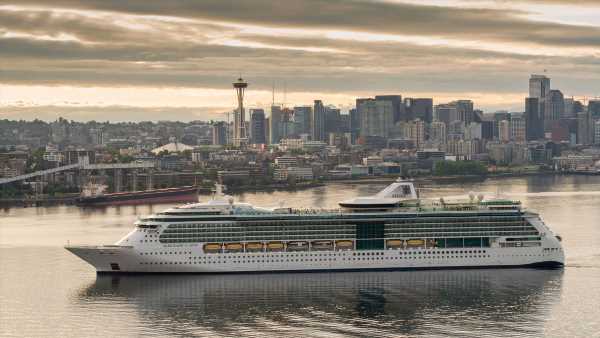 Royal Caribbean Group is having a record-breaking Wave season and expects a return to historical occupancy levels by late spring, said CEO Jason Liberty.
He said the seven best booking weeks in the group's history have all happened since Royal's last earnings call in early November.
"We expected a strong Wave season, but what we are currently experiencing has exceeded all expectations, even when considering our capacity growth as a result," said Liberty. 
While occupancy had been sluggish to return in 2022, Royal saw continued improvement as 2022 wore on. Load factor for the year averaged 85%, although load factor climbed to 95% in Q4 with a high of 110% on peak December holiday sailings. (Load factor is based on double occupancy and can exceed 100% when more than two passengers occupy cabins on a full ship).  
The news came as Royal Caribbean Group reported a return to positive adjusted earnings before interest, taxes, depreciation and amortization in the fourth quarter at $409.3 million, coming in ahead of market projections and marking progress in the company's return to normalcy since the pandemic. 
Royal Caribbean lost $2.2 billion in 2022
However, the company reported a net loss of $500 million in Q4. For the year, the company reported total revenues of $8.8 billion and a net loss of $2.2 billion. 
"Reflecting the accelerating strength of the cruise recovery since last fall and an industry catching up to strong global leisure trends that it did not participate in during 2021 and most of 2022, the company beat quarterly street expectations," said Patrick Scholes, an analysist for Truist Securities. 
Liberty said the company is seeing particular strength in bookings for North America-based sailings, which make up almost 70% of the group's capacity this year. Those bookings are now booked at the same load factor as they were in 2019 and at higher prices, he said.
Europe sailings are booked within historical ranges and also at stronger prices, although recent bookings have outpaced 2019 levels, he said. 
The group is seeing strong Wave trends across all of its brands. Those numbers have been strong from the North American market, but have been picking up from European cruisers, too, he said.
Liberty attributes part of that strength to new guests. In the fourth quarter, new-to-cruise and new-to-brand guests rose above 2019 levels as consumer preferences continue to shift from goods to experiences, he said. Meanwhile, interest in cruising has grown and resulted in double the number of visitors to their websites compared to 2019.
Total revenue per passenger cruise day was up 4.5% from 2019, the company reported.
The company's consumers are "sitting on a lot of savings," Liberty said. "But our ability to get the consumer to book earlier is really the main force behind why we're seeing an increase in onboard activity."
Guests are booking onboard experiences well ahead
About 60% of guests booked some of their onboard activities in advance of their cruise, which is double-digit growth in pre-cruise purchases compared to 2019 and at significantly higher rates. Guests on 2023 sailings purchased their onboard experiences an average of more than two months earlier than they did in 2019, he said. 
Michael Bayley, president and CEO of Royal Caribbean International, said the company had different theories about how long the strong onboard spending that sprang from the pandemic would last.
"It's just continued to strengthen," he said, which he attributed to new pre-cruise software to make it easier for guests to plan activities. He expects that strength to continue into 2024. 
Source: Read Full Article