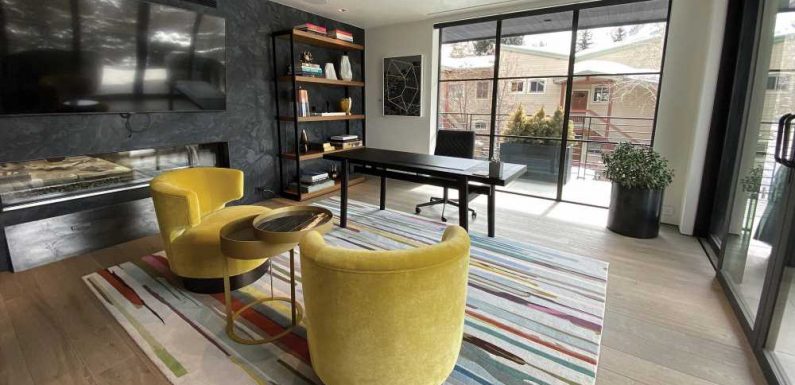 The Aspen Street Lodge opened last summer 2021 as a unique offering in the famed mountain town: a buyout-only, 26-guest home that offers many of the services of a luxury hotel.
A true product of the pandemic when it opened, it seized on the Covid-related demand for places that could be closed for individual groups, launching with a buyout-only model. It was so successful, its owners decided to keep it that way.
It took five years for the Aspen Street Lodge to be designed and built, on the site where the Hotel Lenado stood for more than 30 years. I toured the lodge in March and wished I was an actual guest.
Located in downtown Aspen, steps from Restaurant Row, the Lodge offers a surprising amount of space. With three levels, nine bedrooms plus a two-bedroom penthouse apartment, there seemed to be endless fun- and amenity-filled areas for groups of friends, families or co-workers.
Guests can take in views of the Aspen Mountain slopes from a heated pool and hot tub on the roof deck, which also has a full outdoor kitchen with a pizza oven. 
There are a variety of outdoor areas for dining and gathering or to just curl up and read a book. I can imagine kids and the young-at-heart loving the spacious game room, with pingpong, foosball, shuffleboard and retro arcade games. 
Adults will love the various areas for hanging out or entertaining, both indoor and out, from cozy living rooms with fireplaces to an indoor theater. And any cook would love to get to work in the Lodge's modern, high-end kitchens, although guests who are looking for time off from cooking and cleaning duties will certainly appreciate having the resident chef and staff handle all of that. 
The chef will host meals as well as apres-ski and cocktail parties, which are proving popular on the roof deck. There are also beautiful office spaces, for those looking for some bleisure.
And those in town to ski will appreciate the gear and locker room for storing equipment without ever having to take it inside. In the summer, it serves as a storage and mudroom for other activities like biking.
Travel advisors will appreciate the concierge team the lodge offers, which will work with advisors to curate individual experiences for each group. The team of locals are well-connected when it comes to getting dinner reservations (which can he difficult in Aspen), connecting guests with mountain guides and instructors and helping them get outfitted for snow or nightlife. 
They will also put together experiences such as private, on-site yoga or special group events like painting and cocktails with a local artist.
In the summer, events might include mountain bike guides or fly-fishing and rafting excursions on the Roaring Fork River. 
Prices start at $25,000 per night for summer and fall months and $30,000 per night during the peak winter ski season. 
For information email [email protected]. 
Source: Read Full Article