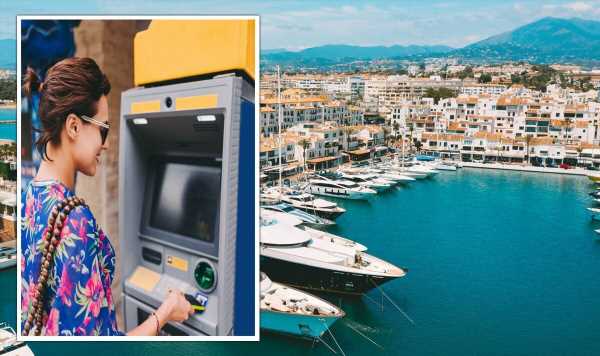 Jeremy Vine: Travel expert gives passport tip for when on holiday
We use your sign-up to provide content in ways you've consented to and to improve our understanding of you. This may include adverts from us and 3rd parties based on our understanding. You can unsubscribe at any time. More info
Rob Staines is a travel expert. He told Express.co.uk how British tourists can avoid being caught out by extra charges this summer.
Rob said: "There are some hidden fees that can catch tourists out this year!
"Since Brexit most phone providers have been forced to implement roaming charges within the EU, rather than swallow up the cost.
"Gone are the days of using Google Maps and downloading travel guides using 4G on the streets of Barcelona or Brindisi.
"Charges average at around £2 per day – either use WIFI or if that's not enough, see if your provider offers a roaming package which may keep costs down."
Since the UK left the EU, the majority of British tourists will have to pay roaming charges if they want to use their phone on holiday.
Despite the rules, some networks will still allow customers to use their phone abroad for no extra charge.
These include O2 and Virgin Mobile as well as several budget providers such as Tesco Mobile and Asda Mobile.
However, this is all subject to change and Britons can't count on being able to use their roaming forever.
As Rob recommends, it's a good idea to see if a network offers a package or tourists should use WIFI as much as possible.
Britons should also check that their accommodation offers inclusive WIFI if the internet is important to them.
Some holiday accommodation will ask for an extra fee for WIFI while others may not offer it for guests.
Rob added: "Cashpoint fees and foreign transaction charges can really add up!
"If you can, remain cashless and just use cards.
"Currency credit cards and prepaid cards are great options as many won't charge a foreign transaction fee.
"They also offer the most favourable exchange rates and many will alert you in pounds and euros for each transaction you make via an app on your phone."
Signing up for a currency card is the best way to save money on holiday as tourists won't be charged transaction fees.
If Britons want to use cash while on holiday, it's a good idea to change currency before going overseas and check rates before committing.
If British tourists do use their card to withdraw money at a foreign ATM, they should always select euros rather than pounds.
Rob added: "Look out for extra charges and taxes. There is a tourist tax in the Balearics which can amount to four euros a day plus 10 percent tax.
"Spain has also introduced a whole raft of possible fines, including charges of 750 euro (£631) for urinating in the sea of Vigo, and 2000 euros (£1,683) if caught smoking in non designated areas at the beaches of Barcelona and the Balearics.
"It helps to know and be aware of local customs and laws to avoid getting caught out."
Source: Read Full Article