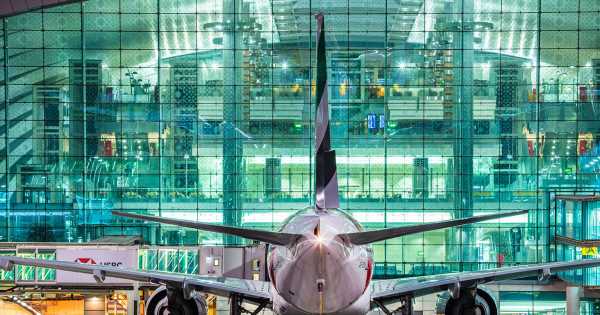 Passenger Confidence Tracker 2021 shows UAE travellers are among the world's most confident despite impact of pandemic
UAE-based air passengers have been named among the world's most confident since the impact of the coronavirus pandemic, with three in four already having taken a flight.
According to the Passenger Confidence Tracker 2021 released by Inmarsat, only those from China were more likely to have taken a short or long haul flight since the onset of Covid-19 than passengers in the UAE, with 79 percent having done so compared to the UAE's 75 percent.
The research also showed that 56 percent of UAE passengers surveyed said they had travelled to international destinations, and expressed that their overall confidence in air travel had not waned — with 42 percent confident about taking their next flight within six months.
Neale Faulkner, regional vice president for Inmarsat Aviation, said: "Although airlines have faced unprecedented challenges over the past 18 months, they have once again shown their resilience and met those challenges head on.
"And the dark clouds are starting to clear, with the latest International Air Transport Association (IATA) figures showing significant momentum for international and domestic travel.
"This news will be welcomed by UAE airlines. However, to maintain and even accelerate this growth, it's essential to rebuild passenger confidence and ensure their evolving needs are met in a post pandemic world."
When asked about key concerns surrounding imminent air travel, UAE passengers were aligned with global response rates with 49 percent saying quarantining and 43 percent citing catching the virus while overseas.
Interestingly, 49 percent of those surveyed by Inmarsat in the UAE consider public toilets to be a higher Covid risk than catching a flight, followed by public transport (36 percent) and sporting events (30 percent).
Additionally, the survey asked which actions would most likely increase UAE passengers' safety confidence when it comes to future travel and found that the top three responses were pre-flight Covid testing (60 percent), digital health passports (59 percent), and thermal scanning (51 percent).
UAE respondents were also among those most supportive of mandatory proof of vaccination or immunity in order to feel confident travelling by air (53 percent). This is perhaps a reflection of the success of immunisation programmes in the UAE, with nearly 80 percent of the population now fully vaccinated.
In line with this, 41 percent of UAE passengers believe a Covid vaccine passport should be implemented, with 40 percent saying they should be implemented when everyone has been given access to the vaccine.
Overall, 83 percent of UAE passengers said they have been satisfied with airlines' response to the pandemic.
According to the survey, UAE passengers cited contactless payment (49 percent) and inflight entertainment on their own devices (41 percent) as the things that most increased their confidence while flying. Furthermore, inflight WiFi is deemed the most important factor for air passengers following the pandemic (51 percent), followed by service experience at 48 percent.
Source: Read Full Article