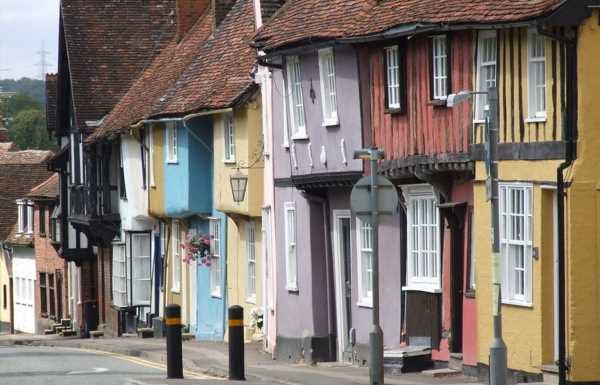 ike many people, I spent a lot of 2020 moored to my home town – although, conversely, it had absolutely nothing to do with lockdown.
My young family decamped to Saffron Walden in November for a couple of months thanks to some extensive work on our London terrace house. We moved in with my parents – we being me, my husband and then eight-month-old baby boy – and brother, still living at home. My former family home, which had shrunk in the years since my siblings and I had grown up, was suddenly fuller than it had ever been.
Since moving to London, then Hong Kong, then back to London more than a decade ago, I hadn't spent more than a few days at a time in this (admittedly quite nice) north Essex commuter town. That all changed during lockdown two, when we found ourselves camped out in my parents' former office, on a janky sofa bed not big enough for two grown adults used to their own space, with a baby squealing upstairs.
Read more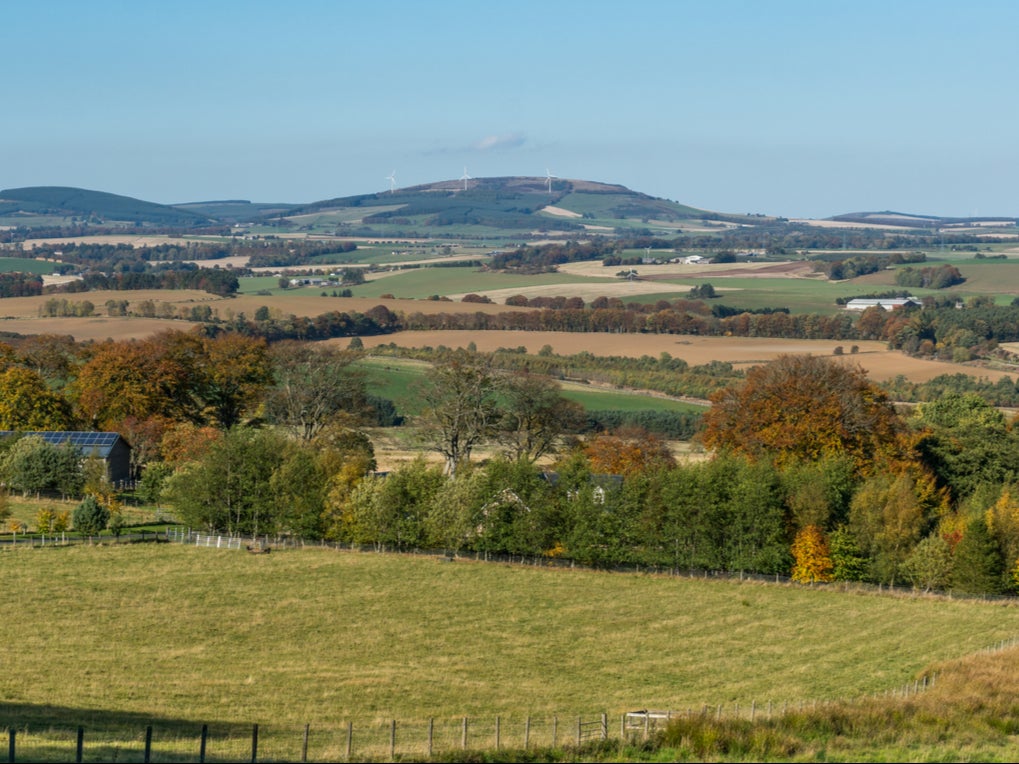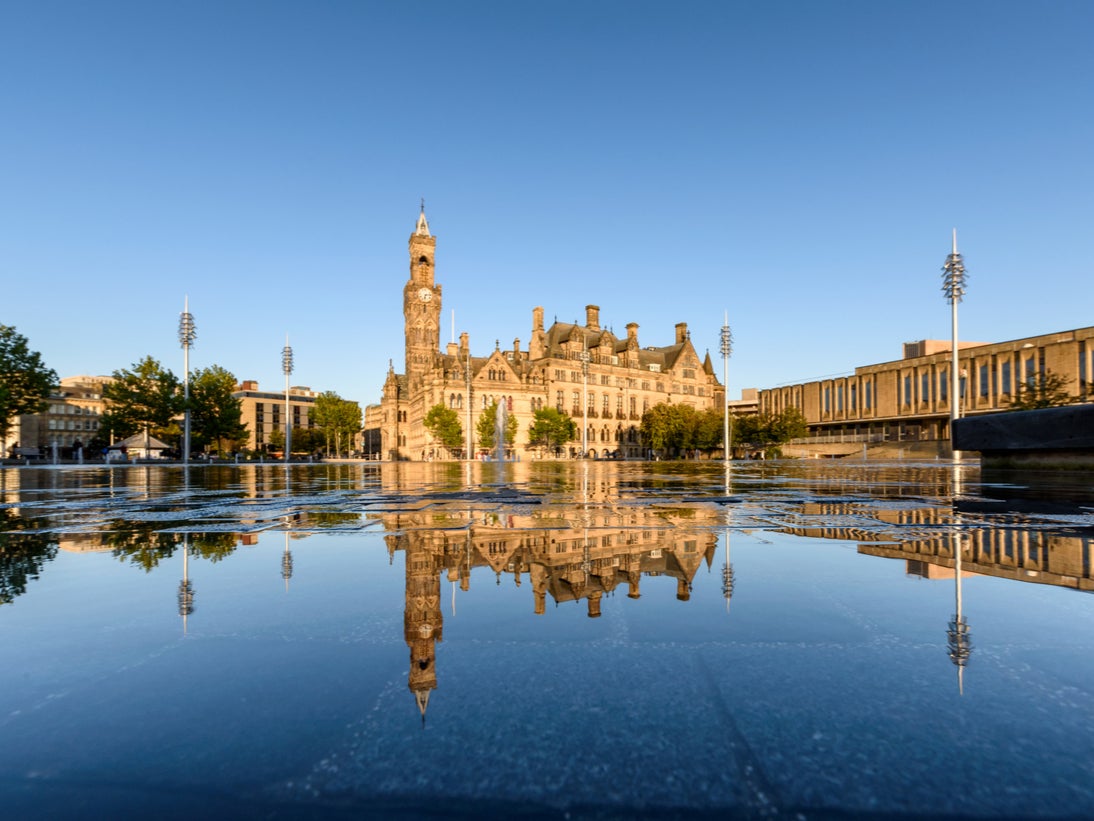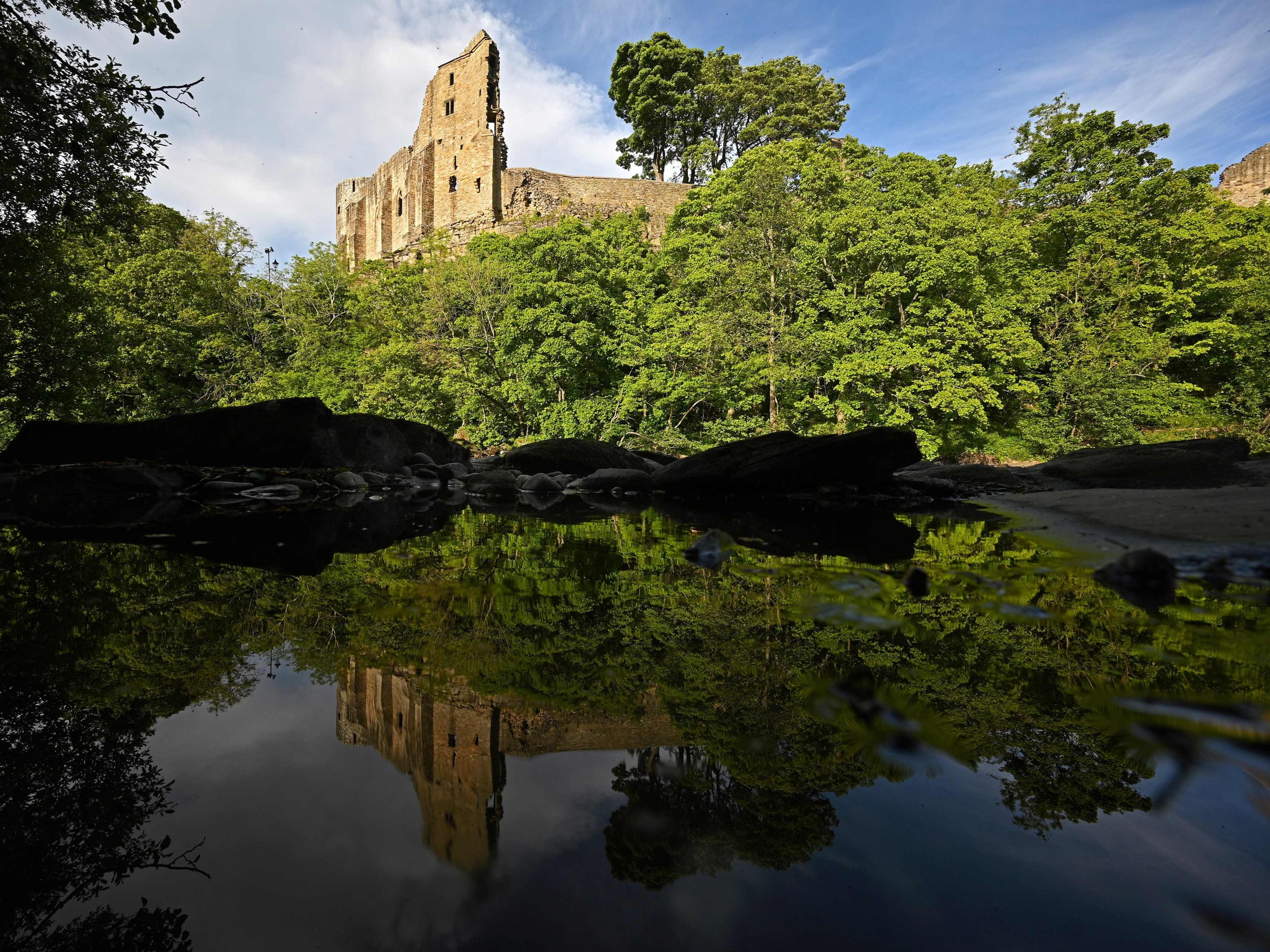 Even with a husband and child in tow and being ostensibly an adult, living in my childhood home still had the capacity to bring out the moody, sullen me of my teenage years. Nothing changes, does it? The same could be said of Saffron Walden itself, although there are some new housing developments and a big Aldi, which, during a locked down maternity leave, ranked pretty highly on my excitement radar.
Here's a better introduction to my hometown. Firstly, Saffron Walden isn't in that bit of Essex. Thirty-ish miles north of the telly-famous part of the county, it's rather smug about its heritage as a 12th-century market town in the rural, stately home side of Essex. Formerly known as Walden, the 'Saffron' was added as a nod to the saffron crocus trade that started in the town around 1500, the plant liking the town's light, rich soil. There's a compact, pedestrianised town centre; St Mary's Church is Essex's biggest; and there's a surfeit of gorgeous Tudor buildings and even a crumbling Norman castle. I was lucky to live among this history as a kid, and of course I appreciated precisely none of it.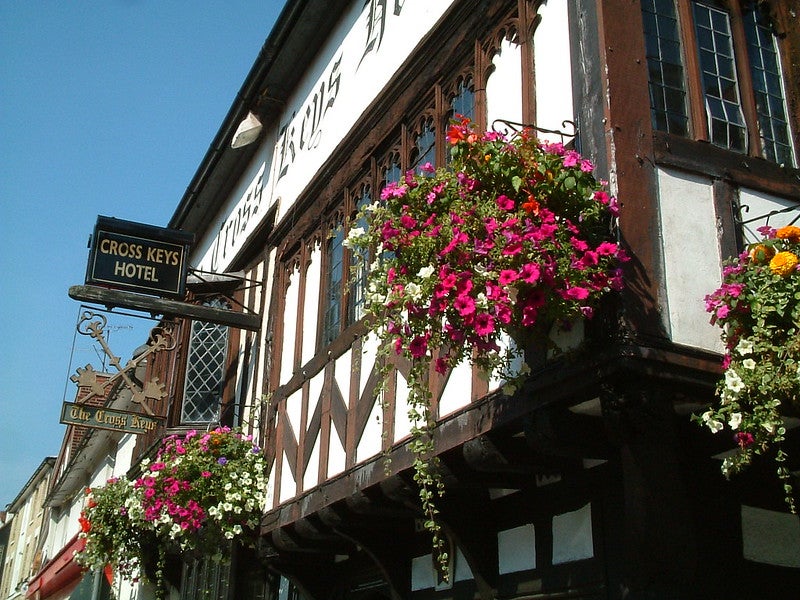 The Cross Keys has gone from grotty to gastro
There's still not a train station (the nearest being Audley End, three miles out of town), a fact that frustrates me as much now as it did when I was 16. When I was at school, I thought Saffron Walden was a nice-enough place to grow up in: all my friends lived in town, I could walk to school and to the pub, and it was near enough to Cambridge and London for 'proper' nights out. Naturally I couldn't wait to leave.
Yet while most people feel more kindly towards their hometown as they grow up, I veer the other way – the slightly sneery nimbyism towards some new housing projects makes me itch, and the town has always felt a little too pleased with itself. The local Conservative MP, Kemi Badenoch, hasn't exactly covered herself in glory recently. All that aside, I'm more than happy to visit Saffron Walden every now and again, walk its green fields and get my dinner cooked for me by my long-suffering parents before disappearing back down the M11.
INDY/
GO Weekly Newsletter
TIME TO TRAVEL!
Read our full mailing list consent terms here
INDY/
GO Weekly Newsletter
TIME TO TRAVEL!
Read our full mailing list consent terms here
I'm not really selling it, am I? But ignore my jaded rendering: if you're after a day trip from Cambridge, or even London; or find yourself waiting to check in for a flight at Stansted Airport (ha!), then it's a lovely stop-off for coffee and cake.
Here are the best bits.
Markets
Start at the tourist information, which is next to the 18th century town hall in the market square. The square is where the town's bi-weekly market, which takes place on Tuesdays and Saturdays, is held; it's been kicked up a gear in recent years with the addition of stalls selling fancy olives, cheese, bread and all kinds of fresh bread.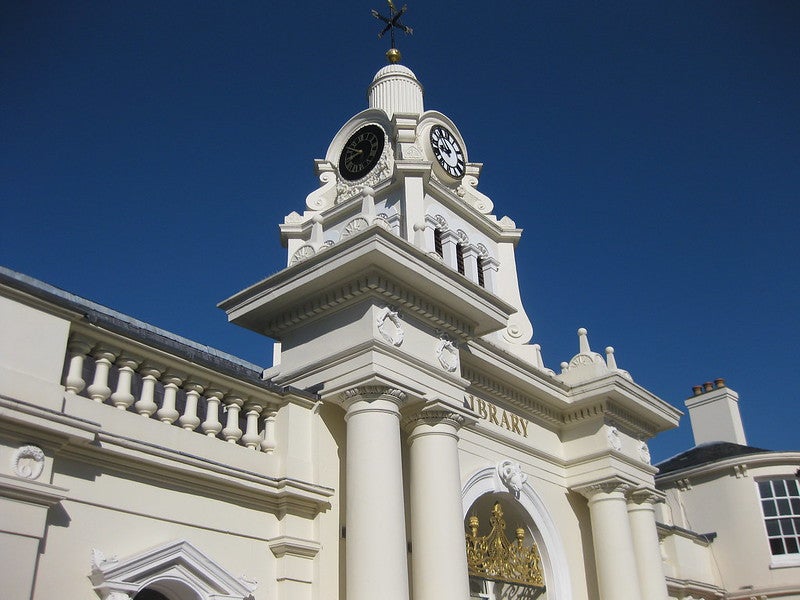 The town library
The town itself doesn't take too long to loop. There's a handful of cutesy boutiques such as Corner Cupboard and Talents on King Street, selling trinkets and fun homewares that you want but don't need; for fashion try independent womenswear store Anna at one end of the High Street and historic mens' outfitters Gray Palmer at the other. The wine shop, Joseph Barnes, on Market Row sells an interesting selection of bottles, while furniture shop Angela Reed occupies an Aladdin's Cave-like space on Market Hill (and, oddly, only accepts cash).
Like many other upwardly mobile commuter towns, there are also lots of hairdressers. I'm not sure why.
What to see
The obvious thing to mention here is the grand Jacobean-era Audley End House on the periphery of the town, managed, presumably quite lucratively given the ticket price, by English Heritage. The grounds, some designed by Capability Brown, include a lake usually filled with swans and a parterre garden. Pre-Covid, the house hosted summer concerts in the grounds, which were about as far from Glastonbury as you can imagine: less mud and more fancy food vans, polite booze tents and a groomed clientele with tartan blankets.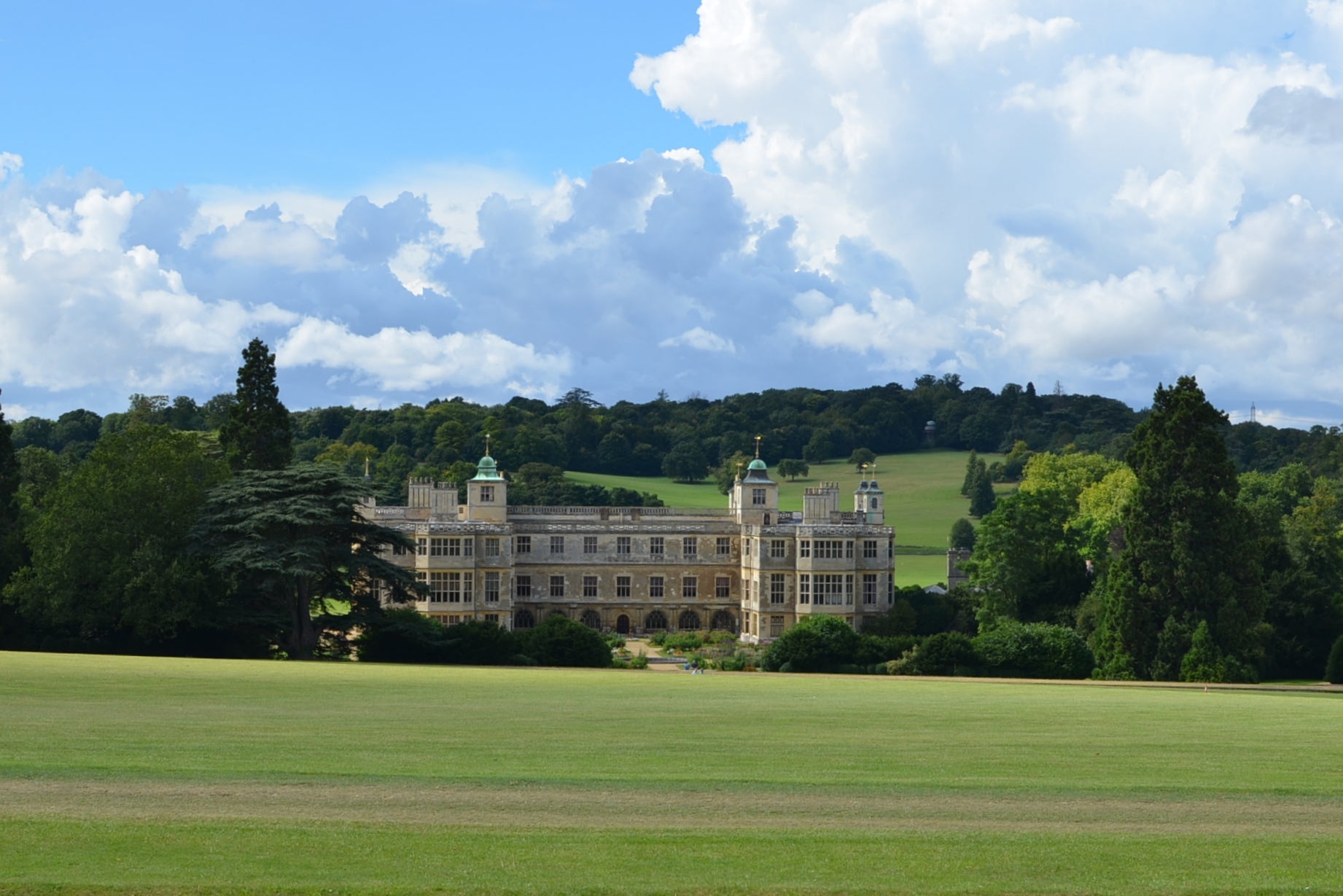 Opposite the house is the kid-friendly Audley End Miniature Railway, which runs year-round through the Audley End estate; although Christmastime is when it goes nuclear, drawing families in from all across the region. There are festive installations, performances from elves and free gifts for children, all to belting Christmas tunes.
For a walk that's less of a hit to the wallet, walk down Castle Street from Little Walden Road, admiring the higgledy-piggledy Tudor cottages in the foreground of the church, and cross over the High Street to Myddleton Place – number 1, a Grade 1-listed timber-fronted building, used to be a Youth Hostel.
Green spaces
Plenty of the Audley End Estate is walkable for free if you know where to go. The gate at the end of Abbey Lane, past the Almshouses, is the easiest entrance from the town, and the estate is a favourite for runners and dog walkers.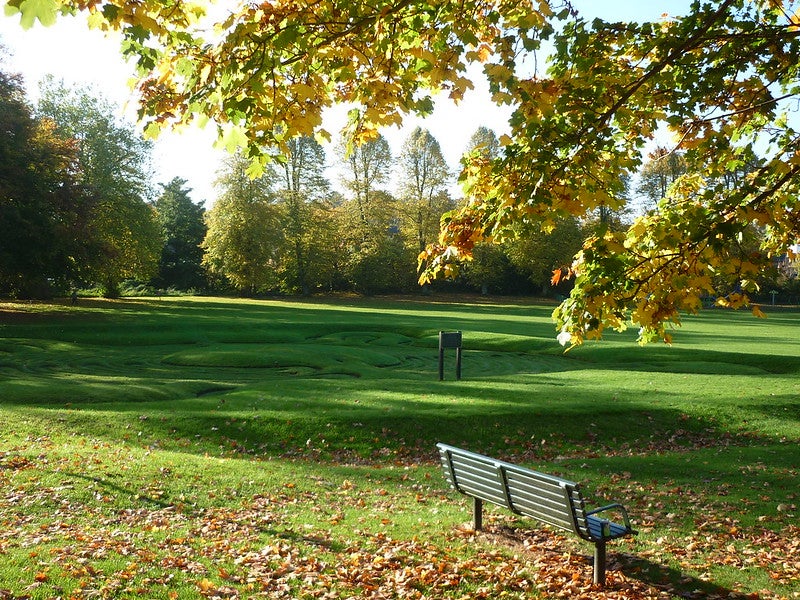 The Common's turf maze
The large Common in the centre of town is usually full of dog walkers and families kicking balls about, and has an excellent playground on the north side. There's also a turf maze just off Chater's Hill.
Or there's Bridge End Garden, near the church, which is a pretty place to spend a couple of hours. Created by a local Quaker, Francis Gibson, in 1840, the garden has a hedge maze (visitors need to collect the key from Tourist Information); cricket field; and various gardens of the Dutch, walled and rose variety. On the passageway that connects Castle Street to the garden is the tiny Fry Art Gallery, named for the family who still own the gardens.
Eat and drink
After a fairly exhaustive search, I can say with certainty that trendy cycle-themed Bicicletta on Market Row does the best coffee in town (with a young baby, I've tried them all), and once upon a time did cocktails in the evening. In second place in my unofficial Saffron Walden Coffee Awards is the van tucked in the courtyard of Angela Reed, which seems only to appear on a Saturday.
The Mogul does the best Indian food in town, in a cosy, narrow space at the top of the high street; The Cross Keys pub has also gone from grotty to gastro since I moved out, and serves big plates of posh pub food (with some excellent vegan specials) in its Tudor-fronted pub. There are a handful of rooms upstairs too.
The long-standing Dorrington's bakery on Market Row has been a staple of the town ever since I can remember, selling freshly made tasty sandwiches, pastries and sausage rolls for not much money.
It would be remiss not to mention Jamie Oliver. The Naked Chef is Saffron Walden's most famous export, and his parents' former pub, The Cricketers' Arms (where he learnt to cook) is in nearby Rickling Green. It's since been sold to a local pub chain, which should spell the end of the slightly depressing shrine of Jamie products I once saw for sale on my way in.
Where to sleep
The recently rebranded Saffron Suite & Kitchen at the north end of the High Street is about the only option – I can only vouch for the bar, which has a lively atmosphere whenever I've been dragged out on Christmas Eve. Rooms from £60.
There's also a Premier Inn on the same business park opposite Aldi, presumably to cater to Stansted Airport crew, slated to open in July 2021.
Source: Read Full Article