It's not often you find yourself nearly a mile in the sky diving into a caviar-topped baked potato with a mother-of-pearl spoon. But then, in St. Moritz, Switzerland, nearly everything seems possible — and nothing too extreme.
Don't be surprised if you see a blocklong yurt designed by Louis Vuitton or a winter polo tournament played on a frozen lake. A head-first toboggan run with a 500-foot vertical drop is nearly de rigueur for some locals. And that $1,000 caviar-topped baked potato is now served on the ski slopes for your apres-ski sustenance.
Maybe it's the altitude, nearly 6,000 feet above sea level, or the 300 days of annual sunshine. Or maybe it's the word "ritz" in its name. But the Swiss city defies convention in its pursuit of the extraordinary. 
A two-time host of the Winter Olympics and widely acknowledged as the birthplace of winter tourism, St. Moritz has an illustrious history of adrenaline junkies and jet-set daredevils, thanks in large part to the Kulm Hotel St. Moritz.
Both the Cresta Run racing toboggan track and the Olympic Bob Run trace their origins to the Kulm. Europe's first curling tournament took place on the hotel's expansive grounds, and the first electric light in Switzerland illuminated the Kulm's dining room. In other words, what happens in St. Moritz probably started at the Kulm.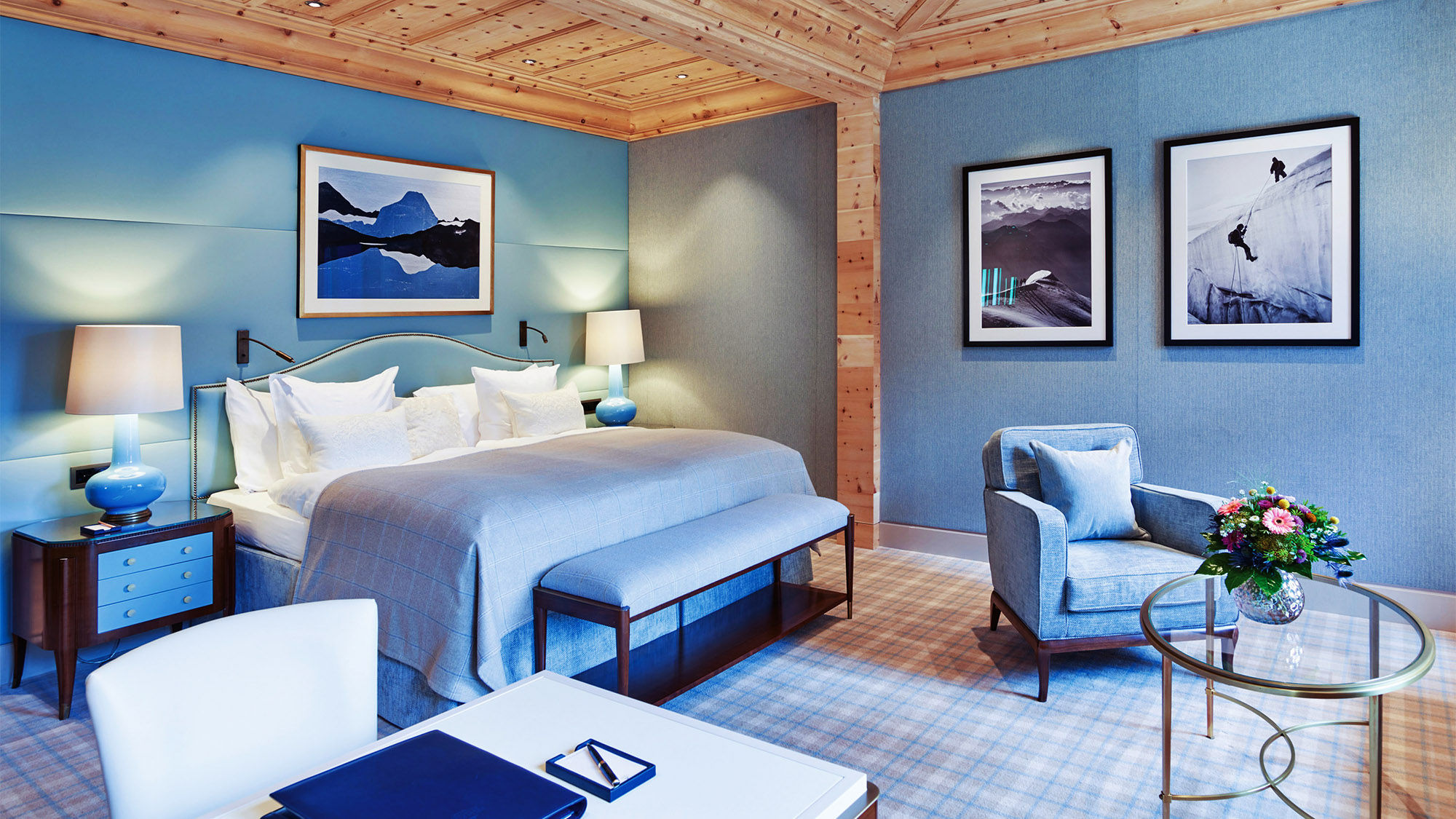 For more than 160 years, the Kulm has remained a beacon of Alpine innovation and Swiss luxury hospitality. The five-star superior hotel, a member of Swiss Deluxe Hotels and Leading Hotels of the World, offers 164 rooms and suites, many with balconies that face onto Lake St. Moritz. The soothing interiors designed by Pierre-Yves Rochon feature Swiss stone pine carved ceilings as well as walk-in closets and dressing rooms made from the aromatic conifer celebrated for its therapeutic properties. Known locally as arven, Swiss stone pine helps purify the air to promote a more restful sleep. Pine pocket doors open into marble bathrooms with double sinks and deep soaking tubs — and plenty of Asprey's Purple Water toiletries.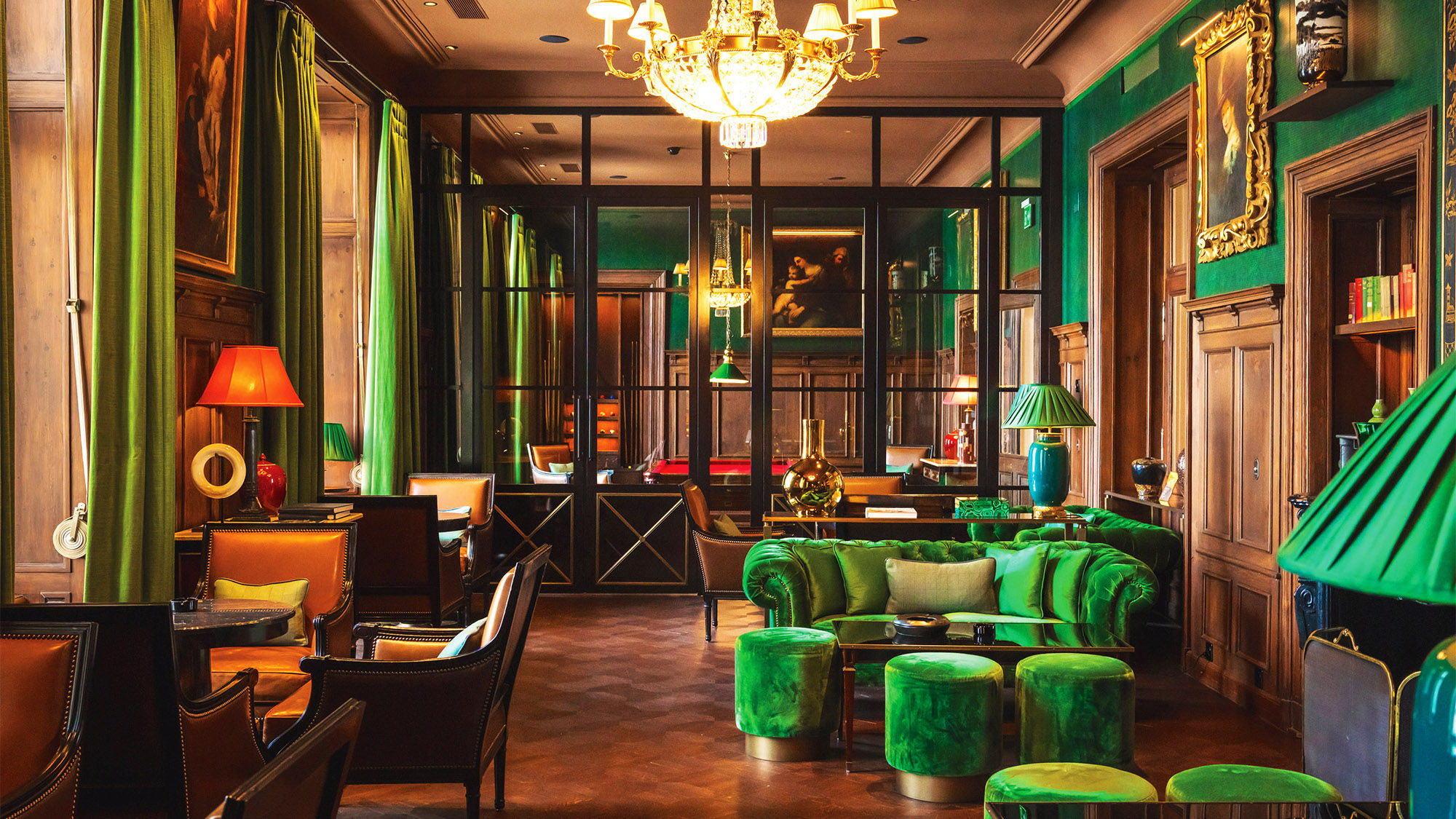 New at the Kulm
Recent renovations at the Kulm include the redesign by Norman Foster of the historical Kulm Country Club, which now houses a restaurant and cocktail lounge overlooking Kulm Park. Photographs and artifacts from the Kulm's archives decorate the walls and ceilings. Equally pleasing is the Kulm's newly renovated Pizzeria, paneled with repurposed wood. To soak up the scene and the sun, reserve a table on the terrace at Chesa al Parc, where Swiss cuisine reigns supreme.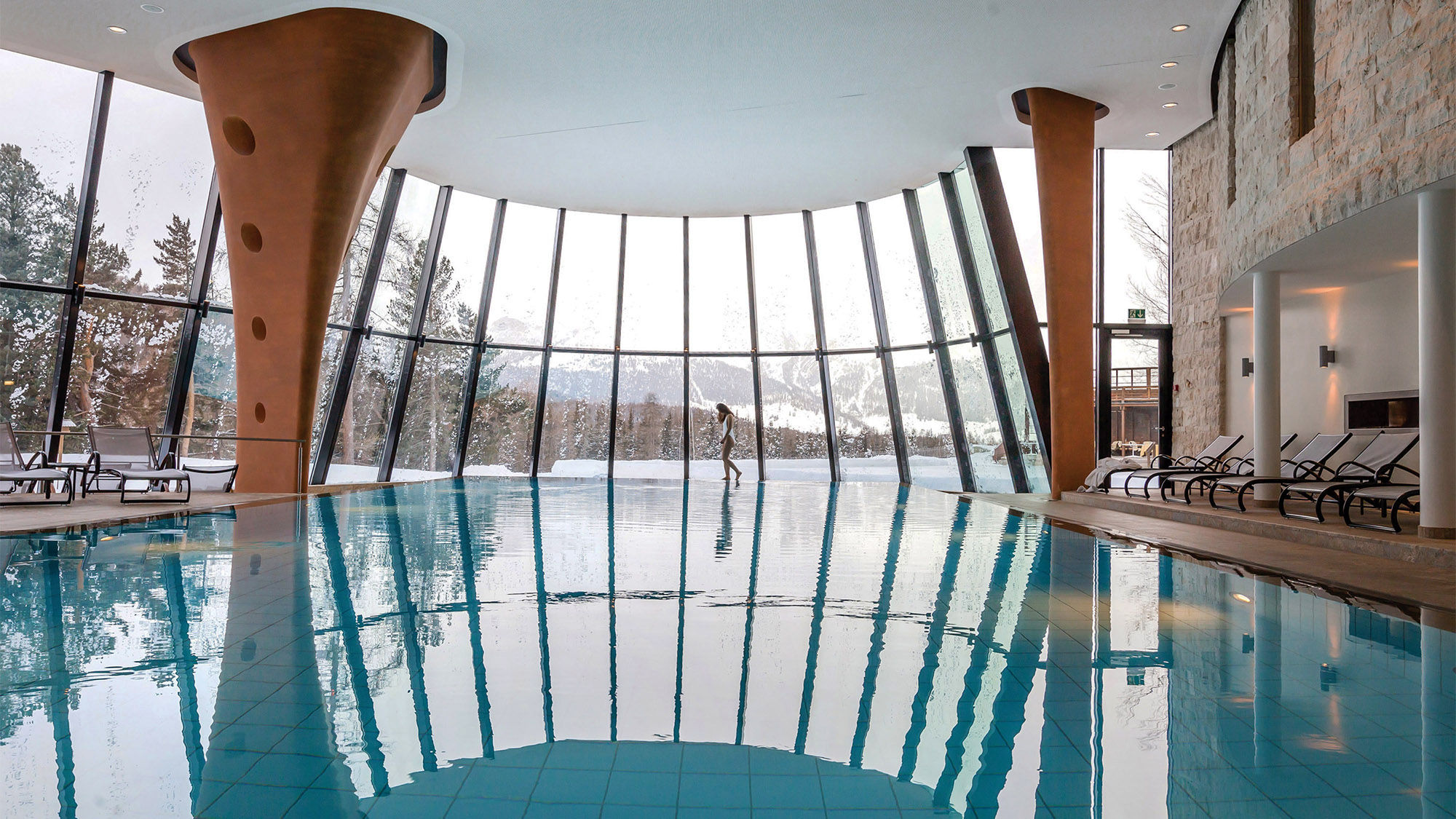 In the neighboring village of Pontresina, the Kulm's sister hotel, the five-star superior Grand Hotel Kronenhof, celebrates its 175th birthday with guest chefs and special events from mid-June 2023 to April 2024. The neo-baroque hotel's signature bel etage has been reconfigured into a jewel-toned enfilade that leads from a book-lined library to the belle epoque lobby with its historical ceiling frescoes and on into an art deco cocktail lounge. A fumoir furnished in shades of jade and emerald provides a perfect sanctuary for a glass of absinthe and a cigar.
The Kronenhof's expansive spa features a 65-foot pool, saunas, a saltwater grotto and a stone cavern steam bath, and yet it's the panoramic view onto the Val Roseg glaciers that might linger longest in guests' minds. Equally rejuvenating is an afternoon on the sun terrace at Le Pavillon. 
Of the many people I met during a weeklong stay in St. Moritz, all but one hailed from regions beyond the Engadin region. When asked why they'd left their home countries, nearly all mentioned the polyglot culture of global nomads.
"I meet so many cosmopolitan people here," said one woman. "All year long, there's something going on."
Alpine pursuits … and more
Most everyone associates St. Moritz with skiing, and there's plenty of it, with more than 140 miles of cross-country trails and over 200 miles of ski slopes, many of them with vertical drops that make you question your sanity. Snowshoeing atop Muottas Muragl leaves you breathless above the clouds.
Yet the Engadin is a four-season playground. The Kulm Hotel's signature High Points program offers immersive experiences, including mountain tours, forest bathing, gallery viewings and private dinners with artists and collectors.
Opening this summer, the St. Moritz Scala will house the Cresta & Bob Museum, a cinema and a restaurant. In April, the SunIce Festival takes over the slopes for a weekend of electronic dance music, followed by the Festival da Jazz in July and the St. Moritz Art Film Festival in late summer. Mountain biking and hiking in summer are complemented by sailing regattas on the lake.
When ascending to a destination as rarefied as St. Moritz, the journey should be equally astounding. Guests who arrive via helicopter or private plane risk overlooking the spectacular vistas from the Unesco-listed Rhaetian Railway, which winds skyward through a series of helical tunnels, curved viaducts and vertiginous bridges.
Transfers from the St. Moritz station to the Kulm Hotel are offered in BMW X5 or 7 series hybrids. When flying from the U.S., Swiss offers one of the few remaining first class in-flight experiences. Swiss business class is equally indulgent, with Swiss Lounge access, priority check-in, a pod-like workplace and fully reclining bed, Victorinox comfort kits and three-course meals created by Swiss chefs. 
Source: Read Full Article