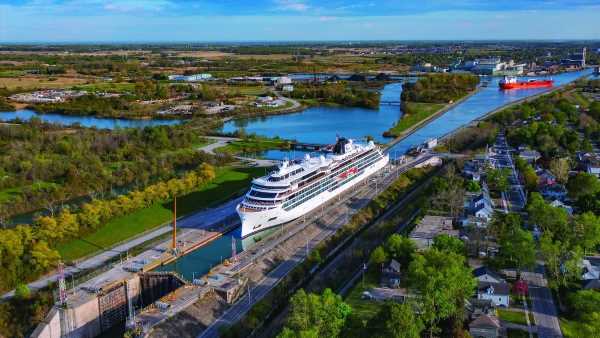 Viking is rolling out two new long itineraries in the Great Lakes where the line is sailing its two expedition ships, Viking Polaris and the Viking Octantis.  
Last year, Viking sailed its debut season in the Great Lakes with the Octantis. This year, Viking doubles its presence in the region.
The new Great Lakes Collection is a 15-day voyage between Toronto and Duluth, Minnesota. The sailing includes calls at Niagara Falls (Port Colborne) and several major American cities, including Cleveland and Detroit. Other calls are to smaller ports such as Alena and Mackinac Island, Michigan. The line will sail this itinerary from June through September. 
Viking is offering two new 16-day voyages from Toronto to Fort Lauderdale as the expedition ships reposition for their Antarctica seasons. The Canada and Atlantic Coastline sailings in September include several calls in Quebec, Nova Scotia and New York City. Other stops include Norfolk, Virginia; and Charleston, South Carolina.
Viking is also sailing a 13-day voyage between New York and Toronto. This itinerary, which the line unveiled last year during its inaugural season in the Great Lakes, includes calls in Nova Scotia, Prince Edward Island (Charlottetown) and several locations in Quebec, including Cap-aux-Meules. Those sailings are scheduled for May and August.
Viking on May 5 completed its Viking Longitudinal World Cruise I, a 65-day journey from Antarctica to Milwaukee. In September 2023, the Viking Polaris will embark on Longitudinal World Cruise II from Duluth to Ushuaia, Argentina, and the Viking Octantis will sail from Milwaukee to Ushuaia on Longitudinal World Cruise III.
Following Viking's third season in the Great Lakes, the Viking Polaris will sail Longitudinal World Cruise IV from Milwaukee to Ushuaia in October 2024. 
Source: Read Full Article