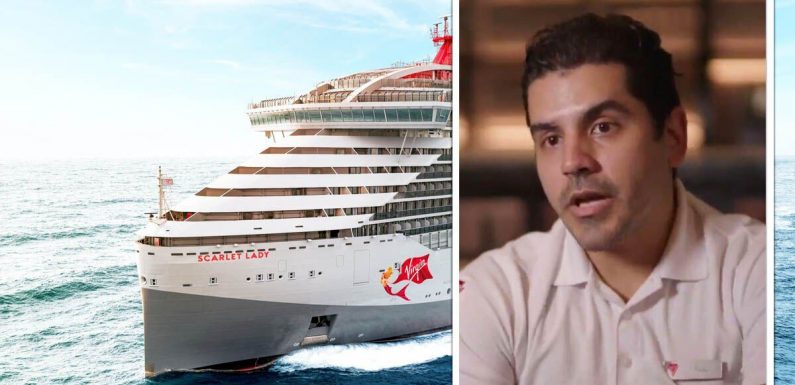 The Cruise: Passengers compare cabins
We use your sign-up to provide content in ways you've consented to and to improve our understanding of you. This may include adverts from us and 3rd parties based on our understanding. You can unsubscribe at any time. More info
Virgin Voyages attracts guests that like to party and often throws raucous events onboard. The party atmosphere is exactly what the majority of guests are looking for but this week one cruise passenger wasn't so happy.
Virgin Voyages VIP guests are known as rockstars and get their own personal rockstar agent to deal with all their demands.
In this week's episode, rockstar agent Selma had to deal with an unhappy VIP guest and the problem was very difficult to solve.
Selma said: "The music, the party by the pool, gets a little bit loud. So sometimes the music can be heard in the rooms.
"So one of my sailors actually was complaining about the noise all night and all morning.
"And she is requesting to be moved to another room but we don't have anything available."
As the tricky passenger wasn't able to move to another cabin, Selma had to find another solution.
She told the guest: "We spoke to the pool deck manager also and they are going to reduce the noise as much as possible.
"Let's try to see how it's going to be for tonight."
However, the irritated guest wasn't happy, saying: "There's music though, that's a big issue."
Selma said: "There is a party, there is nothing we can do about it. And then in the morning let me know how it was and if nothing changes then we'll go further."
She told viewers: "All my sailors except one cabin said they had slept well. We are here to party, we are here to celebrate everything and there is nothing we can do about it."
Elsewhere, one happy customer showed off her new horse tattoo which she got in the onboard tattoo parlour.
Virgin Voyages Scarlet Lady has its very own tattoo artist where guests can get their very own unique souvenir.
This week Teodara, the senior nurse, had to cope with a medical emergency onboard the Virgin Voyages ship.
She said: "One of the most common things that we are dealing with is actually accidents on the ship. We have a lot of falls."
Teodara had to treat one passenger quickly after he had a fall in Scarlet Lady's luxury spa.
The unfortunate passenger, Larry, was determined not to let the incident get in the way of his cruise holiday.
Luckily for Larry, an X-ray in the ship's medical department showed that there was nothing seriously wrong.
Working on a cruise ship is demanding work and crew have to make the most of any downtime they get.
This week, the crew headed to their own private beach on Bimini island to enjoy a ball game on its sparkling shores.
The Cruise continues on Channel 5 at 9pm.
Source: Read Full Article