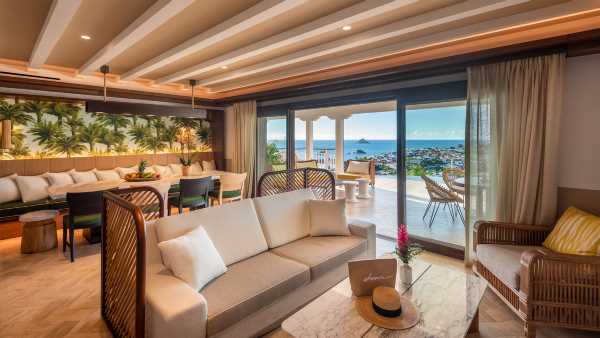 The Hotel Barriere Le Carl Gustaf on St. Barts has opened the Villa Diane.
The resort's first villa, it has five bedrooms and 4,305 square feet of living space. Villa Diane holds up to 10 people and includes a personal butler and chef, a private infinity pool, complimentary breakfast, private yoga or Pilates classes at the villa and access to the resort's fitness center. It also includes private roundtrip transportation from the airport to the hotel with VIP service.
Prices start at $19,000 a night for the Villa Diane, and there is a five-night minimum.
• Related: Covid rules for St. Barts
The resort itself has offers 21 luxury rooms, suites and bungalows. There are two dining options, Fouquet's by Pierre Gagnaire and Shellona. Chef Pierre Gadnaire is a three-time Michelin star recipient. The resort also has an on-site spa that includes beauty, and physical treatments and exercises, all which are available to guests at an additional charge.
The resort also offers free use of water bikes to guests in rooms with private pools as well as electric bikes for guests interested in exploring the island. Additional options include fishing, catamaran trips and excursions.
Room prices start at $950 per night for its deluxe room with sea view. Commissions range from 10% to 15%.
Source: Read Full Article