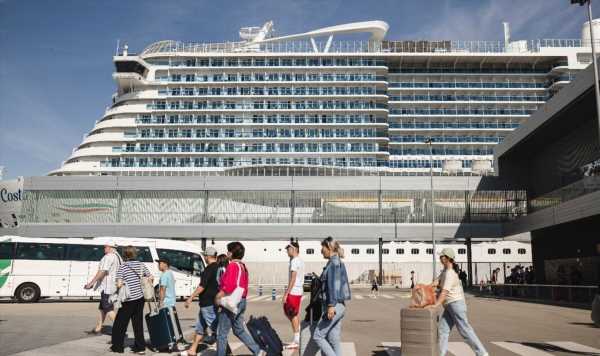 Norwegian Cruise Line recently sent a letter warning customers they could face a significant price rise on cruises in Spanish waters.
VAT will be added to the onboard pricing due to new rules. This means all food and beverage purchases will incur VAT, including drinks and dining packages.
Every purchase in the line's onboard shops will incur 21 percent VAT while drinks and dining purchases will have a 10 percent VAT charge.
Even guests who opt for the line's 'Free at Sea' packages which include all-you-can-drink deals, will have to pay an additional tax on drinks purchased.
The line has implemented the rules to coincide with a new law in Spain which wants to ensure cruise guests pay the same taxes as other tourists.
READ MORE 'I'm a hotel worker and you should always check the kettle'
The letter said: "Due to local tax regulations, please note that a 21 percent Spanish VAT will be added to applicable retail items purchased on board for sailings departing from Spain and calling to European port cities.
"Additionally, a 10 percent VAT will be applied to all food and beverage purchases made onboard, including purchases made under our Unlimited Open Bar or Specialty Dining Packages, for certain sailings departing from Spain or any European itinerary while in Spanish waters."
Travel expert Simon Calder tweeted: "When is an 'inclusive drinks package' not inclusive? On Norwegian Cruise Line voyages that include Spain.
Don't miss…
The world's most captivating UNESCO site is in the UK[STAYCATION]
Cruise guests issued packing warning as some lines are 'strict'[CRUISE]
easyJet issues flight warning for British tourists[WARNING]
We use your sign-up to provide content in ways you've consented to and to improve our understanding of you. This may include adverts from us and 3rd parties based on our understanding. You can unsubscribe at any time. More info
"Passengers who sign up for the Free at Sea deal don't get entirely free drinks: they must pay the tax on anything they consume within Spanish waters."
Despite being a popular cruise destination, several Spanish waters have a tricky relationship with the industry.
Barcelona is one of the largest ports in the Mediterranean but the city has seen protests from local residents.
‌It was found to be Europe's most polluted port by cruise ships in a recent survey and in October ships will be banned from docking at its northern ports.
City officials have also considered raising tourist taxes for cruise tourists. Cruise passengers currently pay a fee if they stay overnight in the city.
In the UK, Southampton was ranked the most polluted city by cruise ships, landing just outside the top 10.
Source: Read Full Article