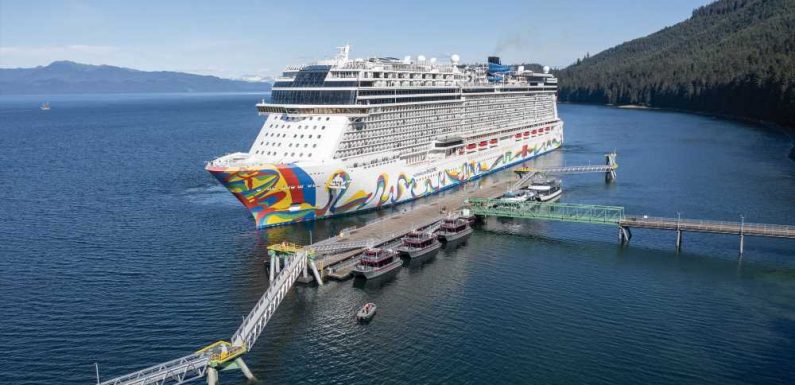 Norwegian Cruise Line Holdings (NCLH) is donating nearly 3 acres of once-Indigenous land in Juneau to the Huna Totem Corp. to develop a new cruise pier. 
Huna Totem Corp., an Alaska Native village corporation that operates the cruise port of Icy Strait Point, accepted the return of the land on behalf of the Tlingit community. The corporation, along with community stakeholders like fellow Alaska Native corporation Goldbelt, expect to submit plans for development of the pier by the end of the year. 
The corporation plans to build a year-round facility where NCLH will have preferential berthing rights. The waterfront complex will reflect the cultural and historical values of the Alaska Native people, said Russell Dick, CEO of Huna Totem Corp. The project is expected to also improve traffic flow, eliminating tendering operations and welcoming visitors to a purpose-built facility.
NCLH won a competitive bid for the waterfront parcel in 2019 for $20 million. The company said it has since been working with local stakeholders to develop a plan for the property.
NCLH has been working with Huna Totem for years. It began calling on the corporation's privately-owned and -operated Icy Strait Point port in 2013. Five years later, the two organizations partnered to add the Wilderness Landing port facility at Icy Strait Point which opened a year ago. This year, the cruise line teamed up with Huna Totem to develop a second docking facility in Whittier, Alaska. 
"Ensuring this Juneau project is fully integrated into the community is incredibly important to us, and as we began planning its development, it became abundantly clear that Huna Totem, owned entirely by Alaska Natives, was the right stakeholder to lead this effort," said Dan Farkas, executive vice president and general counsel for Norwegian Cruise Line Holdings, who oversees corporate construction.
Source: Read Full Article