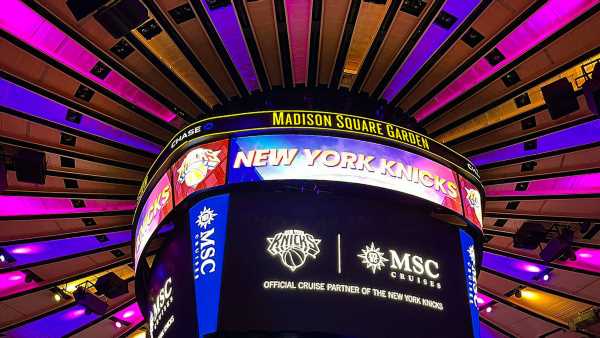 MSC Cruises has been named the official cruise line partner of the New York Knicks. The MSC brand will be prominently displayed during basketball games at Madison Square Garden, the home of the Knicks.
Under a three-year marketing partnership, MSC will be promoted with LED signage and virtual on-court signage. MSC also will be the presenting partner of the in-game T-shirt toss. 
In addition, MSC and the Knicks will collaborate on marketing activities overseas, which could include Italy, Germany, England and Brazil. The Knicks and MSC Cruises will also partner to make a donation to an ocean conservation cause for every three-point shot made by the Knicks this season.
The partnership comes as MSC plans to launch year-round cruises on the 5,714-passenger MSC Meraviglia out of the Brooklyn Cruise Terminal in April as part of a move to capture greater market share in the U.S. 
In the spring, the Knicks will host a Jr. Knicks basketball clinic aboard the Meraviglia during its inaugural call at the terminal, offering basketball drills, training and games run by the Jr. Knicks coaching staff, plus an opportunity to meet with former Knicks players and receive branded giveaways. 
MSC will also be the official cruise line partner for the Westchester Knicks (an NBA G League team affiliated with the Knicks) and Knicks Gaming (the Knicks' official competitive gaming team for the NBA 2K basketball video game).
Source: Read Full Article