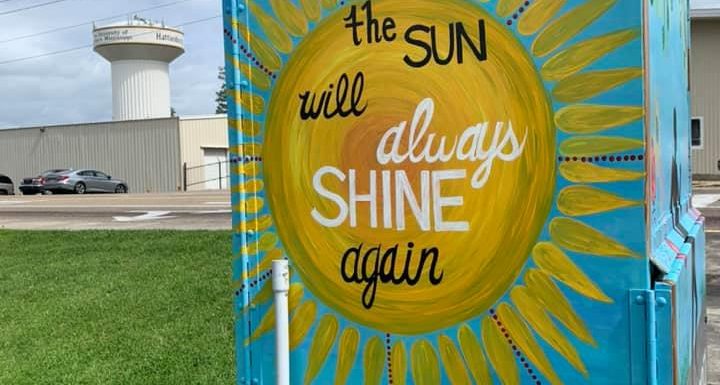 You may not associate utility boxes with artistic expression, but in Hattiesburg, Mississippi, scoping out utility boxes around town is a museum-worthy experience. The project is part of the Hattiesburg Public Art Trail, which has worked hard to bring murals, sculptures, and fine art galleries to the city, and features the work of local artists on nearly 20 utility boxes around town. (Pictured above is "Get Outside" by Kayla Worrel).
"We are proud of the Public Art Trail, a  collaborative initiative that has allowed the city's streets to become a canvas for many talented artists," Marlo Dorsey, executive director of VisitHATTIESBURG, told Southern Living via email. "When COVID-19 touched our community, we knew we needed to shift our focus to creating new ways for visitors to safely enjoy Hattiesburg. This outdoor trail is the perfect socially distant activity for the novice Instagrammer to the veteran art enthusiast. We are proud to bring this attraction to Hattiesburg's creative community and to our visitors who want to experience our artistic flair again."
"Unified" by Kalamity Kam (L) and "Heroes" by Thomas Jackson (R)
This isn't the first artistic initiative we've loved in Hattiesburg as of late. Last fall, the city created a "Pocket Museum" filled with tiny treasures in the city's downtown. "When the COVID-19 pandemic began, we, like many destinations, shifted focus to highlight socially distanced, family-friendly outdoor attractions. That's when the Hattiesburg Convention Commission devised the idea for The Pocket Museum," Dorsey shared with us after the exhibit's launch. "Located in a formerly boarded-up hole in a back storeroom, The Pocket Museum turned a lackluster alley into an interactive art exhibit. Organizers created Milo, the cute, furry mouse who is the Hattiesburg Pocket Museum's curator, adding to the whimsy and spontaneous nature of this museum," Dorsey continued.
For art fans, it's clear that Hattiesburg is definitely an emerging destination to add to your radar. From miniature museums to murals, the Southern city of 46,000 residents certainly thinks outside the utility box.
WATCH: Erin Napier Celebrates Ben in Photo of Him Holding Newborn: "I Know Exactly How Lucky We All Are"
We'd love to hear from you: What's the most creative outdoor art installation you've seen around the South? Let us know in the comments section on Facebook so we can consider them for future stories.
Source: Read Full Article