I've visited a number of the cities along the Danube, some of them multiple times. But it seems there's always something new for me to discover there. 
This was certainly the case on a recent sailing aboard Viva Cruises' newest ship, the Viva Two. We sailed the European river line's seven-night Danube Metropolis itinerary, which took me to familiar places on the river, cities like Budapest and Esztergom in Hungary and Vienna. But it also took me to a few new places, such as the Austrian cities of Linz, Krems and Salzburg and the Wachau Valley.
Early in our journey we visited Szentendre, an artist town and community in Hungary not far outside of Budapest that's known for its quaint, winding streets and souvenir shopping. It's one of my favorite places to see when in Hungary, and this time I explored a new side of town, choosing to head for higher ground after I followed a staircase I had seen a few times before on previous visits but never explored.
My curiosity led me to a hidden cafe where I picked up langos, a kind of street food that locals call Hungarian pizza, and a quieter part of the town with sweeping views.
I also discovered a new souvenir shop, Blue Land Folklore, where the owner told me about the long history of her store and the many reasons why she came to love this tucked-away part of town.
We next set sail for Bratislava, Slovakia, a city I've been to three times but have never actually seen, mainly because I've been too busy working to peel myself off of the ship. But this time I was determined to disconnect from my laptop and connect with the city and see what it had to offer. I wasn't disappointed. 
Our walking tour covered the capital city's castle, of course. I enjoyed finally seeing the castle grounds but was more pleasantly surprised to see how large the Old Town was; there were plenty of pedestrian-only cobblestone streets to stroll down and get lost on, trendy cafes and bookstores that caught my eye and that I'd like to revisit someday. 
I also saw some of the most interesting street art in Bratislava, including a sculpture of a man emerging from a manhole, casually people-watching for all eternity. I later learned the bronze statue is called Cumil (Man at Work) and was installed to liven up the city's image that had historically been marked by austere Communist-era architecture. There were many other artworks in Old Town that had quirky histories and superstitions associated with them, including a silver sculpture of a man who is a symbol of unrequited love and is said to bring about bad luck for those who photograph him.
There were so many other aspects of this cruise that I enjoyed, as well, including sailing on the Upper Danube and visiting towns I had never been to before, such as the charming town of Weissenkirchen, with its old stone buildings covered in ivy and its charming, hand-painted wooden signs in front of stores and people's homes. Hillside hikes from there offered incredible views of the Wachau Valley below.
We also spent a day visiting Salzburg, my first visit to the city often associated with Rodgers and Hammerstein's "The Sound of Music" — a film I'm slightly embarrassed to say I've never seen but one I am inspired to watch after my visit.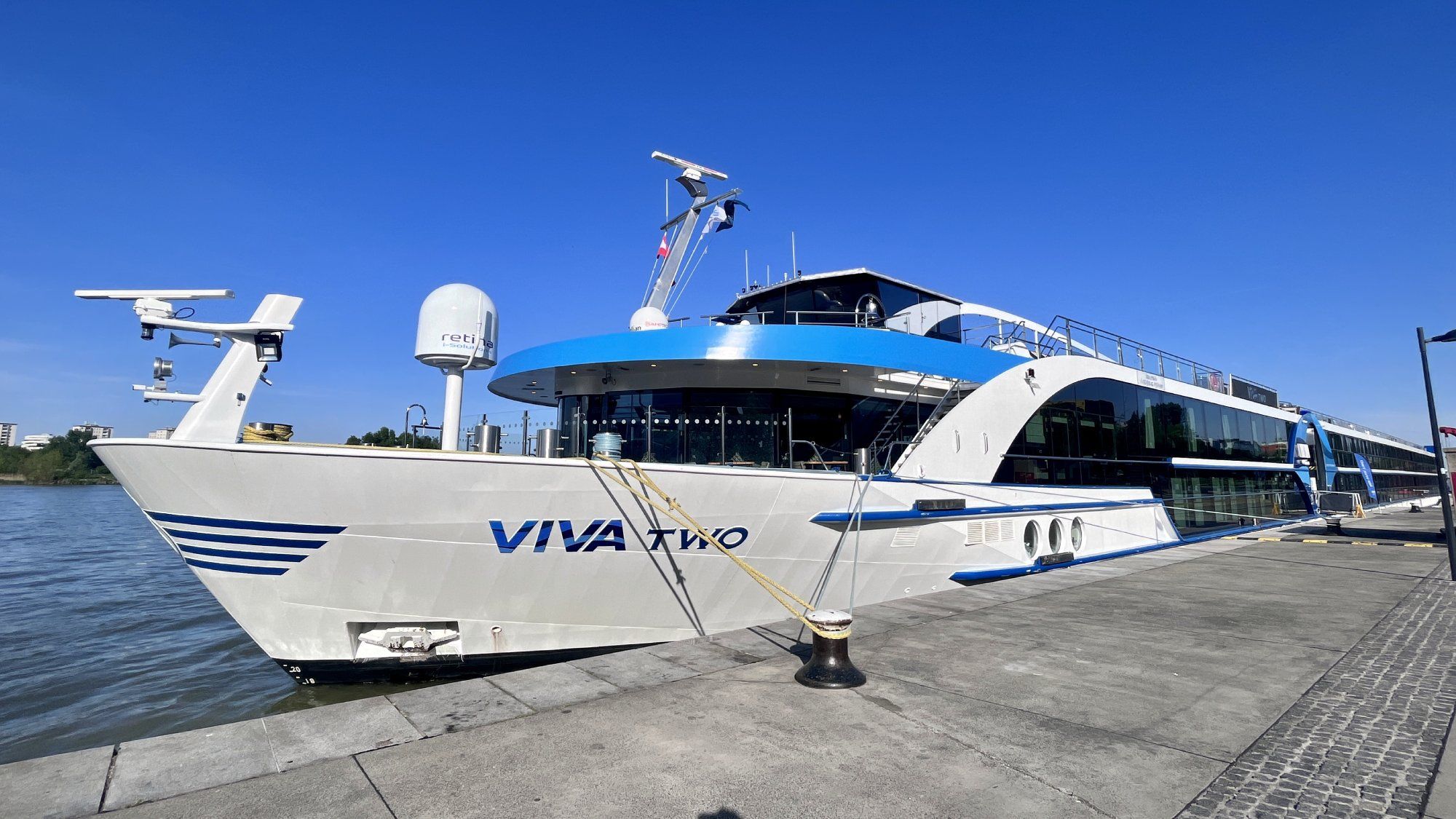 Getting a taste for the Viva Two
There was a fair amount of discovery back onboard Viva Two, as well, and I relished my time getting to know the ship and its many different amenities and unique design features.
Among my favorite places was the bar and lounge area — not because of Viva's all-inclusive cruise experience but because of its split-level layout that added a lively dimension that I hadn't seen on other river ships.
I spent a good amount of time using the ship's hot tub and spa facilities, which include a steam room and sauna on the lower deck. The two rooms are relatively small, almost like stalls, which creates a more intimate spa experience. 
And I can't remember having a bad meal onboard; everything was delicious, especially the soups that Viva's executive chef, Georg Pfandl, concocted for the ship's three restaurants. The lobster bisque and clam chowder served in the seafood-only Viva's Bistro were wonderful, as were all of the soups served in the main dining restaurant, Riverside. And I have to tip my hat to Pfandl for including beef tartare as a fixed menu item in the Mediterranean-inspired Moments restaurant — it's one of my favorite dishes.
Source: Read Full Article