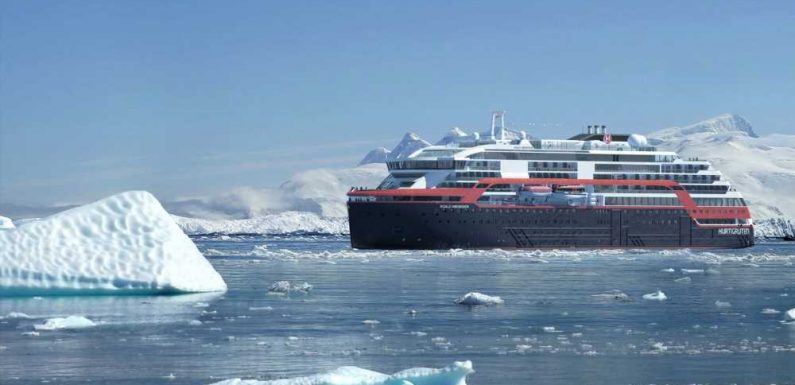 Cruise lines that offer Antarctica sailings are slowly beginning to confirm their 2021 seasons, which had been mired in uncertainty due to the border closure in Argentina, whose southernmost city of Ushuaia is the main gateway to the White Continent.
Argentina said it would open its borders to fully vaccinated visitors Nov. 1, but the news did not come soon enough or with enough certainty for some companies, which have either moved their ships to ports in Chile, canceled sailings altogether or are using charter flights to get passengers directly to their ships.
Both Silversea and Hurtigruten will launch ships from Punta Arenas, Chile, instead of Ushuaia. Also, Hurtigruten will operate two ships instead of three to Antarctica this year, citing the travel restrictions, and said it will return to Ushuaia for the 2022-2023 season. 
"Even though there are now signals about Argentina gradually opening for tourists, the rules and procedures applicable for cruises and cruise travelers are still uncertain and unclear," said Anders Lindstrom, Hurtigruten's head of communications for the Americas. "We currently cannot plan a restart in Argentina because of the regulatory situation."
Argentina's late decision put expedition-line plans on hold heading into what's arguably their most important season: Antarctica is considered a top bucket-list destination for expedition cruisers and a lucrative itinerary for lines that have not been able to sail there since the 2019-2020 season.
It is also a market that had been growing exponentially leading up to the pandemic. According to the International Association of Antarctica Tour Operators (IAATO), the number of passengers making landings in Antarctica skyrocketed, from just over 19,000 in the 2010-2011 season to more than 55,000 in 2019-2020. 
New expedition cruise ships and brands will only push that number even higher in years to come.
Ushuaia is the most direct route to the continent, and departing from Chile adds cruising time and fuel costs. And not all lines have made the switch. Scenic said on Sept. 23 that its Scenic Eclipse expedition vessel would restart on Jan. 7 from Ushuaia. Its late start means it will cancel sailings that were scheduled to start in late November. 
The relaunched Swan Hellenic said that its Antarctica cruises on the brand-new SH Minerva will sail from Ushuaia starting Nov. 30.
Two lines are able to sail from Ushuaia by getting their passengers to the city on direct charter flights from the U.S. 
Lindblad on Oct. 1 said its guests would travel on private charter flights from Miami and embark their ship immediately upon arrival in Argentina. It is the same model that newcomer Atlas Ocean Voyages has had in place, enabling it to confirm its season without making any itinerary changes.
Atlas will launch its first Antarctica cruises on the World Navigator in what it calls "an air bubble," a private jet charter from Orlando that takes passengers directly to the ship in Ushuaia. The protocols enabled Atlas to confirm its season before Argentina opened its borders because its passengers, like Lindblad's, will have almost no contact with Argentines.
According to Atlas president Alberto Aliberti, the charter company he is using had been approached by other cruise lines offering Antarctica about a similar arrangement.
Aliberti said being able to confirm as early as Atlas did drove some passengers to book with the line in order to avoid potential cancellation with other operators. 
"They were not happy being uncertain with other lines," he said. "And so we are picking up a number of people from that."
IAATO executive director Gina Greer said the news from Argentina was "very encouraging," but as of late September, the association and its members were still trying to understand it. Antarctica cruise operators have the additional challenge of getting passengers from the main airports to the embarkation cities, which are more than a thousand miles away.
"Flights have been severely limited within Argentina," she said. "So they're opening the borders, that's great, but what does that mean for people then getting from Buenos Aires to Ushuaia? Do we still need to have private charters going? That's where these questions really start to come in."
And while the Atlas bubble will work for upscale travelers coming from the U.S., she said that IAATO operators "draw a lot of their guests from different countries; some of them are much more diverse with where their guests come from. And that's what I would say, as far as the challenging aspect is, you're getting everyone to muster in one location."
Source: Read Full Article