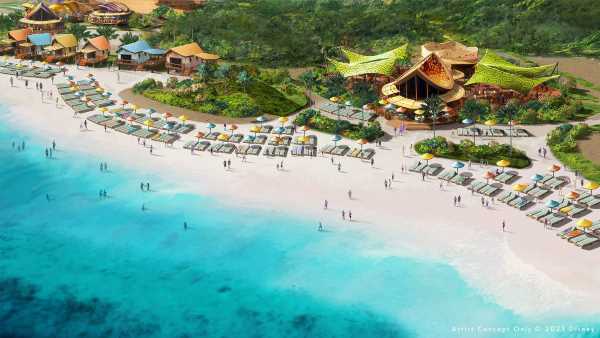 Disney Cruise Line on Thursday unveiled new details about private destination Lighthouse Point and new renderings of the area on the Bahamian island of Eleuthera. 
Disney anticipates Lighthouse Point will open in summer 2024. 
Lighthouse Point will offer an expansive family beach centrally located near market-style dining and recreation and a Bahamian art and culture pavilion featuring special programs and local artists.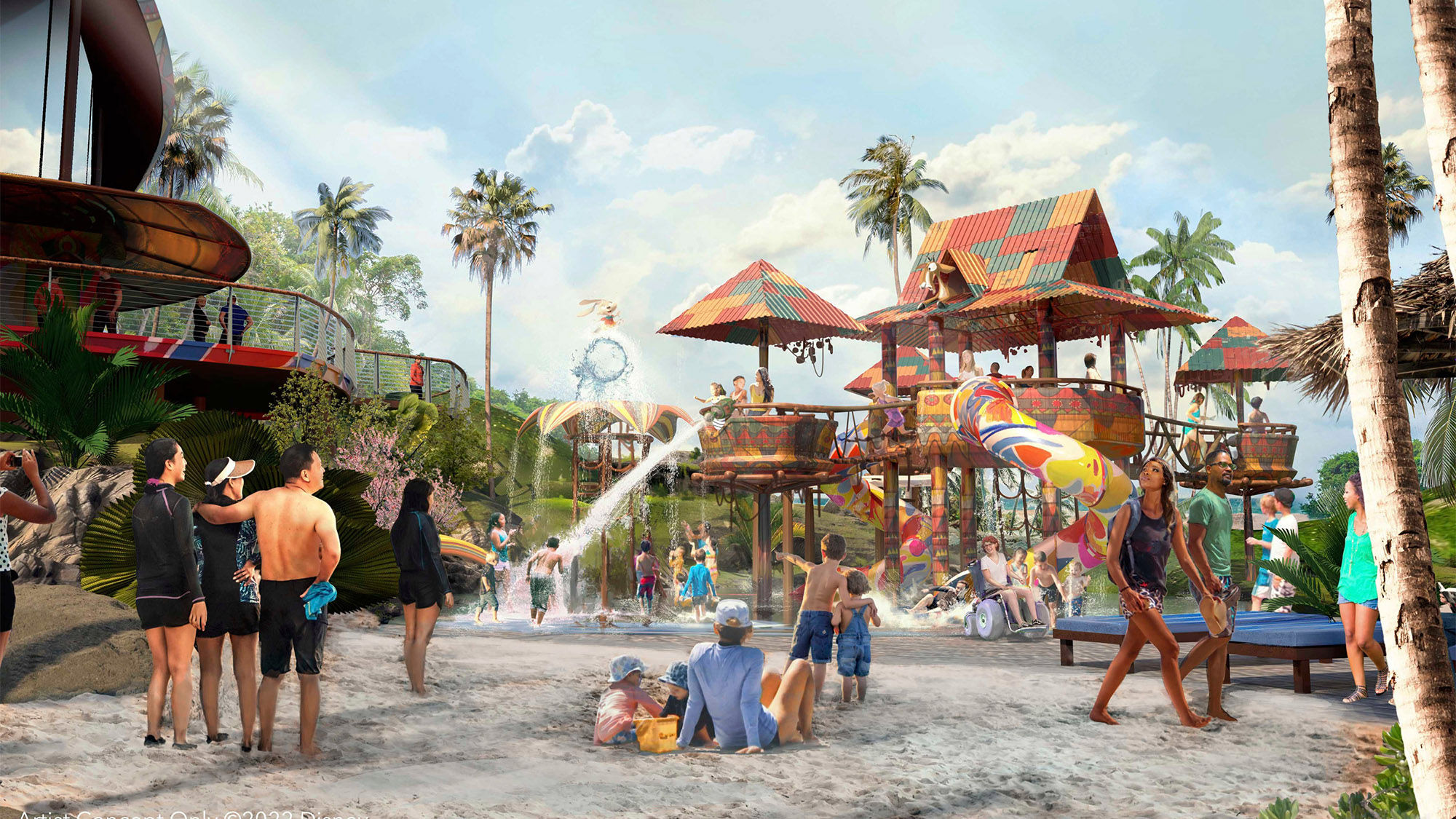 A themed kids club for children ages 3 to 12 will have a splash pad inspired by "The Little Mermaid" and a dedicated dining area. Trained Disney Cruise Line counselors will supervise. 
The destination features both the emphasis on Bahamian culture and was built with sustainability in mind, according to Disney. The family-friendly design features bright, saturated colors and Bahamian artistry, such as curved buildings to resemble shells along the shoreline and artistic expressions of native flora and fauna, Junkanoo parades and folklore characters.
The destination will have a family water play area with two slides, water drums, fountains and a dedicated space for toddlers. Lighthouse Point also will have a covered gaming pavilion, a volleyball court and a gaga ball pit, nature trails for hiking and biking, and rentals for watercraft and bicycles. 
There will be an adult-exclusive beach with a dedicated dining area and six private cabanas available with a reservation. Another beach will be lined with 20 premium family cabanas available for rent, including four double cabanas to accommodate larger groups and offer massages. The line said it will also offer excursions with local tour operators showcasing the natural elements and the island's culture.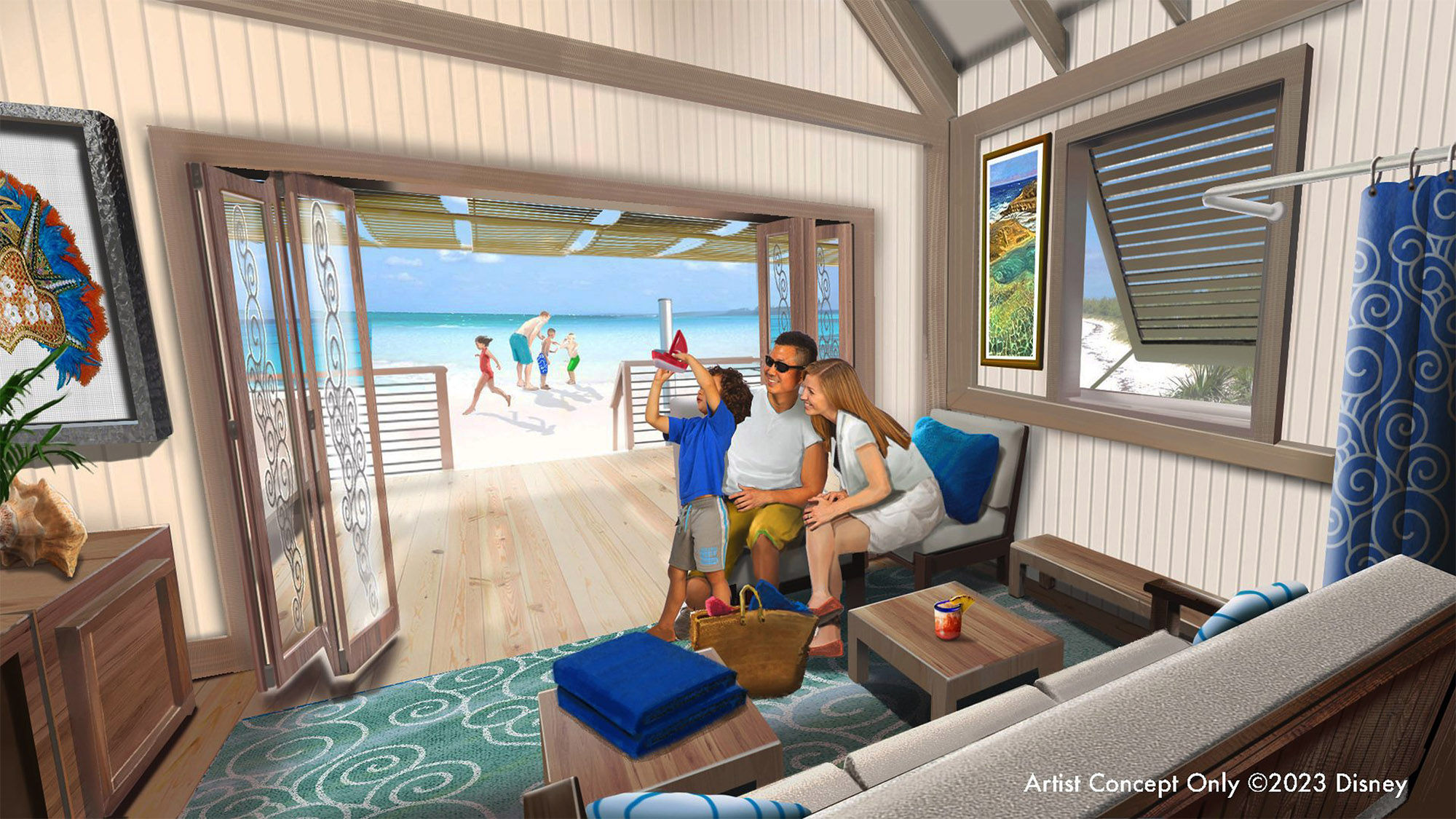 At least 90% of the destination's electricity is expected to be solar-powered. In other conservation measures, the pier was designed to avoid the need for dredging and elevated walkways will limit guests' impact on the landscape. 
Named Lighthouse Point after a historic lighthouse on the property, the destination will be located on the island of Eleuthera, about 75 miles east of Nassau. 
Disney Cruise Line earned initial approval from the Bahamian government to build the destination in 2018. At the time, the government stipulated that Disney must integrate Bahamian cultural and artistic expression across the site and partner with the community for training and professional development programs. The government also called for a low-density and sustainable design.
Source: Read Full Article