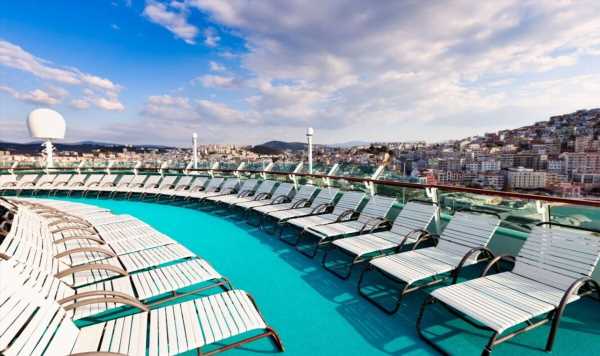 We use your sign-up to provide content in ways you've consented to and to improve our understanding of you. This may include adverts from us and 3rd parties based on our understanding. You can unsubscribe at any time. More info
Cruise guests have shared their complaints about chair hogs. Although people saving sunbeds all day aren't unique to cruises, it can be very irritating for other passengers.
A guest shared a picture from their cruise which showed a sign asking people to remove their things from a chair.
The sign read: "Please don't reserve deck chairs. In consideration of all our guests, unattended personal items will be removed after 30 minutes and safely stored for your protection."
Some cruise lines will remove passengers' items if they don't come back to the chair within half an hour.
A guest said: "Every cruise line needs to aggressively do this. I'm so sick and tired of the 'me me me' ***hole set who come down and reserve prime deck chairs with a towel and book at 7-8am and don't make an actual appearance until 1-2pm in the afternoon."
Often 'chair hogs' will get up very early to secure a lounger in the ideal poolside location for the day.
However, as cruise ship pools are often fairly small for the number of passengers, this can mean other guests lose out.
A passenger said: "I hope this (the sign) becomes a thing honestly. I get you need to put your stuff somewhere, but use a chair or two, max not five. It's just rude."
Another guest said: "There are people who get up, immediately put their stuff on the best chairs even before sunrise, and then spend almost the entire day away from those chairs, only using them for a short while, if at all.
"It's never been allowed, but it's also rarely been enforced, because ships and staff are afraid to ever tell guests 'no' on these types of things."
In some cases, guests said they'd taken things into their own hands and moved the other passenger's stuff.
One said: "Times like this make me happy to have a generally disagreeable disposition. If you aren't where your stuff is and I want to sit there, I'm moving your stuff and sitting there.
"When they eventually come back looking angry, wondering how I have the nerve to do such a thing, I ignore them or tell them I didn't touch their things."
While this is a bold move, it could cause a fight or argument, which isn't the ideal situation for most passengers.
Guests can ask the ship's crew members to move the items if they don't want to do so themselves.
Another passenger said: "I moved a couple of towels off two chairs on my current cruise after asking nearby loungers if anyone was using it.
"About 40 minutes later an older couple comes and says they had 'reserved' the chairs.
"I just said that I'd been there for more than half an hour, and they could get a crew member and explain that they had 'reserved' the chairs.
"They slinked off. These people know they are in the wrong, they just try to get away with it anyway."
Hotels often have a similar problem during peak season, where some guests get up very early to secure seats.
Policies differ and some staff will move things if too much time has passed while others will leave it alone.
Source: Read Full Article