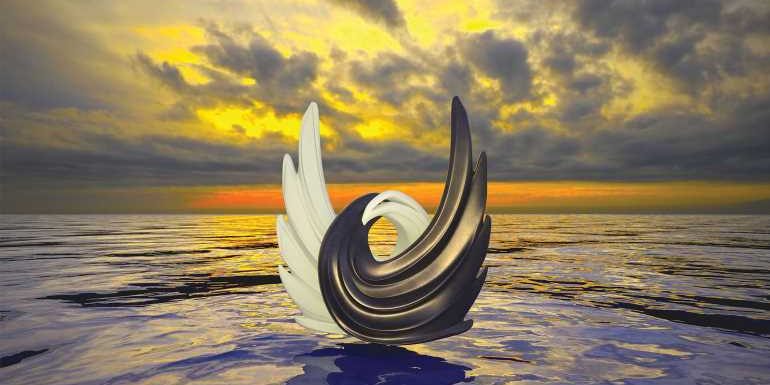 Celebrity Cruises will sell its first nonfungible tokens (NFTs) next month, offering a collection of motion art pieces featuring a sculpture of two doves installed on the new Celebrity Beyond. 
Titled "Peacemakers Sunset," the NFTs feature the rotating sculpture hovering above moving water during sunset. 
The sculpture and NFTs are the work of Brazilian visual artist Rubem Robierb, who also created sculptures on other ships, including the "Dream Machine" on the Celebrity Edge and the "Empower Flower" on the Celebrity Apex. 
The "Peacemakers" sculpture was inspired by protests for racial justice and represents a tribute to those who fight for peace, said Robierb. 
"Yin and Yang, masculine and feminine, me and you. If we want to end all battles and conflicts, there is only one solution, and that solution is peace," said Robierb. 
A variation of the NFTs, titled, "Peacemakers, Blue Sky," can be found onboard the Beyond, leading Celebrity to claim it is the first "NFT at sea." 
"The scale and scope of what's possible in this space, and the way we can connect our guests with new immersive and accessible experiences, is really endless. It's exciting to take this first step with the talents and artistry of Rubem," Celebrity Cruises chief marketing officer Michael Scheiner said. 
Each NFT sale comes with two invitations to the Celebrity Beyond's naming ceremony in Fort Lauderdale in November. The NFTs go on sale on June 1 on the OpenSea platform. Proceeds from the sales will go to Robierb. 
In April, Norwegian Cruise Line became the first known cruise line to sell NFTs. The line auctioned six pieces and donated the proceeds to Teach for America. 
Source: Read Full Article