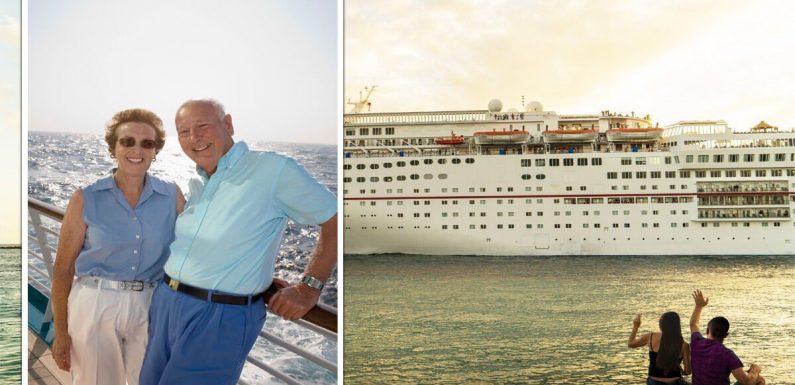 Rip Off Britain: Simon Calder issues advice about passports
We use your sign-up to provide content in ways you've consented to and to improve our understanding of you. This may include adverts from us and 3rd parties based on our understanding. You can unsubscribe at any time. More info
Since pandemic restrictions were lifted, many tourists are eager to head off on a cruise holiday. But some cliches have put Britons off a cruise trip.
A survey conducted by cruise.co.uk exposed some of the common misconceptions that Britons think about cruise holidays.
The most common mistaken belief was that cruises were "only for retired people" which 46 percent of those surveyed said.
Some cruises do cater to older travellers. Saga Cruises are for travellers aged 50 and over although travelling companions can be 40.
However, many other cruise lines are designed for families with incredible features such as water slides and crazy golf onboard.
Richard Branson's Virgin Voyages are adult only cruises with a huge menu of fitness classes and drinks offers.
Another commonly held cruise cliche was that cruise holidays are more expensive than other types of holiday.
Almost 60 percent of those surveyed thought that cruises were expensive. While a luxury cruise can be very expensive, it's not always the case.
Cruises outside of peak school holiday period can be very good value and there are many options for different budgets.
Britons will normally have all their food included on a cruise which can cut down considerably on extra costs.
Budget conscious travellers could also opt for an interior room to save money and cruises can be a great way to visit multiple destinations on one holiday.
Cruises often have Broadway standard shows included in the cost of the holiday as well as many other exciting activities.
Meanwhile, some British tourists were put off cruising due to a fear of getting seasick on holiday.
Seasickness can be incredibly uncomfortable but most modern cruise ships are designed to avoid it.
Often passengers will be unable to feel the movement of the sea once they're onboard with only the views to remind them they're afloat.
If a British tourist does feel seasick onboard, it's often best to head to the lower decks where it's hard to feel the movement of the ship.
Tony Andrews, deputy managing director of cruise.co.uk, said: "Our survey lifts the lid on some of those tired cliches we've all hear about cruise holidays.
"There are cruises out there for all ages, from young families stepping onboard a ship for the first time to senior sailers toasting a happy retirement.
"And there's so much more to enjoy onboard these days, from incredible spas, pools and even water parks to ice rinks, climbing walls and West End quality shows, everyone can make the most of their time onboard and explore new destinations in comfort.
"And as our poll suggests, a cruise won't break the bank. There are a wide range of ships and itineraries to try, from large floating hotels crossing the Mediterranean to luxury lines travelling around the world.
"All budgets and preferences are catered for. Meanwhile, modern cruise ships are amazingly stable, meaning passengers can immediately get their sea legs and enjoy a well-earned holiday from the moment they depart."
Source: Read Full Article