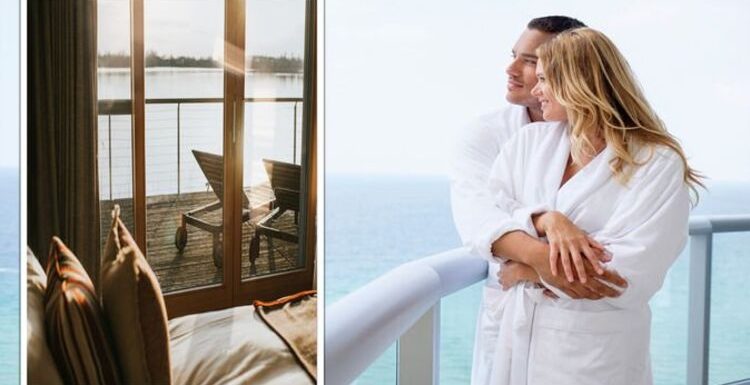 World's Most Expensive Cruise: Guests show off their suite
We use your sign-up to provide content in ways you've consented to and to improve our understanding of you. This may include adverts from us and 3rd parties based on our understanding. You can unsubscribe at any time. More info
One new cruise guest asked Reddit users for some helpful tips and tricks for cruise holidays. They said: "This is my first balcony cruise so any balcony tips?"
One Reddit user said: "Be careful opening and closing the hallway door if your balcony door is open.
"There's a big pressure difference that causes a major draught through your cabin. It can slam the hall door shut and blow stuff off the tables.
"If you're travelling with kids, take extra care with that door."
An open balcony door can bring a lovely breeze to a cabin but could also cause cabin doors to slam.
Passengers should be careful when leaving and entering their cabin if they want to avoid annoying other guests.
Another cruise guest said: "We always get a balcony because we enjoy having a 'private' view.
"It's wonderful to sit there and relax with a book, laptop or tablet. If you find yourself docked in port facing the pier, then make sure you are on your balcony to watch for the 'Pier Runners'.
"Cheap entertainment and for some reason more fun watching them scurry back to the ship from the privacy of your own room.
"We always cheer them on, telling them to run faster."
There are always going to be a few guests who nearly miss the ship after a day exploring on shore.
It might seem cruel, but some passengers do get a kick out of watching the 'pier runners' hurry to catch the ship.
They added: "No matter what time you get up, make sure to order some coffee/tea to your room before you head out for breakfast.
"It is so refreshing to 'wake up' by having a cup of your favourite morning beverage while out on the balcony, looking at the waves and the clouds.
"Great way to start the day before heading to the dining room or buffet for a real breakfast."
Most cruise lines will offer room service so passengers can stay the day with a hot beverage on their balcony.
The passenger said: "Same goes for the evenings. We always enjoy ending the day standing on our balcony looking at the stars and maybe even a passing ship.
"We also always like to hang out on our balcony when leaving port. Again, a nice private view for watching things pass.
"I am always intrigued by the activity in a port and possibly watching dolphins or other wildlife escort the ship."
A balcony is the perfect spot to watch the activity onshore and if passengers are lucky they might even see some wildlife.
Ports are always busy places so there's usually plenty to watch when the ship departs for the next destination.
The passenger added: "Depending on the size of the balcony, some of them have lounger chairs that lay down.
"While we personally haven't, I do know a few people that slept on the balcony and loved it!"
Source: Read Full Article