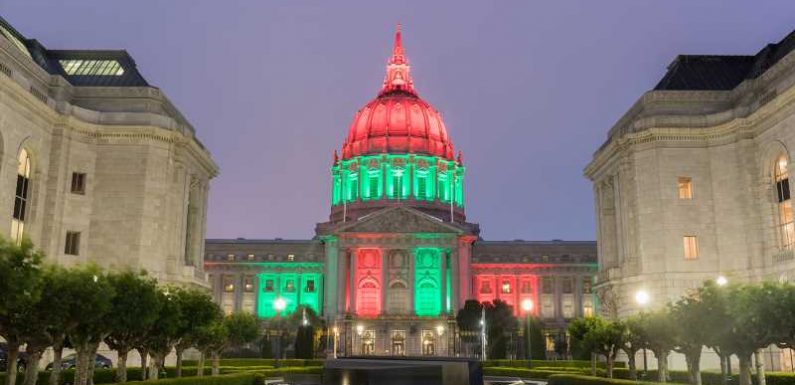 © Photo by Shutterstock
How and Where to Celebrate Juneteenth in 2021


Photo by Shutterstock San Francisco City Hall will be lit green, black, and red again this year in honor of Juneteenth.
Load Error
This Juneteenth, there are events happening throughout the country—from where U.S. slavery began in Virginia to where it ended in Texas—to honor and celebrate freedom for all. AFAR asked Black tourism and hospitality experts across the U.S. for the Juneteenth events they're looking forward to in 2021. These are their picks.
Virginia
The first recorded Africans were brought to Jamestown, Virginia, in 1619. "The horrific arrival and the laws that codified slavery were set there," says Rita McClenney, Virginia Tourism president and CEO. "I want people to know that the Black American experience started in Virginia. When you look at our deep traditions and our neighborhoods, it all started here." 
To commemorate this, the Jamestown Settlement and American Revolution Museum is hosting a 90-minute program of performances, music, and dance honoring the African diaspora on Saturday, June 19, at 2 p.m. Admission to the Commemorate Juneteenth event is included with museum tickets, which must be purchased in advance to reserve a seat.
New York
This is the first year Juneteenth is officially being recognized in New York City. "Celebrations will show up in countless ways, but the goal is always honoring our ancestors and creating a sense of joy that is amplified that day," says Rondel Holder, senior director of multicultural content at NYC & Company. 
One highlight is the "I Dream a Dream That Dreams Back at Me" performance taking place on June 19 at 7 p.m. outdoors at Lincoln Center. Conceived by the award-winning poet Carl Hancock Rux, this immersive celebration will move guests across the Lincoln Center campus where they'll experience multiple performances ending with a seated concert.
Video: TODAY celebrates 100th birthdays: June 10, 2021 (TODAY)
Americans are flocking to national parks, straining resources

TODAY


Southwest Airlines temporarily halts flights

TODAY


Vatican warns US bishops: Don't deny communion to Biden over abortion

TODAY


Marjorie Taylor Greene apologizes for comparing mask-wearing to the Holocaust

TODAY


Massive chemical plant explosion in Illinois is under investigation

TODAY


Fatal supermarket shooting in Georgia stemmed from mask dispute

TODAY


California fully reopens economy, but concerns about Delta variant grow

TODAY


Biden to Putin: If you don't cooperate, 'we will respond'

TODAY


TODAY in 30 – June 14: Putin one-on-one, Jenna Bush Hager shares a story

TODAY


How to style clothes you already own in a fresh way

TODAY


Kids surprise stepfather with request to legally adopt them

TODAY


Everything you need to know when choosing a milk or milk alternative

TODAY


Former aide shares intimate look at life of former President George H. W. Bush

TODAY


Priya Krishna makes aloo parathas

TODAY


D. L. Hughley looks back on COVID struggle, discusses new book

TODAY


Dylan Dreyer tries to kick her nail-biting habit

TODAY


Americans are flocking to national parks, straining resources
National parks are experiencing a big jump in tourists as America emerges from the pandemic, and they're expected to become even more crowded in the months ahead. NBC's Morgan Chesky reports for TODAY from the Great Smoky Mountains National Park in Tennessee.


TODAY



Southwest Airlines temporarily halts flights
On Monday night, Southwest Airlines was forced to ground its planes due to an issue with its weather data provider. Around 1,400 flights were delayed.


TODAY



Vatican warns US bishops: Don't deny communion to Biden over abortion
American bishops are being warned by the Vatican not to deny communion to politicians who support abortion rights, including President Biden. The bishops are expected to debate the issue at a three-day meeting that starts Wednesday.


TODAY

California
Health is the theme of the 18th annual Sacramento Juneteenth Festival, which takes place outdoors on June 19 from 11 a.m. to 6 p.m. at William Land Park. In addition to local performers, art showcases, and food vendors, the festival will host vaccination sites with public health experts addressing the long-term effects of the pandemic on the Black community.
By visiting, Sonya Bradley, Visit Sacramento's chief of diversity, equity and inclusion, hopes more people will also recognize the historic contributions African Americans have made on the West Coast. "You hear more about it on the East Coast and the South," Bradley says. "But there was quite a bit that we helped build on the West Coast. There were a lot of firsts out here too."
In San Francisco, local sculptor Dana King will reveal a new installation in Golden Gate Park at 5:30 p.m. on Friday, June 18. Monumental Reckoning, a collection of 350 sculptures representing the Africans forced onto the first slave ship that reached American soil, will surround the empty pedestal where a Francis Scott Key statue once stood. Key was a slave owner and abolition opponent and protestors toppled his likeness on Juneteenth 2020.
Alabama

© Courtesy of Destination Montgomery
In Montgomery, Alabama, the Rosa Parks Museum is hosting its annual Juneteenth Celebration with complimentary tours, live music, and more.


Courtesy of Destination Montgomery In Montgomery, Alabama, the Rosa Parks Museum is hosting its annual Juneteenth Celebration with complimentary tours, live music, and more. Montgomery, Alabama, is the birthplace of the Civil Rights movement and home to the first public memorial dedicated to victims of slavery and racial terror in the United States. Ashley Jernigan, executive director for Destination Montgomery, says she hopes Montgomery's Juneteenth events will bring "people together from all backgrounds to honor those who came before us and fought for the rights and privileges held today in the United States."
The Rosa Parks Museum is hosting its annual Juneteenth Celebration from 11 a.m. to 6 p.m. on June 19 in downtown Montgomery. Admission is free and includes complimentary tours with access to local food vendors, merchants, and live music. Over at Riverfront Park, the City of Montgomery Global African Diaspora Celebration will take place from 5 p.m. to 10 p.m. and is also free to attend. The family-friendly picnic-style event will feature theater, music, dance, and fireworks. 
Texas
In Houston, a Jubilee Dinner will celebrate freedom throughout the African diaspora with food. Led by chefs Dawn Burrell, Nelson German, Kiki Louya, and Chris Viaud—all current contestants on Bravo's Top Chef—the five-course dinner will use seasonal ingredients procured from local farmers alongside beverages from Black-owned distilleries, breweries, and vineyards. 
"Our goal is to use our respective cooking styles to celebrate Juneteenth while showcasing innovative riffs on dishes that represent freedom across our collective cultural experiences," Burrell says. "After this past year of racial reckoning combined with the impact of the pandemic on our industry, we hope this dinner serves as a beacon of light for all who join us." The dinner takes place June 19 from 7 p.m. to 10 p.m. at the Bisong Art Gallery. Tickets start at $250 and can be purchased through EventBrite.  
In Galveston, where Juneteenth began, this year marks the 156th anniversary of the island's festivities with the return of the Juneteenth Parade and Picnic. Prior to the parade, a 5,000 square-foot mural titled Absolute Equality will be revealed depicting the journey of Black Americans from slavery to freedom. The mural will be dedicated during a ceremony at 11:30 a.m. at 22nd and Strand Streets.
Other ways to celebrate 
Of course, these aren't the only Juneteenth celebrations taking place this year in the United States. To find one near you, consult your city's tourism website for local events. Should you choose to celebrate at home, several destinations are offering virtual programming, or you can support with your dollars by shopping Black-owned brands. 
>> Next: 21 Places to Learn About African American History
Source: Read Full Article