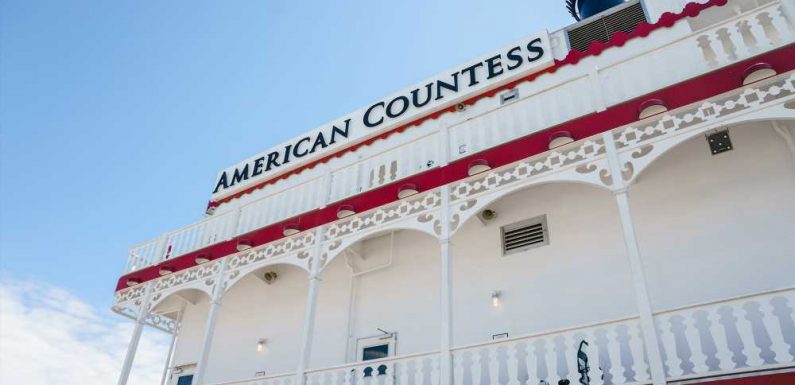 American Queen Steamboat Co. is now American Queen Voyages, part of rebranding that will merge the river cruise line with its two sister ocean cruise companies.
American Queen Voyages, still part of the Hornblower Group, will comprise American Queen Voyages River, American Queen Voyages Lakes & Ocean (with the Victory Cruise Lines fleet) and American Queen Voyages Expedition, which will include Alaska and Central America expedition experiences beginning in 2022. The change comes after 10 years in business that expanded from its namesake paddlewheeler sailing Mississippi River cruises to a seven-vessel fleet with the acquisition of Victory Cruise Lines and one expedition vessel.
The news came on the same day that fellow domestic river line American Cruise Lines announced it was renaming and redesigning its fleet of paddlewheelers.
"After expanding to lakes and ocean cruising, there was a need to reshape our brand architecture," said Kari Tarnowski, American Queen Voyages' senior vice president of marketing and sales, during a press conference at Seatrade on Sept. 28. "So we reached out to our guests to find out about how they speak about our brands, and most recognize us simply as American Queen. American Queen Voyages unites all of our experiences."
As part of the rebrand, American Queen Voyages Lakes & Ocean, the new name for Victory Cruise Lines, will change the names of its identical 202-passenger ships, formerly the Victory I and Victory II, to the Ocean Voyager and Ocean Navigator. Those ships will continue sailing to Canada, the Great Lakes, New England and the Eastern Seaboard and Mexico and the Yucatan Peninsula.
"Now there's the opportunity to talk about them all together: American Queen voyages and the breadth of offering that we have," Tarnowski said. "And you'll know that the product delivery, whether you're on river, lakes and ocean or expedition, will be the same And the all-inclusive nature of it, whether it's your beverages, spirits, specialty coffees and specialty restaurants are included as well as your shore excursions, And that happens across all three of our distinct products."
• Related: American Queen Steamboat Co. will feature more of Nashville next year
The brand architecture pays homage to the heritage and legacy of American Queen Steamboat Co. and included the iconography of the paddlewheel as its North Star in its logo. A new tagline, Discovery Runs Deep, will be deployed with new creative elements in the coming months, including a print and digital campaign, a reimagined loyalty program and onboard enrichment offerings. The tagline is meant to invite travelers "to throw away the guidebook and go off the beaten path to discover the unscripted experiences," the company said.
Experiences on offer may include interacting with New England oystermen or shadowing marine science researchers from California Polytechnic State University on a Zodiac.
American Queen Voyages River will be led by its namesake U.S.-flagged American Queen and includes the American Empress, the American Duchess and the American Countess. American Queen Voyages Expedition will launch the brand's expedition cruising arm in Alaska, comprising newly built 186-passenger vessels the Ocean Victory in 2022 and the Ocean Discoverer in 2023.
The company will now have one website for all of its cruises. "So we're going to have some synergies there, because it's more efficient to communicate to our customer base when we have one location, one message," Shawn Bierdz, president of American Queen Voyages, said at Seatrade.
American Queen Voyages will open a new office in Fort Lauderdale in 2022.
Source: Read Full Article