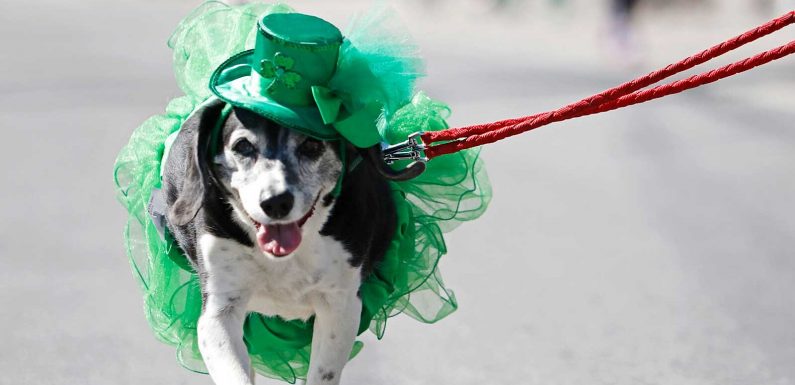 St. Patrick's Day is considered by many to be one of the most spirited holidays of the year, whether your family descends from the Emerald Isle or not.
Known by history and by legend, Saint Patrick, the 5th-century patron saint of Ireland, used the three-leafed shamrock to spread the word of the Holy Trinity, successfully gaining Christianity converts along the way. To honor Ireland's famed missionary, a cultural and religious celebration (also known as the Feast of Saint Patrick) is held on the date of his death: March 17.
Today, St. Patrick's Day is observed all around the world, and it's often associated with festive parades, leprechauns, green beer, and good luck (and we can all use a wee bit o' luck, right?). Whether you're Irish-American or just enjoying the festivities, it's a great opportunity to show your spirit and let the good times roll.
Of course, you'll want to capture the merry moments with photos of yourself decked out in head-to-toe green (or else you may get pinched!), sipping a pint, or digging into corned beef and cabbage with your best mates. Now you just need the perfect caption. Here are the best St. Patrick's Day caption ideas for the ultimate celebration post. Sláinte!
St. Patrick's Day Captions for Friends and Loved Ones

Kiss me, I'm Irish!
I'm not Irish, but kiss me anyway.
Lucky me, I have you.
Irish you were here.
A best friend is like a four-leaf clover: Hard to find and lucky to have.
Found my lucky charm, and they're better than a pot of gold.
Irish whiskey makes me frisky.
I think you're neat. (Photo idea: Drinking Irish whiskey neat.)
Lucky AF.
More than lucky.
I'm clover the rainbow for you.
Lucky in love.
Not lucky, just blessed.
Funny St. Patrick's Day Captions

The leprechaun made me do it.
Don't worry, beer happy.
It's St. Patrick's Day, for Guinness sake!
Take a pitcher. It'll last longer.
Green beer & St. Paddy's cheer!
The Paddy don't start 'til I walk in!
Irish I had another glass of beer!
Let's sham-rock! *insert shamrock and rocker hand emojis*
Ready to get sham-rocked?
Eat, drink, and be Irish!
Forget luck, give me beer!
They're always after me lucky charms.
Magically delicious.
Oh my Guinness!
We like to Paddy.
Cute St. Patrick's Day Captions for Babies and Kids

Little leprechaun's first St. Paddy's Day.
Cutest clover in the patch.
Wee bit Irish.
Little miss lucky charm.
Wee bit o' trouble.
My little good luck charm.
Spirited St. Patrick's Day Captions for Anyone Celebrating

Shamrocks and shenanigans for all!
The Irish do it better.
We're all Irish today!
Irish you a happy St. Patrick's Day!
Redheads do it better.
Ginger hair, don't care.
Going green.
Luck of the Irish.
Irish you a lucky day.
Erin go Bragh!
Bad puns on St. Patrick's Day don't just shame you, they Seamus all.
Wishing you a pot of gold and all the joy your heart can hold.
"Luck is believing you're lucky." – Tennessee Williams
"Luck be a lady tonight." – Frank Sinatra
Irish Blessings and Sayings to Use for a St. Patrick's Day Caption

"May your blessings outnumber the shamrocks that grow, and may trouble avoid you wherever you go." – Irish Blessing
"There are only two kinds of people in the world: The Irish and those who wish they were." – Irish Saying
"May your pockets be heavy and your heart be light, may good luck pursue you each morning and night." – Irish Blessing
"May your day be touched by a bit of Irish luck, brightened by a song in your heart, and warmed by the smiles of the people you love." – Irish Blessing
"For each petal on the shamrock this brings a wish your way: Good health, good luck, and happiness for today and every day." – Irish Proverb
"Wherever you go, whatever you do, may the luck of the Irish be there with you!" – Irish Proverb
"If you're enough lucky to be Irish, you're lucky enough!" – Irish Saying
Source: Read Full Article