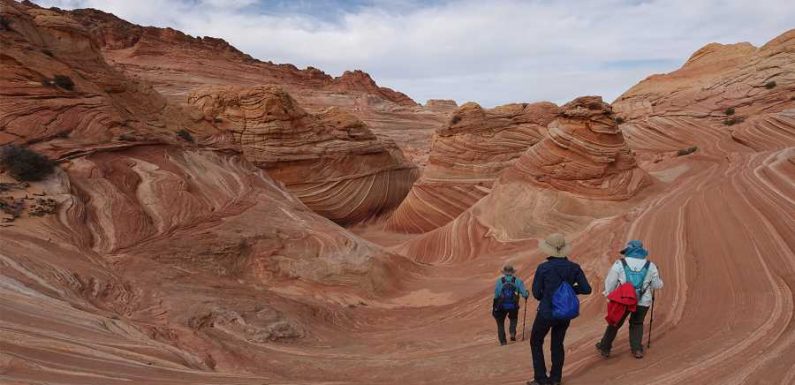 One of the most elusive hiking permits in the world will be a bit easier to obtain starting next month.
This week, the Bureau of Land Management (BLM) announced that it will allow 64 people per day to hike the popular rock formation known as "The Wave," in the Paria Canyon–Vermilion Cliffs Wilderness near the Utah-Arizona border. Previously, only 20 hikers per day were allowed onto the formation. That limit had been in place for more than two decades. 
The Wave is a sandstone formation that is famous among nature photographers and hikers for its unusual features. Its popularity is also due, in part, to the fact that it is extremely difficult to access. 
Only 10 visitor passes per day are available to pre-book. An additional 10 passes are released for walk-ins every day. In 2018, more than 200,000 individuals applied for the 7,300 hiking permits available that year. Through both the online and walk-in lotteries, only 3.6% of applicants were granted permits to visit The Wave. 
The new limit of 64 visitors per day will go into effect on Feb. 1. From that time, the BLM will monitor "resources and social conditions" and "could implement further increases or decreases in the future." 
"The Wave is one of the world's most incredible and visually stunning natural wonders," Principal Deputy Assistant Secretary of the Interior for Land and Minerals Management Casey Hammond said in a statement. "We're pleased to be able to expand options for public viewing of this amazing landscape in a way that's consistent with its preservation."
The visitation increase has been in development for more than a year, with the BLM considering increasing the number of daily visitors to as high as 96. 
But some conservationists are bemoaning the increase, saying their footsteps will erode the natural sandstone. 
"It is going to damage the unique geology there," Taylor McKinnon, a senior campaigner with the Center for Biological Diversity, told The Associated Press. "There are going to be bigger crowds. It is going to be harder to get a picture without somebody else in it." 
The Center for Biological Diversity plans to consider a lawsuit to reverse the decision. 
The Wave is about half the size of a football field and located in the Coyote Buttes North section of the Vermilion Cliffs National Monument. It is only accessible by foot — and there is no trail. Visitors must walk six miles round-trip in order to visit. 
Cailey Rizzo is a contributing writer for Travel + Leisure, currently based in Brooklyn. You can find her on Twitter, Instagram, or at caileyrizzo.com.
Source: Read Full Article