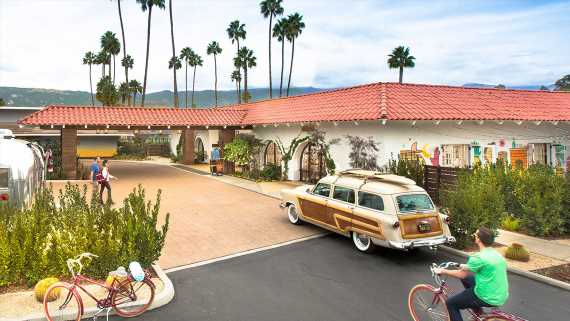 A renovation and rebranding are planned for the Kimpton Goodland Goleta Hotel near Santa Barbara, Calif., following its acquisition by AWH Partners.
The 158-room hotel is being placed under the management of AWH subsidiary Spire Hospitality. Terms of the deal were not disclosed.
The Goodland, a boutique hotel with a surfer vibe, has an outdoor pool, restaurant, bar, record shop and fitness center. Parked in front of the hotel is a wood-paneled 1952 Ford Country Squire station wagon, which is popular with Instagram users. Guests also like to pose for photos in front of the Goodland's Airstream trailer from the 1970s. 
In 2021, in partnership with other investors, AWH also purchased the Villa Florence Hotel in San Francisco, DoubleTree by Hilton Hotel Anaheim, Hilton Garden Inn Fremont Milpitas in California and Hilton Garden Inn Portland/Lake Oswego in Oregon.
Combined with the Goodland Goleta, the five deals total over $240 million, and $30 million in renovations are planned across the properties, according to the statement.
New York-based AWH Partners was founded in 2010 and has invested in 35 hotels representing 9,500 hotel rooms.
Source: Read Full Article