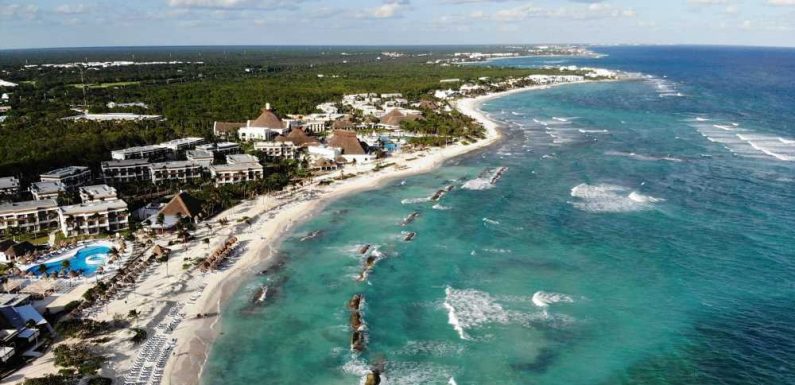 Editor's note: Those who choose to travel are strongly encouraged to check local government restrictions, rules, and safety measures related to COVID-19 and take personal comfort levels and health conditions into consideration before departure.
While the idea of jetting off to Mexico for a week has even the best of us dreaming of our next getaway, there a few things to be aware of while planning a trip while the country is still grappling with COVID-19.
The Centers for Disease Control and Prevention has warned Americans against traveling to Mexico last month and the State Department has classified the country under a Level 3 warning, advising Americans to "reconsider travel," but that hasn't stopped travelers in search of beaches, Mayan ruins, and tequila.
In fact, those searching for a 2021 vacation consistently targeted Mexico with Cancun and a grouping of Riviera Maya, Playa del Carmen, and Tulum coming in as the top two most-wished-for beach spots, according to an Expedia travel forecast. 
To visit safely in this time, here's everything you need to know about traveling to Mexico.
Are you allowed to travel to Mexico?

The short answer is yes, Mexico is one of the countries allowing American tourists to plan a vacation. And while U.S. citizens can't drive into the country, they can fly there. Over the summer and fall, airlines like United Airlines and Southwest started adding flights to popular spots, including Cancun, San Jose del Cabo, Puerto Vallarta, and Mexico City.
The country's many resorts have also adjusted to COVID-19, adopting health guidelines from offering plenty of sanitizer, disinfectant wipes, and masks to taking advantage of the naturally outdoor lifestyle (hello romantic dinner on the beach).
What is the status of COVID-19 in Mexico?

In total, Mexico has reported more than 1.6 million confirmed cases of coronavirus, including more than 141,000 deaths, according to Johns Hopkins University, which tracks cases worldwide.
Cases in Mexico are currently on an upward trajectory on a seven-day rolling average. As of Jan. 18, the country reported 15,410 cases on a seven day rolling average, a 64% increase over two weeks, according to The New York Times.
What health measures are in place at Mexico's airports?

Anyone arriving at an airport in Mexico should expect to be subject to health screenings like temperature checks, according to the U.S. Embassy & Consulates in Mexico. Passengers who show symptoms of COVID-19 may also be subject to additional health screenings and/or quarantine.
What COVID-19 rules and regulations do you need to know about before traveling to Mexico?

Mexico has created a color-coded stoplight system to categorize states based on their COVID-19 situation. The list, which is based on new cases, hospitalizations, hospital occupancy rates, and percentage of positive cases, is continually updated, according to the U.S. Embassy & Consulates in Mexico.
Only essential activities are allowed in states that are considered "red," which currently includes Mexico City. In those states, hotels are limited to 25 percent occupancy for people who are there for critical activities.
In states that are designated "orange," hotels and restaurants are allowed to operate at 50% capacity. This currently includes popular spots like Baja California Sur, Quintana Roo, and Jalisco.
If a state is designated "yellow," public spaces can open, and in states under the "green" category, all social and economic activities are permitted.
What do you need to do before coming back to the U.S.? 

All international travelers returning to the U.S., including those coming from Mexico, are required to show proof of a negative COVID-19 viral test taken within 72 hours of their departure. The test, which the CDC says can be a nucleic acid amplification test or rapid antigen test, must be presented to the airline before boarding a flight to America. 
Children under 2 years old are exempt.
Passengers who have recently recovered from COVID-19 and are no longer contagious can present documentation of their positive test results and a letter from a healthcare provider or public health official that states they have been cleared for travel in lieu of a negative test.
Travelers who have been vaccinated are not exempt from the testing requirement.
Mexico has several approved laboratories for viral testing and many local hospitals, clinics, and laboratories offer private testing for travel purposes, according to the U.S. Embassy & Consulates in Mexico.
Alison Fox is a contributing writer for Travel + Leisure. When she's not in New York City, she likes to spend her time at the beach or exploring new destinations and hopes to visit every country in the world. Follow her adventures on Instagram.
Source: Read Full Article