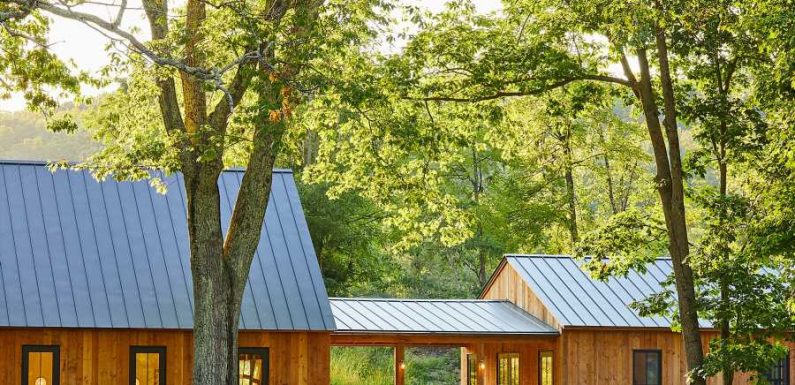 Sometimes, resetting your mental and physical health requires more than a 20-minute meditation session or sweaty HIIT class. Sometimes, making real change requires you to do away with long-held habits and shift your mindset — two things that are much easier when you can step away from the grind of daily life and retreat to a place that supports your desire for change through physical, psychological, and spiritual offerings. 
That's where wellness retreats come into play. They're designed to aid in transformation — be it physical or mental — through a combination of unique offerings, expert staff, and locales that can be spacious and extravagant or remote and minimal. From spas with sensory deprivation tanks and hydrotherapy circuits to structured group weight-loss programs and remote meditation experiences, these amazing U.S. wellness retreats have it all. All you have to do is find one that speaks to you and carve out time to start your journey.
Castle Hot Springs, Arizona

Tucked into the red-rock Bradshaw Mountains, this remote, otherworldly resort provides a true escape from the monotony of daily life. Once frequented by affluent families like the Rockefellers and Vanderbilts, and visited by both Theodore Roosevelt and John F. Kennedy, the oasis was closed to the public for over 40 years before reopening in 2019. Today, a visit to Castle Hot Springs feels like stepping back in time. You can enjoy the resort's slow pace, soak in the natural thermal water, nosh on farm-to-table dining, and enjoy the plentiful spa services and yoga classes.  
Golden Door, California

This tranquil Japanese-style resort is found in Southern California on 600 mountainous acres. At the Golden Door, you'll have access to 30 miles of private hiking trails, a bamboo forest, zen gardens, and 80 rejuvenating classes. Included in the exclusive experience is a daily massage, sessions with a private trainer, a skin analysis and treatment, all meals, and a personalized take-home fitness plan. In your downtime, you can walk the labyrinths, take a dip in the pool, or hike through the citrus groves.
Carillon Miami Wellness Resort, Florida

This five-star resort sits on one of Miami Beach's longest beachfronts and serves up a nourishing selection of wellness offerings at the largest spa and wellness facility on the East Coast. At Carillon Miami, there are boot camps for weight loss, boxing, HIIT, and yoga classes and an expansive hydrotherapy circuit. You can book a cryotherapy or acupuncture session, float in a sensory deprivation tank, or hop in Miami's only igloo.
YO1 Health Resort, New York

Just over two hours northwest of New York City, YO1 is a wellness retreat that sits on 1,300 lush acres in the Catskills. At the resort, you can work under the guidance of experts to create your own wellness experience. Offerings include an Ayurvedic health center and health programs that address anxiety, stress, insomnia, infertility, and obesity, among others. The property also has a 68,000-square-foot health resort and plenty of outdoor space for hiking, practicing yoga, and enjoying nature.  
The Ranch Malibu, California

The Ranch's sought-after seven-day wellness retreat is limited to just 19 guests a week and offers an immersive health experience that includes weight loss and fitness programs with local plant-based meals. Each day, guests take on eight hours of activity and enjoy afternoon naps, massages, and an organic vegan diet. Those looking to go deeper can book The Ranch Private experience, a weeklong program that's tailored to you and takes place at a distance from the group wellness retreat.
Hilton Head Health, South Carolina

Located on the beautiful Hilton Head Island off the coast of South Carolina, Hilton Head Health offers guests an all-inclusive approach to weight loss and wellness. You can join a boot camp, yoga, or TRX class, or go kayaking or paddleboarding. Meanwhile, the on-site restaurant serves up low-calorie versions of favorites like eggs Benedict and shrimp and grits. When you need a moment to yourself, the Indigo Spa offers custom services that support the weight-loss and wellness programs with its tranquil, stress-free setting.
Crestone Mountain Zen Center, Colorado

This Zen Buddhist monastery, located at the base of the towering Sangre de Cristo Mountains in Colorado, gives you the chance to get away from it all and reset. You can create a personal retreat that fits your needs — from a weekend trip to a month-long stay — and can either enjoy the solitude or join the monks in meditation and ceremony. During your stay at the remote Crestone Mountain Zen Center, three simple, delicious meals can be taken privately or enjoyed with the monks and other guests.
The Barns at Troutbeck, New York

The Troutbeck is a 250-acre estate hotel in New York's Hudson Valley, and in 2020, it opened The Barns, a brand-new on-site wellness facility. At The Barns, there's a 1,250-square-foot studio space where daily yoga, meditation, and Kinesoma classes take place, and services include both body and facial acupuncture, massages, and somatic experiencing, a therapy that works to relieve symptoms of mental and physical trauma-related health problems.
Source: Read Full Article