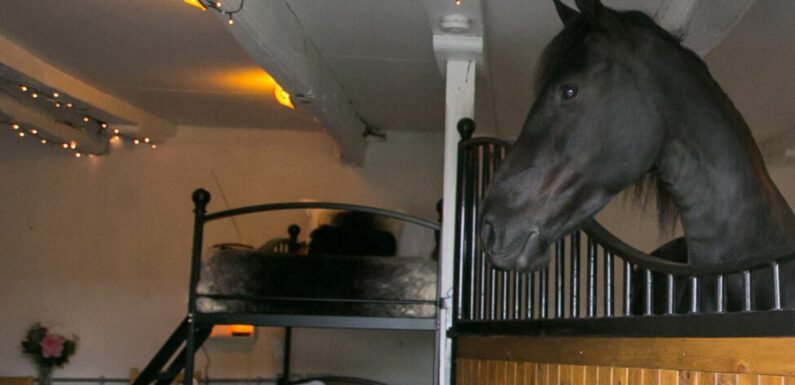 A farmhouse in the Lake District has opened up its stables for guests to sleep right next to its Friesian horses and Shetland ponies – and pay £350 a night for the privilege.
When we say 'next to' we mean it; guests are literally in the stable, with just a divider between them and their new neigh-bour.
Stable Stays has converted half of one of its horses' homes but don't worry, it won't be a 'mare as the room has bunk beds, a kitchenette, dining table and ensuite wet room, complete with a 'portable eco-loo'.
The horses will be on the other side of the divider, meaning you can climb on the top bunk and feed or groom the horses from there.
READ MORE: People are only just realising they've been pronouncing 'Dubai' wrong this whole time
While you won't be saddled with the responsibility of looking after the animals, you will be given breakfast and dinner buckets, as well as a luxury grooming kit, so you can spend some quality time with your equine companion.
Prices start from £350 a night when booked with hostunusual.com.
Despite the price tag, the Stable Stays are proving a hit with horse fans, and the break has had a lot of glowing praise on Tripadvisor.
One person wrote: "We had a stable stay with Hannis the fresian horse. From the minute we stepped on to the farm to the minute we stepped off, we had an absolutely fantastic time. Tracy and Tamara were so friendly and bent over backwards to make sure we had a the most fantastic experience. Hannis (the cheeky chappie) loved being groomed, fed and being the star of the show.
"Even though Hannis towered over all of us, he was very easy to handled and move around. The Farm itself was very peaceful and tranquil, and set in the most beautiful countryside. Can't wait to go again."
Another holidaymaker said that it had been "a real one off experience" having also shared their stable with Hannis the Friesian Horse, while another person said they had a "fabulous" stay from "start to finish".
They explained: "Myself and friends visited for 3 days, taking in the Fresian experience option followed by a beach day and a long back day three. The experience was fabulous from start to finish. Tracey clearly loves her horses and the breed dearly and is very keen for riders to bond and be matched with the most suitable steed.
"We are all experienced riders and have ridden together all over the world but this experience is up there with the best. Thoroughly recommended. Definitely do your hip stretches before going however as the horses are particularly wide."
What do you think of the Stable Stays? Let us know in the comments below.
READ NEXT:
'My boyfriend invited his mate to crash in our hotel room on our romantic break'

Woman films couple loudly bonking in hotel and viewers are 'turned on' by groans

Benidorm lad spills resort secrets – 88p pints, £2 fry-ups and getting drunk for 'nowt'

Inside Las Vegas nudist resort dubbed 'Disneyland for grown ups' and 'free of lurkers'
Source: Read Full Article