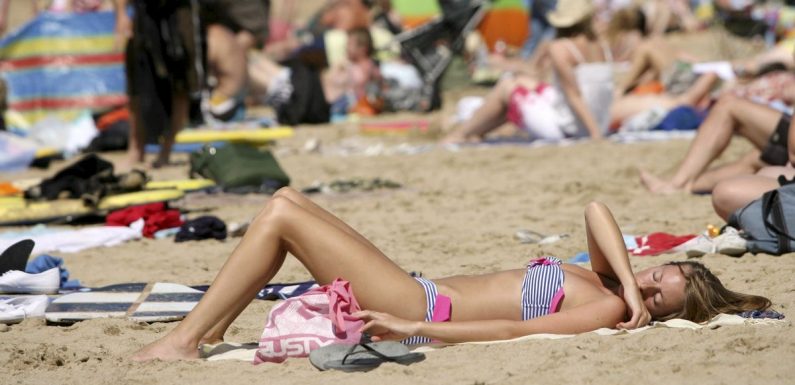 Nearly one in six Brits (15%) feel guilty for putting their feet up and doing nothing on holiday, a study has found.
More than a fifth of travellers (22%) feel the need to be productive on holiday, with 24% kept busy by entertaining their family and friends.
The poll of 2,000 adults found that 26% want a relaxed holiday in order to take a break from their busy lives and recharge their batteries.
However, almost half (47%) sometimes return from a trip feeling like they need another holiday just to recover.
This feeling comes from three in five holidaymakers (61%) signing up to activities or excursions they didn't really want to do during their trip, just to show their social media followers they did more than simply sit by the pool.
However, one in three Brits (32%) look forward to a beach holiday where they can sit back and relax by sunbathing, reading, or sleeping in – and half of travellers say they return from a holiday feeling refreshed, having done very little.
A spokesman for Expedia, which commissioned the research, said: "When so many say they sometimes need a holiday just to recover from their holiday, something's gone wrong.
"There's no prize for doing the most on holiday. What's important is making memories while you're away, and feeling recharged when you're back."
According to British holidaymakers in need of a rest, the optimum amount of time to spend chilling out on your holiday is 40%.
It also emerged that, at the start of the new year, people are most likely to feel fed up with the cold and wet British weather – with 34% feeling the urge to book a trip to have something to look forward to in their calendar.
Beach holidays to tropical destinations are the holiday types travellers look forward to most, with the top draw of this holiday type being the relaxation element of sunbathing or reading by the pool.
For a quarter of sunseekers, the beach is the best place to chill, while one in five (19%) prefer reclining by the pool at their hotel.
To help plan their trip, two in five (41%) will consult their family and friends for holiday activity recommendations – although 36% admit this makes them feel more pressure to do the recommended activities, according to the stats, via OnePoll.
The spokesman for Expedia added: "A holiday should be all about doing what you want to do – whether that's doing nothing at all on a beach, or taking a "change is as good as a rest" approach.
"We would encourage holidaying Brits to really consider this aspect – using your break to recharge your batteries, without worrying about what your friends, family, and social following might think when you return having done, well, nothing."
TOP REASONS TO TAKE A HOLIDAY:
To relax and recharge
To go with the flow and explore at your own pace
To visit a new country and see somewhere new
To try lots of new experiences
To meet new people, socialise, and make new friends
EXPEDIA'S TOP DESTINATIONS FOR "NOTHING-CATIONERS":
Kauai, Hawaii – Nicknamed "the Garden Isle" for its lush natural beauty and dramatic cliffs. A place you can get lost in without ever leaving your hotel.
Costa Rica – Filled with lush jungles and sounds of nature to help you shut out the outside world.
Fiji – An idyllic escape in the South Pacific.
Nevis Island – Considered by some to be one of the most unspoiled and relaxing islands in the Caribbean.
Koh Samui, Thailand – Well-known for luxurious wellness resorts, offering everything from basic massages to chakra-balancing, and beyond.
Algarve, Portugal – A mix of beaches, golf courses, and market towns.
Playa del Silencio, Asturias, Spain – As the name hints, a secluded beach that's hailed as one of the most beautiful in the country.
Zipolite, Oaxaca, Mexico – A gem that lets you wear nothing while you do nothing.
Source: Read Full Article