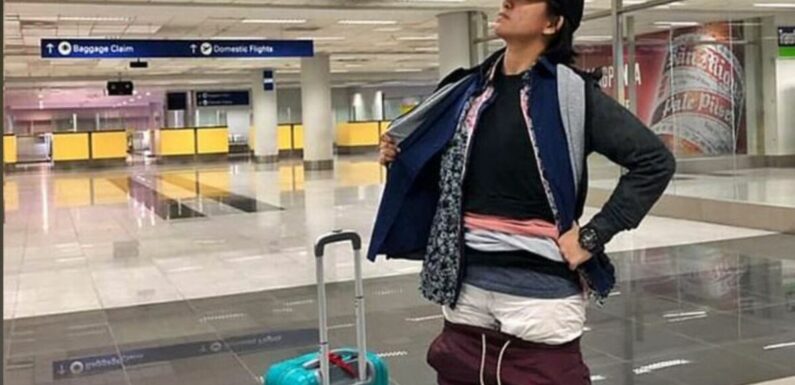 Overweight baggage fees on a flight are the worst way to start a holiday. One woman has gone viral on social media after she went to extreme lengths to avoid the fees.
Gel Rodriguez, from the Philippines, wowed people when she opted to wear 2.5kg of clothes after her luggage exceeded the maximum allowance of seven kilograms.
Rodriguez said that airline staff at check-in told her that her case weighed nine kilos and she would have to pay a fee.
The traveller shared a picture of her wearing as many of her clothes as possible with one pair of trousers around her knees.
She said: "When the airline staff at the check in counter said 'only seven kilos is allowed in hand luggage'. Me 'no problem'."
The quick thinking tourist removed multiple items from her bag, managing to get her bag under the weight limit at 6.5kg.
She told VICE: "I didn't want to pay the fee for the excess baggage because it was only two kilograms."
Despite her ingenious solution, Rodriguez said she wouldn't do it again as it was "really hot" travelling in so many clothes.
The traveller's post was shared over 20,000 times and was liked by over 33,000 admiring people.
Don't miss…
'Fantastic' UK beach is the sunniest in spring[STAYCATION]
Travel expert shares 'general guidelines' for tipping on holiday[EXPLAINER]
The best city in Europe for British expats is 'so beautiful'[EXPATS]
A commenter said: "I wish I did this, I ended up throwing some of my things in the trash bin. What a pity."
Many budget airlines will only allow passengers to bring one cabin bag for free and it will need to fit under the seat in front of them.
Passengers can pay to bring another bag in the cabin but this needs to be a certain size and meet weight requirements.
Some travellers recommend using a pillowcase to sneak more items onboard the plane.
Daily Express demonstrates 'the best suitcase packing technique'
In the popular hack, people fill a pillowcase with clothes and carry it onto the plane as an extra item.
This hack can sometimes work although flight attendants could stop passengers if they are suspicious.
If a bag is likely to be overweight, it's usually cheaper to pay for more luggage ahead of the flight before waiting until the airport.
Passengers could have to pay hefty fees at the airport and they might not be allowed to unpack their bags like Ms Rodriguez.
A flight attendant recently shared their tips to fit 14 days worth of clothes into a carry-on piece of luggage.
Passengers could also try boosting their hand luggage allowance by buying an item at duty free.
A duty free carrier bag won't usually count as extra luggage so passengers could put items in the bag.
On some budget airlines, purchasing an extra legroom seat also gives passengers the chance to bring an extra piece of hand luggage.
Source: Read Full Article