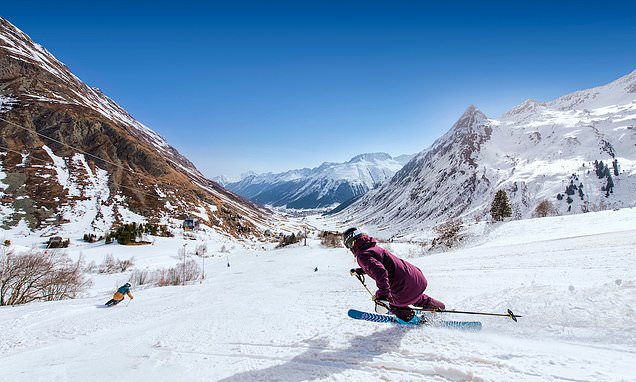 Ski you later: Hitting the slopes is the PERFECT way to spend the snowy season, and it may be more affordable than you think!
Ad Feature by Sunweb
From adrenaline-fuelled descents and hot chocolates in the mountains to après-ski bar hopping – there really is no better way to spend winter than by hitting the slopes. 
But big experiences like these often come with a correspondingly large price tag, making skiing seem like the preserve of people who can afford to spend thousands of pounds on a single break. 
Thankfully, this is no longer the case due to online ski tour operator Sunweb, where deals start from an incredible £129 in France or £149 in Austria for four days of skiing – with accommodation and lift passes included!
Whether you're an adrenaline or mainly in it for the après, there are few things better than a skiing holiday 
Offering high-quality package ski holidays at affordable prices, they're your one-stop shop for planning your next winter break- and with their lowest price guarantee, you can be confident you're getting the very best deal. 
So, whether you're looking to organise a quiet romantic getaway or a big group trip with family or friends, now is the time to get started. Here's how to organise your dream break…     
A choice of top destinations 
Sunweb flies from airports all across the UK to 220 destinations in the Alps and Pyrenees, including France, Austria, Italy, and Andorra. 
To choose the right place to go, consider the needs and abilities of your travel group. 
Are you all experienced skiers, or beginners? Would you prefer a lively town with plenty of nightlife or somewhere more laid back?
Sunweb flies from airports all across the UK to 220 destinations in the the Alps and Pyrenees, including France, Austria, Italy, and Andorra
Thanks to the financial security of a package holiday, you can spend more time enjoying precious time away 
If you're looking for challenging slopes and plenty of après-ski opportunities, consider a destination like the ever popular Val Thorens in France or Mayrhofen in Austria. 
How to choose the best time to go  
Sunweb's flexible booking system allows you to travel when you want and for any length of time. 
This isn't just convenient – it also allows you to plan your trip to get the best value. 
Booking during term time tends to be more expensive but reserving early for the high season, including Christmas and half term, means you will get the most choice and a better deal.
You can also get great offers on trips at quieter times, particularly January to March – perfect if you're not travelling with children. 
Meanwhile, Sunweb's flexible travel times means you don't have to book Saturday to Saturday like most tour operators. 
Instead you choose different times like Thursday to Thursday, or five days rather than seven, to help you take advantage of the cheapest offers.  
Alternatively, there's Ischgl – known as 'the Ibiza of the Alps' – with its pretty town centre packed with trendy bars and popular clubs such as Take Five, Tenne and Python.  
For a cosy spot that's perfect for families and groups of beginners, head to Val Cenis or Les Sybelles. 
Another great option is Serfaus-Fiss-Ladis – one of the largest family ski resorts in Austria's Tirol region – which is known for its child friendly, welcoming atmosphere. 
Great accommodation options  
Bagging a bargain break doesn't mean having to slum it.
Sunweb has 1200 accommodation choices, from hotels right on the slopes to family-run chalets with delicious home-cooked food and roaring open fires.
If you'd rather go self-catered, there's plenty of choice here too, from smart apartments smack bang in the centre of town to quieter locations where you can get away from it all. 
Booking accommodation right on the slopes has many advantages and is particularly useful during a short trip. Instead of wasting time on transport, simply get your ski gear on and off you go!
And if you're looking for a touch of luxury, no one offers lower prices for a four-star ski holiday than Sunweb – with bundles of hotels featuring fantastic restaurants, cocktail bars, swimming pools and spas.  
When you're planning your next holiday, why not choose to book accommodation right on the slopes so you don't have to waste time travelling?
No nasty surprises 
Even when you think you've planned your holiday perfectly, there are still some unexpected expenses that catch out many first-time skiers…
Ski lift passes can cost as much as £300 per person when bought separately, but with Sunweb they're always included alongside your accommodation. 
This doesn't just save you money – it also means less time spent waiting around after you arrive, allowing you to get on the slopes in extra fast time.
Skiing lessons are a great option for first timers or those who need a little refresher 
Sunweb lets you decide whether you want to include flights or not, while they also offer great deals on airport transfers, ski equipment and ski or snowboarding lessons. 
The end result is the financial security of a package holiday at an unbeatable price. 
And you won't even need to worry about your trip being spoiled by a lack of snow thanks to their unique Ski Guarantee* – available if you book before October 17. 
What's more, all reservations through their easy online holiday finder are ABTA protected.
Book your dream holiday NOW at Sunweb.co.uk.
* Click here for full terms and conditions.  
Source: Read Full Article