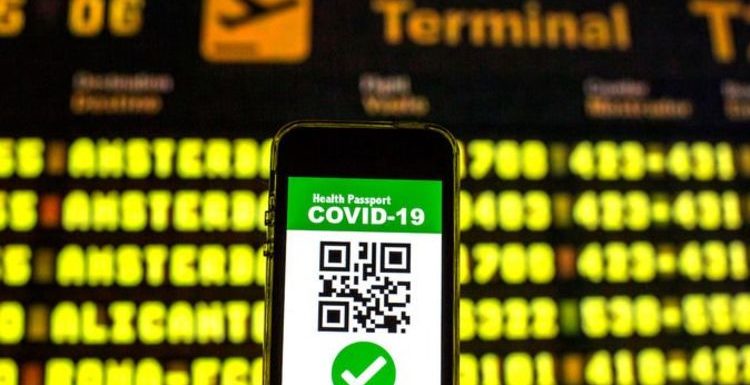 Grant Shapps outlines the 'way forward' for vaccine passports
When you subscribe we will use the information you provide to send you these newsletters. Sometimes they'll include recommendations for other related newsletters or services we offer. Our Privacy Notice explains more about how we use your data, and your rights. You can unsubscribe at any time.
Grant Shapps confirmed today the Government would roll out vaccination passports via the NHS app. Ministers teased the policy, which they have considered as a vehicle for international holidays, for the last few weeks. The transport secretary revealed early plans for the forthcoming digital document in interviews today.
When will vaccine passports be available on the NHS app?
Mr Shapps announced the NHS app will soon host vaccine passports.
He did not reveal whether the NHS doctor's appointment app or the Test and Trace platform would bear the responsibility.
But he did confirm work has now started to incorporate the feature, and he is consulting with other countries.
The transport secretary has not confirmed any specific dates but promised a list of potential holiday destinations to come.
He told Sky News the digital document would show "you've had a vaccine or you've had testing."
Mr Shapps added: "I'm working internationally with partners across the world to make sure that system can be internationally recognised, as that's the way forward.
"I'm chairing a meeting of the G7 secretaries of state for transport, my equivalents from America and Canada and all the G7 countries, next week on exactly this subject."
The only potential date is May 17, when officials hope the country can open once more for international holidays.
Mr Shapps told Sky figures were "looking good" so far.
He said: "I have to say that so far the data does continue to look good from a UK perspective, notwithstanding those concerns about where people might be travelling to and making sure we're protected from the disease being reimported."
Provided the data holds, people could enjoy the spring sun elsewhere in less than a month.
DON'T MISS
Route out of lockdown is providing jabs, jobs and joy – THERESE COFFEY – COMMENT
POLL: Should people with Russian or Chinese jabs be accepted in UK? – POLL
Nandy left mumbling as Hartley-Brewer shows lockdown inconsistency – VIDEO
But Brits won't have a chance for non-essential international travel "before that".
Mr Shapps said: "The earliest possible unlock is May 17, so stage three of the unlock, we won't have international travel before that."
When the time comes, the Government will categorise countries with a traffic light system.
Countries will have "green", "amber", or "red" status when the system debuts.
The transport minister will unveil which countries fall where next month.
The Government has revealed the criteria it will use to categorise prospective destinations.
They include:
Vaccination rates
Covid case rates
Mutations and variants in that country
Perceptions of Covid reporting accuracy in that country
Source: Read Full Article