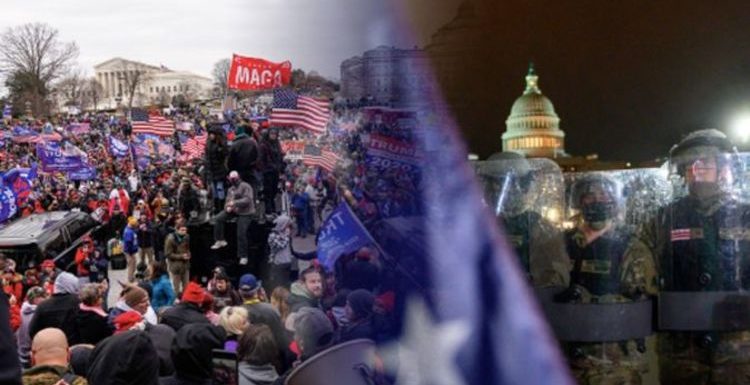 Washington: Protesters seen outside US Capitol Building
The Foreign, Commonwealth and Development Office (FCDO) has issued a new travel warning for Britons either in the US or who are due to visit for "essential purposes" following an uprising in the capital city. Protestors swarmed Washington DC and made their way into the US Capitol building where Congress was meeting.
The angry mob turned out to protest the impending presidency of the newly elected Joe Biden.
It comes after weeks of Donald Trump's allegations the US election results were incorrect.
Police were forced to release tear gas within the white walls of the Capitol, meanwhile, some rioters were said to be armed with "pipe bombs" according to reports by local authorities.
Protesters were seen tearing down framed documents and even ripping apart parts of the building, including a lectern.
We will use your email address only for sending you newsletters. Please see our Privacy Notice for details of your data protection rights.
In light of this, the FCDO advises Britons in the region to follow any newly imposed curfews to curb the risk of destruction.
"On 6 January 2021, the Mayor of Washington DC introduced a curfew in response to disorder around the US Capitol," explains the FCDO.
"This curfew comes into effect at 1800 local time on 6 January and ends at 0600 on 7 January.
"British nationals in Washington DC should follow the Mayor's instructions, and avoid scenes of disorder."
DON'T MISS
Travel expert warns 'devastating' lockdown means more lost jobs [VIDEO]
Flights: BA, easyJet, Ryanair, TUI & Jet2 updates as holidays axed [UPDATE]
Spain flights: What documents do you need for Spain post-Brexit? [INSIGHT]
There have been protests across the US since May 27, 2020.
Since then, the FCDO has been warning Britons of ways to avoid altercations.
"Curfews have been enforced in many cities as a result," states the FCDO.
"There is potential for further protests and curfews.
"You should follow the instructions of local authorities.
"If you do attend any peaceful protests, you should be mindful of your surroundings and move away if there are signs of trouble."
The US also remains in the clinch of the ongoing coronavirus pandemic.
As a result, only certain Britons are eligible for entry to the US.
"British nationals cannot enter the USA and its territories if they have been in the UK, Ireland, Schengen zone, Iran, Brazil or China within the previous 14 days," explains the FCDO.
"If you are eligible to enter the USA you must be prepared to self-isolate for up to 14 days after arrival.
"If you are flying to the US from the UK on or after 28 December, you must test negative via PCR or Antigen test no more than 72 hours before your departure from the UK.
"You must provide your airline with written documentation of your lab test result.
"You should check the process with your airline before travelling."
Source: Read Full Article