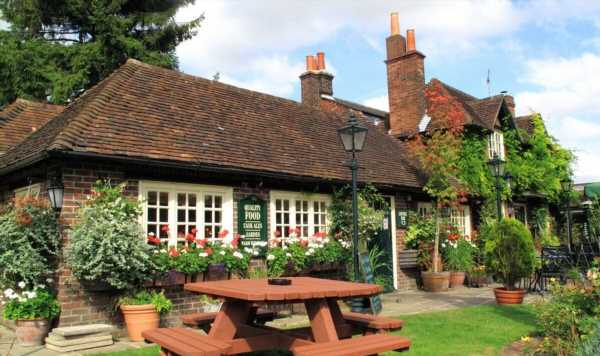 New research conducted by Big House Experience analysed Instagram hashtag data for over 200 country pubs that have been dubbed "beautiful" over the last two years, and now the top 10 has been revealed.
In order to rank the pub's attractiveness, the establishments with the highest number of Instagram hashtags associated with their name were crowned the prettiest, as they have been shared the most on social media.
With just under 5,000 hashtags connected to its name, The Gunton Arms in Norfolk takes home the title of "the UK's prettiest country pub".
Located in the small but charming village of Thorpe Market, this traditional English pub is instantly welcoming to both locals and visitors from far and wide thanks to its cosy and quaint exterior.
Art appreciators keep an eye out, as the pub is home to a range of stunning artworks including pieces from Tracy Emin, Damien Hirst and Lucian Freud to name but a few.
READ MORE: Spain holiday warning as top destination hit with 'significant disruption'
Following in second place is The Gurnards Head in Cornwall, with over 3,800 Instagram hashtags dedicated to its name.
Situated in the picturesque town of St Ives, the warm and welcoming pub is set among glorious coastal landscapes with stunning views of the sea and surrounding area.
Completing the top three, and finishing narrowly shy of second place with just under 3,800 Instagram hashtags is The Punch Bowl in Cumbria.
Are you visiting a country pub this autumn? Join the debate in the comments section below
Don't miss…
'I'm a hotel cleaner and you should always flush the toilet when you arrive'[HOTELS]
'I travelled to one of Europe's least visited countries'[HOLIDAYS]
Cheap holiday destination with 'endless sunshine' is perfect for autumn[AUTUMN BREAK]
We use your sign-up to provide content in ways you've consented to and to improve our understanding of you. This may include adverts from us and 3rd parties based on our understanding. You can unsubscribe at any time. More info
View this post on Instagram

A post shared by Mark Riches (@mark_d_riches)
Nestled away in the hills of the Lake District, the pub sits surrounded by rolling hills and gorgeous views, making it no surprise that it is considered one of the UK's prettiest country pubs.
Rounding off the top five come the first two Scottish selections on the list. In fourth place is The Drovers Inn in Loch Lomond with slightly under 3,700 hashtags, and just behind in fifth place is The Clachaig Inn which resides in Glencoe in Argyll with over 3,400 hashtags.
Gareth Allen, director and founder at Big House Experience, commented: "There's nothing quite like a staycation in the great British countryside. As many holidaymakers enjoy exploring their surroundings and a stroll to the nearest pub and we wanted to shine a light on the most picturesque pubs the country has to offer. From Norfolk to Cornwall or North Loch Lomond to County Durham, it's amazing to see pubs from all over the UK getting the attention they deserve on social media."
View this post on Instagram

A post shared by Lord Crewe Arms Blanchland (@lord_crewe_arms)
View this post on Instagram

A post shared by Billy Stock (@kitchen.stock)
Top 10 most picturesque pubs in the UK:
The Gunton Arms, Norfolk

The Gurnard's Head, Cornwall

The Punch Bowl, Cumbria

The Drovers Inn, Loch Lomond

The Clachaig Inn, Argyll

Lord Crewe Arms, County Durham

The Applecross Inn, Wester Ross

The Old Forge, Mallaig

The Lygon Arms,

Worcestershire

The Rose Inn, Kent
Source: Read Full Article