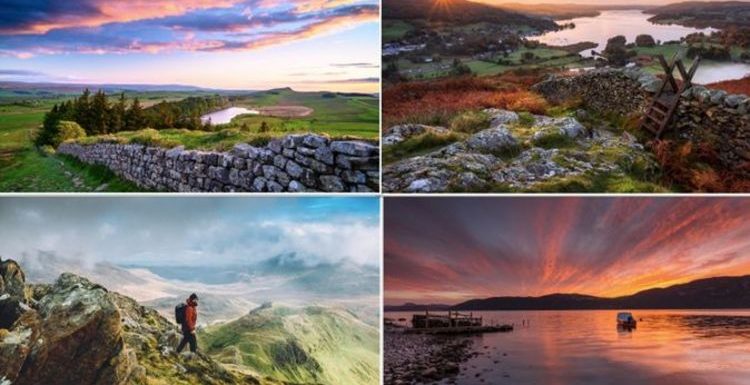 Simon Calder: UK holiday companies offering 'great deals'
When you subscribe we will use the information you provide to send you these newsletters.Sometimes they'll include recommendations for other related newsletters or services we offer.Our Privacy Notice explains more about how we use your data, and your rights.You can unsubscribe at any time.
On Monday, Prime Minister Boris Johnson announced he would allow staycations in the UK to resume from April 12, which means road trips and days out are likely to be on the cards too. New research from LNER has discovered some of Britons' favourite areas of natural beauty perfect for a journey out.
What's more, in their survey they also found 58 percent of respondents said they "hope to visit their favourite UK destinations as soon as restrictions are lifted, and it is safe to do so".
A further 67 percent reproved "desperately missing being able to visit UK beauty spots during the past year".
So, where are the nature-filled hotspots UK residents are most keen to return to?
According to the research, it was the iconic Loch Ness in Scotland that topped the charts for its iconic views.
Of the people who took part, 27 percent said the home of the infamous Loch Ness Monster was their favourite vista in the UK.
It was joined by Lake Windermere in the Lake District, equally being named by 27 percent of respondents.
Southern hotspots were also given a shout out though, with two of the capital's landmarks making the list.
The London Eye and the Tower of London came in third and fourth place respectively.
DON'T MISS
Camping, caravan & holiday park reopening dates following PM roadmap [UPDATE]
Spain holidays: Costa del Sol among first to welcome back tourists [INSIGHT]
Holidays: Britons warned they may face 'additional costs' from May [WARNING]
Of course, stunning views and landmarks from across the country were named.
These included the Yorkshire Dales, the Welsh views of Snowdonia, Ben Nevis in Scotland and the Giant's Causeway in Northern Ireland.
Arthur's Seat in Edinburgh, Bamburgh Castle, Hadrian's Wall and the Three Sisters in Glencoe Valley, Scotland, is also set to welcome back eager travellers once the time is right.
It seems the nation is keener than ever to get back to exploring the nation.
Two-thirds of those who took part say they have British beauty spots and destinations on their own personal travel bucket lists.
Meanwhile, 57 percent went as far as to say a UK-based trip can be "just as enjoyable or even better than a holiday abroad."
Around 77 percent of those who took part said they are "intending to take a UK staycation before planning a trip abroad".
"It's clear to see that as a nation we're proud to be home to some amazing views, ranging from natural beauty like Loch Ness and the Yorkshire Dales to great cities like London and York," said David Horne, managing director at LNER.
"Although restrictions are in place for now, it is not difficult to see why so many of us will be looking to explore the beauty of Britain once it is safe to do so."
Though the Prime Minister has laid out his "roadmap" to life after lockdown, he has stressed this will be lead by "data" and "not dates".
"Step two will begin at least five weeks after the beginning of step one and no earlier than April 12, with an announcement at least seven days in advance," he said.
During this stage "holiday lets" will be allowed from this time, however, the Prime Minister pointed out "only for use by individuals or household groups".
This will include the likes of camping and caravan holidays, as well as private rentals.
From May 17, should data continue to "satisfy the four tests", more of the leisure industry will reopen, including hotels and B&Bs.
Source: Read Full Article