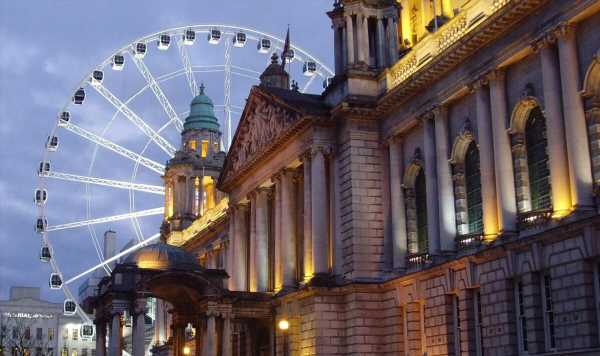 Belfast is a dynamic and vibrant city, focusing on the positive and the future. You see and feel this everywhere you go, especially in the energy of its people such as Blue Badge Guide, Billy Scott who offers entertaining tours of the city in a black London cab.
He'll regale you about The Troubles as you take in the moving murals of Shanklin Road and the graffiti "peace wall", the 16-mile-long barrier that still separates communities.
The Titanic Quarter, is considerably livelier and attracts a younger crowd who have moved into the modern apartment blocks lining the quayside.
It is also where you'll find the gleaming, futuristic Titanic Belfast exhibition; an incredibly moving, immersive space dedicated to the people who lost their lives on that ill-fated liner.
The area is overlooked by a pair of towering yellow gantry cranes, locally known as Samson and Goliath.
Further along the Maritime Mile is an old pump house now, a beautiful contemporary whiskey distillery, and next to it, is the last surviving ship from the Battle of Jutland in 1916, the HMS Caroline which has been superbly restored.
Many visitors, however, purely come to visit the locations featured in the Game of Thrones franchise which are dotted along the coast, particularly on the Causeway Coastal Route.
It takes you through quaint villages and through spectacular landscapes of rolling green hills to the Giants Causeway, the towering basalt columns sitting on the water's edge formed 60 million years ago.
We use your sign-up to provide content in ways you've consented to and to improve our understanding of you. This may include adverts from us and 3rd parties based on our understanding. You can unsubscribe at any time. More info
The Cathedral Quarter is Belfast's party center with wall-to-wall bars, street art, and live music venues. Crowds pour in for traditional music tours, live music, and packed pubs.
The Crown Liquor Saloon with its carved ceiling and stained glass windows offers a taste of Victorian Belfast. Join a Belfast traditional music trail through old, atmospheric pubs, starting at the Second Fiddle and finishing in one of the city's oldest boozers, McHughs.
The foodie scene is also making quite an impact here. In the former Ulster Bank HQ, now stunning five-star luxury hotel The Merchant Hotel, is the fine dining restaurant, The Great Room where you'll sit in Victorian splendour.
For somewhere more relaxed, the James Street restaurant, tucked away on a laneway in Central Belfast is simple and elegant with a menu that features sensational steaks.
Another must-try is Waterman House for modern European dishes and a lively atmosphere. The Michelin-starred, Muddlers Club, is something else with impeccably presented dishes, and elaborate tasting menus served in a warehouse-style setting.
St George's Market not only offers fabulous fresh produce including Irish oysters, but on the weekends artists and craftspeople take over the Victorian space and the live musicians give it a festival-vibe and that really sums up the city/
Source: Read Full Article