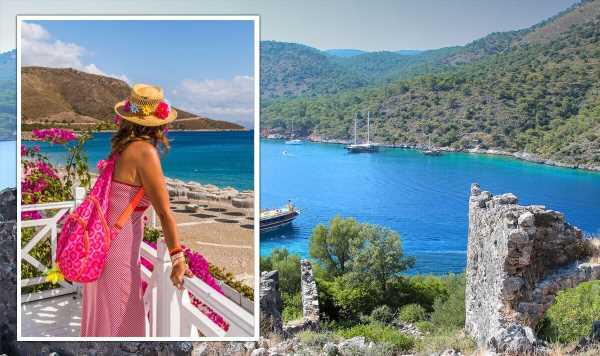 British holidaymakers warned of 'months of cancellations'
We use your sign-up to provide content in ways you've consented to and to improve our understanding of you. This may include adverts from us and 3rd parties based on our understanding. You can unsubscribe at any time. More info
From June 1, Britons travelling to Turkey for a holiday no longer need to show proof of vaccination. They can also enter without proof of recovery or a negative Covid test.
Before the changes, British travellers had to show evidence of a negative PCR or antigen test to travel to Turkey.
The Government advice said: "As of June 1, all Covid restrictions in Turkey have been lifted, and passengers arriving in Turkey are no longer required to present proof of vaccination or negative PCR results."
Tourists will also no longer need to wear face masks indoors or outdoors in Turkey as long as air circulation and social distancing are "adequate".
Britons should be aware that travel restrictions can change at short notice and should check before setting off.
Turkey is one of the UK's most popular destinations and many Britons travel there during summer.
In 2019, over 45 million international tourists visited Turkey for a holiday and officials hope numbers will return this year after the pandemic.
The mayor of Bodrum, Ahmet Aras, said: "We are really a cheap destination now. Not only Bodrum, but Turkey itself which has again become a very attractive destination because of the weak lira."
However, the country's tourism industry could suffer due to a drop in the number of Ukrainian and Russian tourists.
Istanbul is a top city break destination but many Britons choose to visit one of Turkey's stunning beaches.
Antalya, Bodrum and Marmaris are all top destinations for British tourists looking to enjoy sun, sand and sea.
Marmaris was recently found to be the cheapest holiday destination for British tourists in a Post Office Travel Money study.
The study looked at the cost of a three course evening meal for two with wine as well as the average price of standard items such as sun cream.
Marmaris was the cheapest of the European resort destinations, costing just £26.13 for a three course meal for two.
The Post Office also found that prices on the Turkish Riviera were 43 percent cheaper than in 2019.
The port city of Marmaris has a pretty pebble beach and a long seafront promenade with many activities for families.
The resort also has a buzzing nightlife scene with live music venues that are popular with tourists.
Surrounded by pine forests and known for clean water, the resort is popular with sailing fans and diving fanatics.
Britons travelling to Turkey will need six months on their passport from the date they arrive and should have a blank page for stamps.
British people can travel to Turkey for 90 out of every 180 days without a visa or residence permit.
Tourists should check the status of their flight before travelling to the airport due to an ongoing problem with cancellations.
Source: Read Full Article