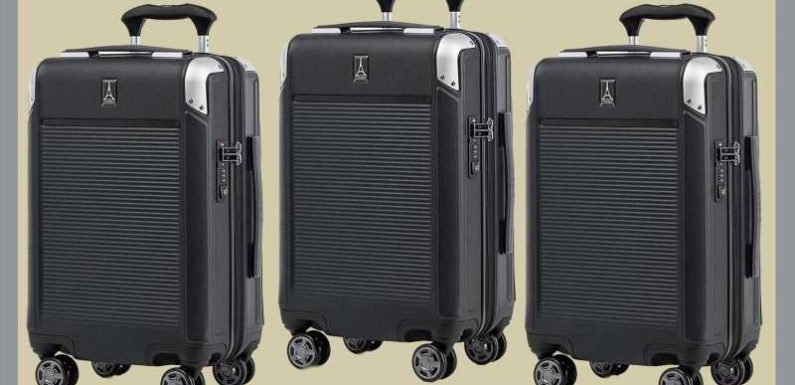 While there's no shortage of suitcases on the market, a good piece of carry-on luggage is hard to find. As a travel editor, I've tried my fair share of luggage and travel accessories, including carry-on suitcases that can keep up with me on all my adventures. And just in time for this summer's return to travel, I've found a durable, lightweight, and easy-to-pack suitcase that I'll be taking on all my future trips. 
Related: 13 Suitcases That Will Make You Love Hardside Luggage
On a recent road trip, I had the chance to test out the Travelpro Platinum Elite Compact Carry-On Expandable Hardside Spinner. From packing the suitcase with all of my beach vacation essentials to staying organized during my trip and transporting the bag from apartment to car to beach house, I couldn't be more impressed with how this luggage performed. 
To buy: amazon.com, travelpro.com, from $280
Video: How to make compost at home with kitchen scraps (USA TODAY)
Tropical Storm Elsa kills 1 in Florida, slams Georgia coast

USA TODAY


Mourners, workers and media pay tribute to lives lost in Surfside condo collapse site

USA TODAY


Yankees fan cries when GM calls with big news

USA TODAY


Launching cars off 300-foot cliff is an annual tradition in this small town

USA TODAY


Bernese mountain dog couldn't contain it's excitement when a new puppy arrived home

USA TODAY


Search at Surfside condo collapse shifts from rescue to recovery as death toll rises

USA TODAY


Lightning bolt strikes near One World Trade Center during severe weather

USA TODAY


Ohio police chief resigns after putting KKK note on Black officer's desk

USA TODAY


How to properly water trees to keep them alive

USA TODAY


13 million people under tropical storm warning as Elsa rips through Florida coast

USA TODAY


Death toll reaches 46 after Surfside rescue crews recover 10 more bodies

USA TODAY


A nine-year-old makes 'America's Got Talent' history, jokes about Simon Cowell's wardrobe

USA TODAY


What to be done about swim caps for Black hair being barred from Tokyo Olympic swim events

USA TODAY


Bryson DeChambeau and Aaron Rodgers win The Match

USA TODAY


Mike Bibby breaks down why NBA draft prospect Cade Cunningham will succeed at the next level

USA TODAY


Eric Adams is in the lead to be NYC's next mayor, so who is the Democratic candidate?

USA TODAY


Tropical Storm Elsa kills 1 in Florida, slams Georgia coast
A tornado struck a park for recreational vehicles at Kings Bay Naval Submarine Base in Georgia, injuring 10 people.


USA TODAY



Mourners, workers and media pay tribute to lives lost in Surfside condo collapse site
One Surfside resident said he lost eight friends in the Florida condo collapse.


USA TODAY



Yankees fan cries when GM calls with big news
Gwen Goldman got to be a New York Yankees' bat girl 60 years after being turned down because of her gender.


USA TODAY

Coming in at 22″ by 14″ by 9″, this suitcase complies with the carry-on size restrictions of nearly all domestic airlines, and it should fit comfortably in an airplane's overhead bin. It's designed for three to five day trips and is suggested to accommodate five to nine outfits, making it ideal for short getaways and travelers who prefer to pack light. The exterior of the bag is made from 100 percent hard shell polycarbonate with aluminum corner armor pieces that protect the bag in high impact areas. Self-aligning spinner wheels allow the bag to roll smoothly on a variety of surfaces, making it even more comfortable to carry, whether you're running through the airport or wandering cobblestone streets. 
The interior of the bag is expertly-designed to keep you organized while traveling, and I can attest to just how helpful the organizational features are. Interior zippered divider panels help you keep your belongings secure and separated. Two mesh zippered interior pockets make for helpful extra storage, while a water-resistant pocket is perfect for damp items or toiletries. Leaving the beach after spending a day in the water? Not to worry, you can simply store your damp swimwear in the wet pocket and rest assured the rest of your belongings will stay safe and dry. 
And even though this suitcase is new, shoppers are already raving about it. "This is the best rolling carry-on I have ever owned," one reviewer wrote. "Travelpro has thought of everything, and put it into this bag!"
Another reviewer on Travelpro's site emphasized the bag's impressive functionality. "I own different Travelpro bags and this bag is the smoothest rolling bag I own," they wrote. "I've used it several times already and it's amazing the amount of clothes I can fit in it."
If you're in the market for a new carry-on suitcase, we recommend shopping this bag ASAP, since it's already selling out on Amazon, and we suspect it will on Travelpro's site as well. 
Love a great deal? Sign up for our T+L Recommends newsletter and we'll send you our favorite travel products each week.
Source: Read Full Article