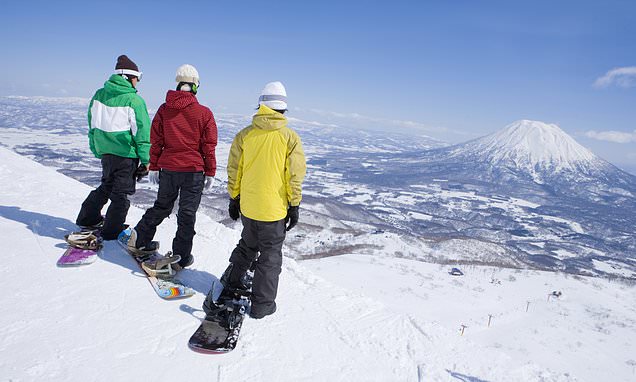 Welcome to the land of the rising snow: Inside Japan's volcanic Niseko resort – which gets more of the white stuff than almost anywhere else in the world
Niseko-Annupuri in Hokkaido, Japan, is Asia's number-one ski resort – skiing was introduced here in 1911
The resort's snowfall is around 50ft (15m) per season, and its annual snowfall is nearly twice that of the Alps
Rory Ross stayed at the Kasara Townhouse and recommends trying the shabu-shabu at Two Sticks restaurant
Why travel 17 hours to ski down a glorified hill in Hokkaido, Japan's northern island? The answer lies in a strange character named Stella.
Stella is the star of Niseko-Annupuri, Asia's number-one ski resort (4,291ft or 1,308m). Stella Dendrites, to give her her full name, is the millennial snowflake in excelsis. Every day, she breezes in from Siberia and lays a thick white duvet over everything.
At around 50ft (15m) per season, the annual snowfall in Niseko-Annupuri is more than in Canada and nearly twice that of the Alps. Only Mount Baker in the U.S. is snowier at 54ft (16.5m).
The Fuji of Hokkaido: Snowboarders in Niseko-Annupuri gaze at the mighty 6,200ft-tall Mount Yotei volcano
This makes Niseko-Annupuri one of the planet's premier powder playgrounds. Long after global warming has melted the Alps, Stella Dendrites will (hopefully) be laying down her fleecy ordnance, known locally as the Siberian Express.
Camped around Mount Niseko-Annupuri are four villages: Niseko, Hirafu, Hanazono and Annupuri. I stayed in Niseko, a Japanese-style Alpine village which YTL, the Malaysian conglomerate, snapped up after the financial crisis of 2007. Hinode Hills, their newest development, has 79 rooms and suites in wabi-sabi style and recently opened with ski-in, ski-out access and the hotel's own chairlift.
I stayed at the more modest, but chic, Kasara Townhouse, an annexe of Green Leaf Hotel that offers a pared-back 'contemporary ski lodge experience' — where the woman running the ski room gave me a questionnaire to assess my ability. First question: are you an 'aggressive' skier?
Chic Kasara Niseko Village Townhouse offers visitors to Niseko a 'contemporary ski lodge experience'
Kasara Townhouse is luxurious, with spacious rooms and beautiful wooden floors
The following day, I was going hell for leather skiing down the longest steepest slope, when I clipped my guide's skis. The mountain somersaulted and I hurtled down a wall of snow.
I tried all sorts of shapes — crucifixion, starfish, octopus — before coming to a halt. Not even a bruise. In snow this soft, you can crash and burn with impunity.
Unless you hit a tree. The silver birch is a deciduous tree which in Japan is unique to Hokkaido. Its silvery white trunks can be hard to spot when skiing 'aggressively'. Do leave tree surgery to professionals.
The Austrians introduced skiing here in 1911. Major General Theodor von Lerch of the Imperial Austro-Hungarian Army was sent to observe the Japanese military after the Russo-Japanese war. Bored, he ended up giving the army ski lessons.
Curiously, skiing never took off. Despite a purple patch in the 1980s when tax breaks boosted resorts (Niseko was founded in 1982) and the Winter Olympics in Nagano in 1998, the sport flatlined.
However, the country's sheer fluffy snowiness drew Australian enthusiasts. 'They were Bali types who change their name, wear sarongs and go native,' says Olivia Harper, who lives in Kensington, West London, but rents a chalet in Niseko. 'Only they did it in Japanese.'
Word filtered out. As the Far Eastern economies snowballed, Western expats and savvy Asians began to take a look. Japan's work ethic, culture, and high standards were much admired; skiing was the excuse everyone needed to visit.
Camped around Mount Niseko-Annupuri are four villages: Niseko, Hirafu, Hanazono and Annupuri
TRAVEL FACTS 
British Airways flies from Heathrow to Sapporo via Tokyo from £680 return (ba.com). Doubles from £250 B&B at Green Leaf Hotel in Niseko (thegreenleafhotel.com). Studios from £310 at Hinode Hills in Niseko (hinodehills.com). 
Result? Today's seasonal precipitation of nuclear families from across Asia. 'Many have never seen snow before,' said Ryan, my Canadian guide.
Now, learning to go downhill is the new Asian bourgeois status symbol and an essential part of the education of children.
If skiing is the new hallmark that will frank you through this society, why not go one better and become an instructor? 'No need to be a great skier,' says skiing tutor Will Ehrman. 'Just be kind, patient, polite and informative.'
One of Ehrman's fellow instructors last season was so kind and patient that he blagged a tour of Asia and Australia off all the families he had taught to ski.
And epic silky powder is just part of the appeal. There is also the Japanese touch: orderly queues, bomb-proof politeness, nailed-on smiles, an emphasis on not inconveniencing anyone, and great food.
You will find good miso ramen noodles and a katsu curry at the Lookout Cafe. For hot chocolate, aim for the 3,280ft (1,000m) Hut. I dined on excellent shabu-shabu (a hotpot) at Two Sticks restaurant in Niseko village, where the Milk Kobo dairy farm shop sells outrageous cakes and ice creams.
Apres-ski begins with a soak in the outdoor onsen to climb down from the skiing high. It continues at Hirafu village. Aim for Bar Gyu+, aka the Fridge Bar: a 1970s Narnia of vinyl, books, posters and flights of sake and Japanese whisky.
'The Fridge Bar is as wild as Niseko-Annupuri gets,' says Olivia Harper. 'Despite the Australians, this is not the Krazy Kanguruh!' After a ski trip to Japan, the Alps will seem forever diminished. But… 17 hours to fly there?
'We know people who drive 17 hours to Courchevel,' says Olivia. 'Better fly to guaranteed powder in Japan than roll the dice on snow in the Alps. It is so special, so different, so exotic.'
DON'T SKI? WHY THERE'S NO NEED TO MISS OUT ON THE FUN…
Just because you don't fancy throwing yourself down the side of a mountain with a pair of planks attached to your feet doesn't mean you can't enjoy a snowy getaway. Here's our guide to non-ski activities in cold climes.
Have a spin at ice driving
The ice-driving course at Val Thorens is the highest in Europe, with an impressive and challenging half-mile long track.
High-octane fun: Drive a rally buggy on the Val Thorens ice track in the Alps – the course is the highest in Europe
If you don't fancy taking the wheel, a professional ice driver will take you on a high-speed lap or two, although we recommend signing up for a lesson, during which an instructor will show you the basics. Then take control of a rally buggy or car fitted with studded tyres.
Don't miss: Trying out the BMW 3 Series ice driving cars with their high-tech electronic stability controls.
Details: From £86 pp (icedrivingvalthorens.com). 
Ride a 'snow tank'
How about something different from the usual horse-drawn carriages and husky sleighs? Head to northern Finland and explore the scenery in a cosy enclosed sled towed by a snow tank — a mean machine usually used to clear snow from roads.
A guide will give you the lowdown on north-eastern Finland. Restore energy levels with mugs of warm blueberry juice.
Don't miss: The Northern Lights — Finland's north is one of the best places to see them.
Details: From £122 pp (kakslauttanen.fi).
Bobsleds at 80 mph
Got a need for speed? Fly down the St Moritz-Celerina Olympia bob run — which has had a starring role in two Olympic Games — in a four-person bobsled steered by a professional. Deep in the Swiss Alps, the bob takes 75 seconds to speed down the 1.1-mile track, which opened in 1904.
Don't miss: A walk around St Moritz's beautiful frozen lake.
Details: From £210 pp (olympia-bobrun.ch).
Go ice fishing
Melchsee-Frutt, pictured, in Switzerland is a popular spot for ice fishing. It's surrounded by 'gorgeous snow-capped peaks'
Melchsee-Frutt is a lovely Swiss ski resort easily accessible from Lucerne. It's also a popular spot for fans of ice fishing, who come here to wrangle trout and char from the ice-covered Melchsee — a mountain lake.
Sign up for an ice-fishing lesson and your guide will drill through some 7ft of ice before handing you a fishing line. Then it's a waiting game, surrounded by gorgeous snow-capped peaks.
Don't miss: Warming up in the hot tubs and steam rooms of the Hotel Frutt Lodge & Spa.
Details: From £44 pp (melchsee-frutt.ch).
Snowshoe in Slovenia
If you've been heading to the same ski resort for years but fancy a change, consider Slovenia's Bohinj Valley in the Julian Alps. A great way to explore this region is on a snow-shoeing hike around Lake Bohinj, Slovenia's largest lake. Guides lead four-hour hikes on Mondays, Wednesdays and Fridays.
Don't miss: Alpine choughs — beautiful birds with glossy black plumage.
Details: From £33 pp (bohinj.si).
Give curling a whirl
Curling is like bowls but more exciting. It's on ice for starters, although grippy shoes minimise the potential for hip dislocations. The twice-weekly sessions in the French ski resort of Les Contamines-Montjoie are free. And you'll be learning from the masters — the club plays in 20 major tournaments a year.
Don't miss: The beautiful alpine village of Les Contamines, with old wooden farmhouses in typical Savoyard style.
Details: Lessons (lescontamines.com).
Llama treks
The picture above shows the valley in Liechtenstein where you can go on a two-day llama trek, with a night in a cosy mountain hut 
Who doesn't love a llama? They're softer than reindeer (although admittedly more likely to spit), less flighty and Santa doesn't have them on speed dial. This explains why there's no shortage available to guide you on a two-day winter walk through Liechtenstein.
You start in pretty Triesenberg, with its backdrop of jagged peaks and snow-dusted forests, and spend the night in a cosy mountain hut.
Don't miss: Tasting the delicious cheese from an alpine dairy.
Details: From £255 pp (lama-alpaka.li).
Camp in Sami Norway
Get back to basics with a night's stay in a Sami lavvu, a traditional tent used by the indigenous Sami people. Before turning in for the night, a Sami guide will take you on a reindeer-sled tour and to a spot for seeing the Northern Lights dance.
After dinner, you'll crawl inside an insulated sleeping bag atop a reindeer hide.
Don't miss: The pre-bedtime Sami storytelling session.
Details: From £237 pp (tromsolapland.no).
Join the pack
Skating across ice-covered lakes, dodging branches, weaving through forests and taking in snowscapes — there's nothing quite like dog sledding in Lapland. This is the best way to see Finland's largest, northernmost region.
The dogs are bred for this environment and they'll be raring to go once given the command. This break is three or four days including flights and full-board accommodation.
Don't miss: Learning about husky history — they played a crucial role in World War I.
Details: From £839 pp (transun.co.uk) 
By Tamara Hinson   
Source: Read Full Article