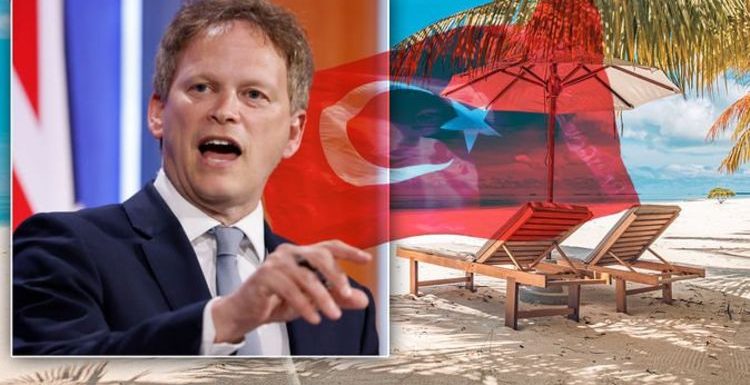 Boris Johnson 'won't hesitate' in adding countries to red list
We use your sign-up to provide content in ways you've consented to and to improve our understanding of you. This may include adverts from us and 3rd parties based on our understanding. You can unsubscribe at any time. More info
Today the Government has announced the latest updates to its rules around international travel. It has made changes to the green, amber and red travel lists. These lists dictate the rules which Brits will have to abide by when travelling abroad. Here are the eight countries which have been moved from the red list.
Today the Minister for Transport, Grant Shapps, announced which countries had been moved from the red list.
Turkey
Pakistan
Maldives
Egypt
Sri Lanka
Oman
Bangladesh
Kenya
What is the travel situation in Portugal?
Many travel experts had hoped the holiday hotspot of Portugal would be put on the green list.
But mainland Portugal has stayed on the amber list in this latest travel update.
But confusingly, while the majority of the country remains on the amber list, certain Portuguese Islands are on the green list.
Sun starved Brits will be pleased to hear that Madeira is on the green watch list.
The Azores have also stayed on the green list.
What changes will there be to the travel rules?
As well as updating the travel lists, the Government also announced it would be changing rules around international travel.
Grant Shapps announced in a tweet that the Government will be simplifying these rules from October 4.
He wrote: "We'll also be introducing a new simplified system for international travel from Mon 4 Oct, replacing the current approach with a single red list and simplified measures for the rest of the world – striking the right balance to manage the public health risk as No.1 priority."
He added: "We're making testing easier for travel. From Mon 4 Oct, if you're fully vax you won't need a pre-departure test before arrival into England from a non-red country and from later in Oct, will be able to replace the day 2 PCR test with a cheaper lateral flow."
What happens when a country is moved from red to amber?
Holidaymakers will be pleased to hear that a further eight countries have been moved from red to the amber list.
But how does this make travel to these destinations easier?
Anyone who arrives in the UK from a red list country will be subject to the tightest restrictions.
This includes a 10-day stay in a managed quarantine hotel, pre-departure testing and mandatory PCR testing on day two and eight.
The government states: "You should not travel to red-list countries or territories."
When a country is moved onto the amber list these restrictions are significantly relaxed.
Arrivals from amber list countries will still need to quarantine for 10 days and take a pre-departure test, as well as a PCR test on day two and day eight.
But this quarantine can be done at home, as opposed to in an expensive quarantine hotel.
There will also be the option to take a test on day five to end quarantine early.
If you have been double jabbed then you won't need to self-isolate at all.
Source: Read Full Article