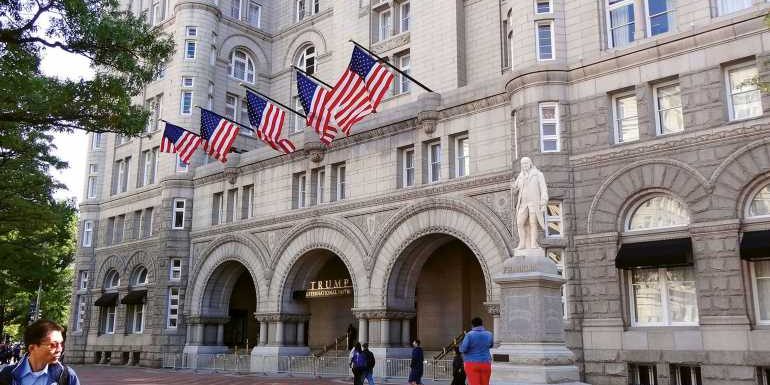 An investment group that includes former New York Yankees third baseman Alex Rodriguez is closing in on a deal to purchase the rights to lease the Trump International Hotel in Washington, D.C., according to a report from the Associated Press.
The proposed deal involving Miami-based CGI Merchant Group was first reported in November by multiple outlets citing anonymous sources with knowledge of the negotiations. The involved parties continued to decline comment on the transaction, but the Associated Press cited additional anonymous sources in revealing more details this week.
CGI is leading a fund to purchase the lease at the 263-room property for $375 million, and Rodriguez is a lead investor, according to the AP. In November, the New York Times reported CGI plans to rebrand the hotel as a Waldorf Astoria. 
The hotel, which opened in 2016 as the Trump International Hotel after a $200 million renovation, is a repurposing of the federally-owned Old Post Office Pavilion. The Trump Organization in 2012 leased the property from the General Services Administration.
It outbid other hoteliers for the property, including Hilton Worldwide, which had proposed a Waldorf Astoria.
CGI's purchase of the lease, which could close in "weeks" according to the AP, may be via the company's $650 million Hospitality Opportunity Fund established in 2020 to acquire distressed hotels losing value due to the Covid-19 pandemic and rebrand them as "socially conscious" and "eco-friendly" properties.
Source: Read Full Article