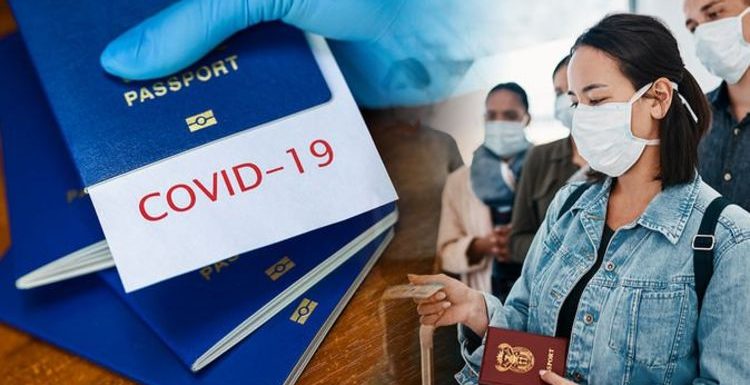 Matt Hancock outlines details of UK vaccine delivery plan
With vaccination schemes in process around the world, talk of vaccination passports to show whether or not a person has been given the COVID-19 jab has been suggested within the travel industry. Major airlines, such as Qantas, have even gone so far as to suggest non-vaccinated travellers will be denied access to their flights.
However, Gloria Guevara, CEO of the World Travel and Tourism Council (WTTC), has slammed the decision as "discriminatory".Though the trial is reportedly government-backed, it previously stated there are "no plans" to introduce a compulsory coronavirus vaccination passport.
She said: "We should never require the vaccination to get a job or to travel."
Speaking at a Reuters event, the head of the WTTC also condemned Qantas for their comments on unvaccinated travellers.
"I totally disagree with the approach from Qantas," she said.
We will use your email address only for sending you newsletters. Please see our Privacy Notice for details of your data protection rights.
"If you require the vaccination before travel, that takes us to discrimination."
In November 2020, Qantas CEO Alan Joyce told Australia's Nine Network: "We will ask people to have a vaccination before they can get on the aircraft… for international visitors coming out and people leaving the country we think that's a necessity."
However, Ms Guevara does not think this is the right approach.
In a statement released the day after the Reuters event, she said: "It will take a significant amount of time to vaccinate the global population, particularly those in less advanced countries, or in different age groups, therefore we should not discriminate against those who wish to travel but have not been vaccinated."
DON'T MISS
Holiday woe as Barbados could be axed from travel corridor list [COMMENT]
Pound to euro exchange rate surges to 'highest level since March' [GRAPH]
Flights: Latest updates for BA, TUI, easyJet, Ryanair and Jet2 [UPDATES]
The travel expert pointed out the many preventative measures airlines have already invested in to ensure passengers are safe when flying.
She believes these, coupled with prioritising vaccines for high-risk people, are enough to help the travel industry resume safely.
She pointed out air passengers have "less chance to get covid in a plane (than) in a supermarket".
She continued: "We need to protect vulnerable groups and prioritise the vaccination for them."
Ms Guevara also highlighted how testing can help travel resume, even while the vaccination effort is ongoing.
"Only a tiny percentage of people around the world have so far received the vaccine, whereas there are vast numbers who have not, but who could be tested, show a negative result, and travel safely," she said.
"The common-sense approach is to allow the free movement of people who can prove a negative test result, rather than reserve travelling or jobs for a small minority who have been vaccinated."
Her comments come as the UK gears up to launch a vaccine pass trial for those who have been given the injection so far.
Created by biometrics firm iProov and cybersecurity firm Mvine, the passport will be issued as a free app which people can use to show whether or not they have been vaccinated.
It will also show how many vaccines they have had.
The experts say the trial will help the NHS keep track of who has had the vaccine.
iProov boss Andrew Bud told the Telegraph: "We're talking about a piece of remarkable technology that can be brought to bear and can be readily integrated with the NHS."
Though the trial is reportedly government-backed, it previously stated there are "no plans" to introduce a compulsory coronavirus vaccination passport.
Source: Read Full Article