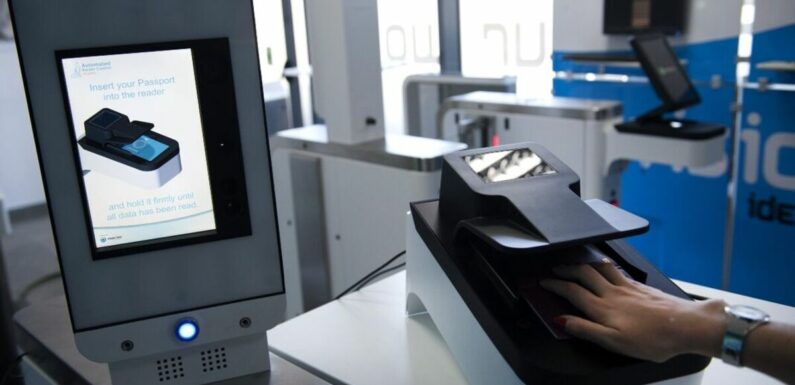 Civil service staff have planned to walk out on Friday April 28. The PCS union is calling for better pensions, a pay rise and greater pay security. Border Force staff are among the more than 13,000 workers expected to strike.
The Home Office has advised British tourists due to travel around the end of April to check the latest advice from their holiday provider.
It said that travellers leaving and entering the UK should prepare for "longer wait times" and said its "first priority" was to "keep our borders safe and secure".
It said: "Please be patient and respect officers who are working to keep our citizens safe and border secure, and supporting travellers during the strike action."
The PCS union, which represents the union, said that members would not be "backing down" in the dispute.
General secretary Mark Serotka said: "Ministers need to take notice that we're escalating our action and they need to resolve the dispute by putting money on the table.
"We know our strikes have already caused serious disruption. The new strikes and another national day of action will pile the pressure on a Government that refuses to listen."
British tourists could experience longer queues at Border Control but experts believe disruption to holidays is likely to be minimal.
Border Force strikes around Christmas time didn't impact many travellers as most were able to use the e-gates.
Don't miss…
The popular destination where selfies are illegal – £2,652 fine [WARNING]
I tried to save on a city break in Spain – the results [EXCLUSIVE]
The British beaches that look like they should be overseas [INSPIRATION]
Travel expert and CEO of the Advantage Travel Partnership, Julia Lo Bue-Said, said: "The Border Force strike action announced ahead of the May bank holiday is, once again, disappointing news for the travel industry.
"Fortunately, many of our travel agency partners are telling us that customers are not currently being put off by the threat of strike action.
"For anyone that is travelling during this period, whether it's for business or leisure, we would strongly advise that they prepare as much as possible for longer wait times, use e-gates where possible and check airport and port websites before travelling to see if any strikes are likely to affect their journeys.
"We do, however, expect that the majority of travellers will not experience delays as a result of contingency measures that are normally put in place to minimise disruption."
She added that she advises tourists to book through a travel agent as they will have up to date advice and information.
The new strikes follow the announcement of a five week Passport Office strike over jobs, pay and working conditions.
More than 1,000 staff working in Durham, Glasgow, Liverpool, London, Newport, Peterborough and Southport will walk out on April 3.
The strikes will continue until May 5 with workers in Belfast joining the action on April 7 until May 5.
Tourists are advised to renew their passport as soon as possible if it is due to expire in the next few months.
The Government has not currently changed the 10 week waiting period for a passport but this could be moved if the action has a big impact.
It is generally faster to apply online for a passport if possible, although applications can be made via post.
A travel expert has advised tourists to take care to avoid scam websites and only order their passport through the official Government website.
Source: Read Full Article