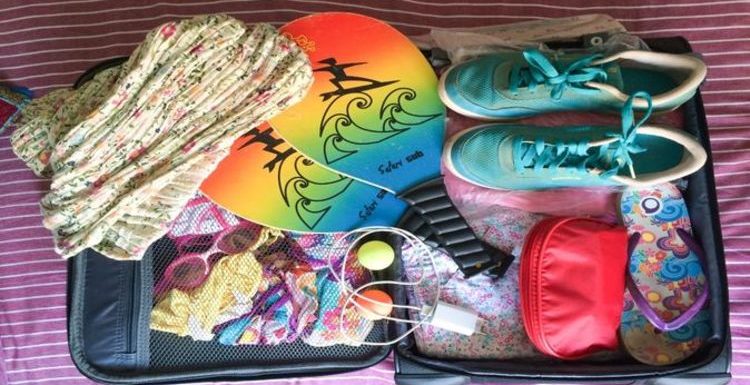 Heathrow Airport: Chaos as passengers queue at border
We use your sign-up to provide content in ways you've consented to and to improve our understanding of you. This may include adverts from us and 3rd parties based on our understanding. You can unsubscribe at any time. More info
The traffic light travel system is hated by many travel experts, companies and tourists as restrictions often change without warning. It's now been revealed that the over-complicated rules are ruining holidays as stressed tourists forget travel essentials.
Plug adapters are one of the most commonly forgotten items, with travellers forced to fork out for overpriced electronics at the airport.
Toiletries are also at the top of the list and as many hotels have ditched free toiletries during the pandemic, tourists end up left in the lurch.
Mobile phone chargers are constantly forgotten by travellers who are in a rush to have the correct pandemic documents.
Buying a new charger abroad is expensive and it can also be difficult to find the correct wire for an older phone.
Most shockingly, one in five men admitted to forgetting their passport, causing them to miss their flight.
Women were more organised with just one in 10 leaving their passport behind before a holiday.
The research by Sainsbury's Bank Travel Money, looked at the random items forgotten by tourists.
Despite sometimes forgetting their passports, British tourists were pretty organised when it came to sorting their travel currency.
The majority of Britons thought about their currency needs when they booked a holiday or at least a week before departure.
Almost one in 10 British travellers worry about buying foreign currency at the airport, where it is likely to be more expensive.
Jason King, customer director at Sainsbury's Bank said: "Forgetting holiday essentials is common – we have all done it.
"However, travel currency doesn't need to be one of those items." Buying travel currency before the airport is often the cheapest option.
Teabags, sugar for tea and children's glasses were also listed as regularly forgotten random items.
Astonishingly, some Britons even reported forgetting their suitcases before heading off on a holiday.
Packing errors have become far more common as strict regulations make foreign travel all the more complicated for stressed Brits.
A quarter of those polled felt they were more likely to forget essential items this year than ever before.
Young travellers were the most nervous with over half of 18-24 year olds feeling more forgetful due to travel restrictions.
Every tourist visiting a country on the amber-list must have a pre-departure test as well as a PCR test on or before day two after arrival to the UK.
France recently changed its travel requirements and all children over 12 will now need a health passport to enter restaurants and tourist attractions.
Updates to the current travel rules and regulations are expected from the UK Government on October 1.
Source: Read Full Article