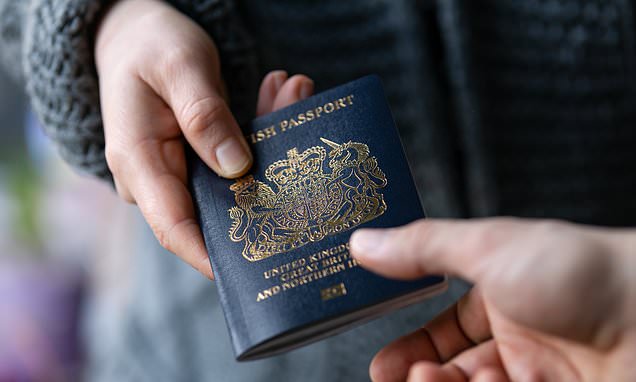 TikTok traveller warns holidaymakers to take VERY good care of their passports – after she was barred from flying to Bali because hers had a 'tiny bit of water damage'
Influencer Emma Doherty had intended to fly to the Indonesian isle from Sydney 

She says that she was 'gutted' to be turned away from her flight by airport staff

READ MORE: Martin Lewis reveals the button you should NEVER press on holiday
A TikTok traveller has warned holidaymakers to take very good care of their passports – or their holiday could be in jeopardy. 
Emma Doherty revealed that she was turned away from boarding a flight to Bali, Indonesia, because her passport had a 'tiny bit of water damage'.
Her experience is a reminder of the importance of making sure your passport is in good condition, because any country can cite passport damage as a reason for barring entry. 
In a recent clip, which has racked up nearly 900,000 views, Emma explains that she was prohibited from boarding her flight to the Indonesian island by staff at Sydney Airport. 
The fitness influencer, who is originally from Somerset but is currently based in Australia, recommended that travellers 'triple check' that their passport has 'no damage, no marks, no water or anything' before heading to the airport.
A TikTok traveller has claimed that she was turned away from boarding a flight to Bali, Indonesia, because her passport had a 'tiny bit of water damage' 
just telling myself everything happens for a reason 🙃 trying not to cry right now but whatever i'd rather be stranded in Sydney than detained in a Balinese cell !! #bali #deniedboarding #airportlife #airportfails #travelfails #travel #traveltok #traveltiktok #fyp #storytime #passportdamage #detained #flyingtobali #balitravel #balitrip
She says: 'I literally just got told that if they let me into Bali, the military and the security in the airport [in Bali] would have put me into a cell. Apparently, Bali airport are really really strict and they are known for putting people into a cell if they don't like your passport.'
Emma adds: 'I'm really upset. I'm literally gutted. I've just been sitting here crying for the last 15 minutes.' 
In the comment section, other TikTokers admitted they'd had a similar experience, with user 'Santa Piterniece', writing: 'My partner's passport page was a little bit ripped and they also didn't let him board the flight to Bali.'
User Christopher Atkins weighed in: 'I had the same. Landed in Bali, had to wait in a cell until I could get a flight out.'
And TikToker, 'travelwithholl', who is based in Bali, reacted to the video by saying:' If you're coming to Bali… you have to make sure that your passport is in literal mint condition. Or it is true – you will be detained.' 
Another traveller, Australian Bronte Gossling, had the same issue last year, when she flew from Sydney to Melbourne for a connecting Jetstar flight to the popular Indonesian holiday island. Upon checking in for her flight, airline staff said that she would be unable to board due to 'a little bit of water damage' on the photo page of her passport. 
Why is this a particularly common occurrence for holidaymakers heading to Bali? In 2019, The West Australian reported that Indonesia had introduced tighter restrictions on allowing travellers into the country with damaged passports and would be fining airlines up to £3,900 (5,000 U.S dollars) if they carry passengers with damaged passports on inbound flights. 
'A damaged passport is one that the customer cannot use as proof of identity because of its condition,' gov.uk reveals
WHAT IS A 'DAMAGED' PASSPORT? 
Gov.uk says: 'A damaged passport is one which the customer cannot use as proof of identity because of its condition.'
It says that damage can include:
'When the personal details or observation page are unreadable'
'Laminate peeling or lifting away from the personal details page'
'Unreadable security details'
'Missing or detached pages'
'Where the front, back or personal details page has been cut'
'Damage or discolouration to any part of the passport caused, for example, by water; chemical or ink spills; tears, rips, bite marks'
'On a blue e-Passport, where the perforated passport numbers have been torn (the perforations will show slight charring, this is normal); personal details page is broken or cracked'
'Where the chip or antenna shows through the end-paper on the back cover of a burgundy e-Passport; personal details page of a blue e-Passport'
Source: Gov.uk  
That said, travellers to other popular beach holiday destinations such as Thailand and the Maldives have faced similar issues with their passports. 
Earlier this year, British TikToker, Amy Grundy, claimed her passport was denied at Manchester Airport for a flight to Thailand because of a ripped page. She managed to get an emergency passport and catch another flight, with the experience setting her back £700. 
In 2019, Made in Chelsea star Georgia Toffolo made headlines when she was detained at Male Airport in the Maldives for having a page missing on her passport, though she was eventually released after being held for nine hours.
In a similar experience, Reddit user 'morningcrush' last year revealed they were denied boarding on to a flight to the Maldives because, they were told, their passport was 'not in the correct condition and Maldives Immigration would turn [them] away'. The British passport holder wrote: 'My passport, as far as the regulations on gov.uk go, is in the correct condition… all of this cost me extra money, time and stress.' 
Meanwhile, North American TikToker 'claireecowles' said she was turned away when she tried to board a flight for her 'dream trip' to Ireland because she had ripped a 'tiny' piece of her passport. She claimed that airport staff said that the rip meant that scanners would have difficulty reading her ID. 
And another unnamed Reddit user previously revealed they were rejected from a flight to Buenos Aires, Argentina, because their 'passport [was] a little worn'. They said: 'It's just a little beat up, and the last page is coming off slightly in one corner.'
So, what constitutes a damaged passport? 'A damaged passport is one that the customer cannot use as proof of identity because of its condition,' gov.uk reveals. 
It notes that damage can include when the personal details are unreadable; when the laminate is peeling away from the personal details page; when there are missing or detached pages; or when there is water damage or ink spills.
To replace a damaged passport, travellers can visit the gov.uk website.  
Source: Read Full Article