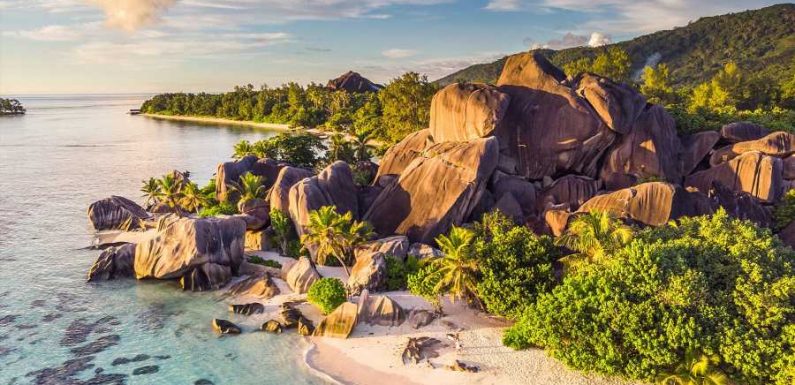 The Seychelles, the island off the eastern coast of Africa overflowing with perfect beaches, will allow now anyone to enter the country after they have been fully vaccinated.
Vaccinated travelers from any nation, including the U.S., must prove two weeks have passed since they received their second dose as well as show proof of a negative COVID-19 PCR test taken at an accredited laboratory within 72 hours of traveling, according to the island's tourism site.
Travelers will also have to fill out a health travel authorization showing their certificate of vaccination, test results, flight confirmation, and accommodation details. 
By March, the Seychelles anticipates it will have vaccinated most of its adult population and expects to open to all visitors from all countries regardless of their vaccination status. However, visitors will still be required to show a negative PCR test taken within 72 hours of their trip.
Currently, the Seychelles allows travelers to enter from several countries, including Iceland, Singapore, Australia, and New Zealand, with a negative COVID-19 test. Those who arrive on a commercial flight and who stay for more than six days have to take a second PCR test.
The Seychelles said it would also consider allowing travelers from any country visit if they arrive by private jet.
The concept of allowing vacationers based on their vaccination status is not new as vaccine passports may become the future in a post-COVID-19 world. Several countries in Africa, for example, require proof travelers have received a vaccine for yellow fever.
Israel has floated the idea of issuing a "green passport" to those who have been inoculated against the virus, allowing them to do things like visit restaurants. And several health passports — that could eventually evolve into vaccine passports — have emerged, including one from the International Air Transport Association (IATA) along with one American Airlines is rolling out. 
Alison Fox is a contributing writer for Travel + Leisure. When she's not in New York City, she likes to spend her time at the beach or exploring new destinations and hopes to visit every country in the world. Follow her adventures on Instagram.
Source: Read Full Article